'Spinning Gold' movie departs from Hollywood stereotypes about Jewish music producers
(JTA) — In the hit show "The Sopranos," veteran actor Jerry Adler plays mob-adjacent Jewish businessman Hesh Rabkin, who made a fortune in the music business decades earlier. In a first season episode, Hesh is confronted by a rapper seeking "reparations" for a late Black musician who he says Rabkin didn't pay fairly for a hit record.
When Hesh responds by bragging that he wrote the hit songs he worked on back in the day, Tony Soprano corrects him: "A couple of Black kids wrote that record, you gave yourself co-writing credit because you owned the label."
The greedy Jewish music mogul has been a common trope, from the acclaimed work of Spike Lee to the rants of Kanye West. "Walk Hard: The Dewey Cox Story," a 2003 parody of music biopics, made fun of the trope itself by making the record executives into Hasidic Jews, led by Harold Ramis. (They were depicted as friendly and not so greedy, and the film's writers, Judd Apatow and director Jake Kasdan, are both Jewish.)
The new movie "Spinning Gold," which opened in theaters last week, tells the real-life story of Neil Bogart, the founder of Casablanca Records and a top music executive of the 1970s. It breaks from the mold of most other music biopics in a couple of key ways: The protagonist is a music executive, not an artist or a group, and the music mogul character — in this case, another Jewish one — is not treated as a villain.
The Jewish Brooklyn native whose given name was Neil Scott Bogatz helped promote bubblegum pop and early disco, signing artists such as Donna Summer, Gladys Knight, Cher and the Village People. A notable rock signing was Kiss. In one scene of "Spinning Gold," the Bogart character (played by Jewish actor Jeremy Jordan, who starred in the Broadway hit "Rock of Ages") implies to Kiss' Gene Simmons that he signed the band, in part, because Simmons' and guitarist Paul Stanley's real names are Chaim Witz and Stanley Eisen. He relates to them, the film argues, as fellow Jewish guys who hailed from the outer boroughs of New York City. Bogart died of cancer in 1982. 
The movie covers a long span in Bogart's life and career, and it shows him struggling for many years before striking gold by shepherding Donna Summer's single "Love to Love You Baby" to hit status. Timothy Scott Bogart, the mogul's son and the film's director, did not want to depict Bogart as an unambiguous hero. In the story, the elder Bogart is shown cheating on his first wife with the woman who would become his second, and the film also makes clear that his record label was heavily in debt for many years. It does sometimes show him at odds with the talent, such as when the members of Kiss complain to him that their career hasn't taken under Bogart's tutelage. 
"I don't know that I looked at it as protagonist or antagonist, I think he was a bit of both," Timothy Scott Bogart told the Jewish Telegraphic Agency. 
"But I do think the character of the executive, in general, has been a much-maligned character… certainly in the music biopic world," he added. "And that's not who Neil Bogart was." 
He added that the personal relationships between his father and the label's artists were always valued. He remembers his family going on vacation with Donna Summer, and Gladys Knight and members of Kiss being at his home. 
The younger Bogart, who previously produced the 2019 Vietnam War drama "The Last Full Measure," said that rather than relying on any book or article, he constructed the film based on interviews he did with his artists, executives and others involved in the story over several years. 
Jews have been part of the business side of the American music industry for most of its existence, in part because of the way they were shut out of many professions in the first half of the 20th century. Music executive Seymour Stein, who passed away this week after a long career of working with the likes of Madonna and The Ramones, said in a 2013 interview that "music is something Jews were good at and they could do. All immigrants into America tried their hand at show-business."
Some executives in the early days of the music industry — Jewish and non-Jewish — did exploit their artists, doing everything from underpaying Black artists to denying them songwriting credits or royalties. Moguls of the past with reputations for doing so included Herman Lubinsky of Savoy Records. Others, like the recently deceased Stein and Milt Gabler of Commodore Records, had better reputations. Historians have differing opinions on specific individuals. 
"There is a scholarly controversy between those who look at the moguls and say that they exploited the [Black] musicians and those who say that they encouraged and made possible Black success in music," said Jonathan Sarna, the professor of American Jewish history at Brandeis University. "Both use the same data, but some point to the money Jews made and others point to the musicians that Jews discovered and promoted."
Spike Lee drew fire for his depiction of fictional Jewish music executives Moe and Josh Flatbush (played by John and Nicholas Turturro) in his 1990 movie "Mo' Better Blues." 
"In the history of American music, there have not been Jewish people exploiting black musicians?" Spike Lee said in his defense to New York Magazine in 2006. "In the history of music? How is that being stereotypical?"
Other "bad guy" examples include Paul Giamatti's Jerry Heller in 2015's "Straight Outta Compton" and David Krumholtz's Milt Shaw in 2004's "Ray." "Cadillac Records," from 2008, starred Adrien Brody as Leonard Chess, the Jewish founder of the legendary Chess Records who, the film implied, gave his mostly Black artists Cadillacs, but not always the money they were owed. "Get On Up," the 2014 biopic of James Brown that starred the late Chadwick Boseman, cast Fred Melamed as famed Cincinnati mogul Syd Nathan (a mentor to Seymour Stein); journalist RJ Smith criticized the film for depicting Nathan as a "bumptious racist."
Actor Seth Rogen discussed the trope in his 2021 memoir "Yearbook." He tells the story of running into comedian Eddie Griffin, who at a late point in his career had been struggling to get movie roles. Griffin told Rogen to "tell your Jews to let other people make some movies!" 
Rogen called this "insane because he's really ignoring the fact that if there's one thing that Jewish people are NOT above, it's making money producing things that are fronted by Black people. Anyone who's ever seen a biopic of any Black musician knows the character I'm talking about, and he's usually very appropriately played by my dear friend David Krumholtz." (Krumholtz played one of the Hasidic producers in "Walk Hard.")
"It's certainly true that, in the post-war U.S. music industry, Jews were more likely to be producers and impresarios than performers. And, given the importance of African-Americans in the post-war U.S. music industry, that inevitably created a particular kind of relationship with certain Jews in the music industry," sociologist and music critic Keith Kahn-Harris told JTA.
"That relationship starts to be put under scrutiny and under strain from the late 1960s, as the civil rights coalition started to fall apart and people of color began to assert their agency," he added. "It's also true that the post-war music industry was an unregulated space with an almost-normative pattern of exploitation of performers. Put all that together and you have all the ingredients for significant African-American-Jewish tension. Plus, the rapacious Jewish impresario sits easily with ingrained antisemitic stereotypes." 
"Spinning Gold" isn't the only counterexample to the trend in film. In last year's Whitney Houston biopic "I Wanna Dance With Somebody," the Jewish label honcho character, Clive Davis (played by Stanley Tucci), is treated as a benevolent guiding light. In that case, Davis was among the producers of the movie.
"Jewish promoters, like all music promoters, were and are first and foremost business people selling a product. Their goal: promote a performer to reap income. The performers have obviously a different stake in the transaction, although both depend on the other," said Hasia Diner, an American Jewish history professor at New York University.
"If the hero of the film is the performer then her/his perspective is the focus and almost by definition the promoter's perspective has to reflect the antagonist encounter. Does that merit being called antisemitism? Not in my estimation. By doing so it undermines real antisemitism. It also ignores the inherent business transaction involved," Diner said.
How can filmmakers navigate this? 
"With great care," Kahn-Harris said. "It does mean paying attention to how such a portrayal can be accurate and not feeding on deeper antisemitic stereotypes. There's no one way of doing this. It requires care and attention to the historical record." 
—
The post 'Spinning Gold' movie departs from Hollywood stereotypes about Jewish music producers appeared first on Jewish Telegraphic Agency.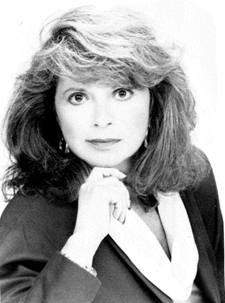 Phyllis Pollock died at home Sunday September 3, 2023 in Winnipeg, after a courageous lifetime battle with cancer.
Phyllis was a mother of four: Gary (Laura), daughter Randi, Steven (deceased in 2010) (Karen), and Robert. Phyllis also had two grandchildren: Lauren and Quinn.
Born in Fort Frances, Ontario on February 7, 1939, Phyllis was an only child to Ruby and Alex Lerman. After graduating high school, Phyllis moved to Winnipeg where she married and later divorced Danny Pollock, the father of her children. She moved to Beverly Hills in 1971, where she raised her children.
Phyllis had a busy social life and lucrative real estate career that spanned over 50 years, including new home sales with CoastCo. Phyllis was the original sales agent for three buildings in Santa Monica, oceanfront: Sea Colony I, Sea Colony II, and Sea Colony. She was known as the Sea Colony Queen. She worked side by side with her daughter Randi for about 25 years – handling over 600 transactions, including sales and leases within the three phases of Sea Colony alone.
Phyllis had more energy than most people half her age. She loved entertaining, working in the real estate field, meeting new and interesting people everyday no matter where she went, and thrived on making new lifelong friends. Phyllis eventually moved to the Sea Colony in Santa Monica where she lived for many years before moving to Palm Desert, then Winnipeg.
After battling breast cancer four times in approximately 20 years, she developed metastatic Stage 4 lung cancer. Her long-time domestic partner of 27 years, Joseph Wilder, K.C., was the love of her life. They were never far apart. They traveled the world and went on many adventures during their relationship. During her treatment, Phyllis would say how much she missed work and seeing her clients. Joey demonstrated amazing strength, love, care, and compassion for Phyllis as her condition progressed. He was her rock and was by her side 24/7, making sure she had the best possible care. Joey's son David was always there to support Phyllis and to make her smile. Joey's other children, Sheri, Kenny, Joshua and wife Davina, were also a part of her life. His kids would Facetime Phyllis and include her during any of their important functions. Phyllis loved Joey's children as if they were her own.
Thank you to all of her friends and family who were there to support her during these difficult times. Phyllis is now, finally, pain free and in a better place. She was loved dearly and will be greatly missed. Interment took place in Los Angeles.
Gwen Centre Creative Living Centre celebrates 35th anniversary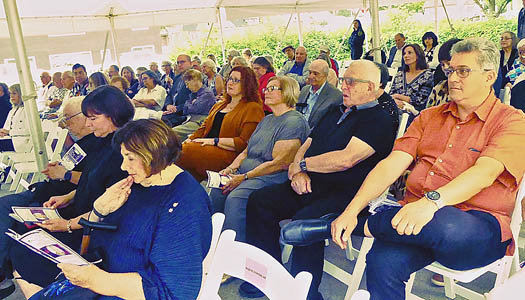 By BERNIE BELLAN Over 100 individuals gathered at the Gwen Secter Centre on Tuesday evening, July 18 – under the big top that serves as the venue for the summer series of outdoor concerts that is now in its third year at the centre.
The occasion was the celebration of the Gwen Secter Centre's 35th anniversary. It was also an opportunity to honour the memory of Sophie Shinewald, who passed away at the age of 106 in 2019, but who, as recently as 2018, was still a regular attendee at the Gwen Secter Centre.
As Gwen Secter Executive Director Becky Chisick noted in her remarks to the audience, Sophie had been volunteering at the Gwen Secter Centre for years – answering the phone among other duties. Becky remarked that Sophie's son, Ed Shinewald, had the phone number for the Gwen Secter Centre stored in his phone as "Mum's work."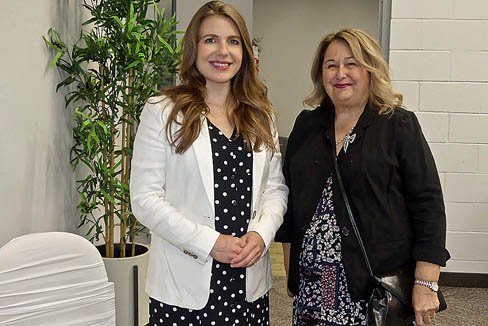 Remarks were also delivered by Raquel Dancho, Member of Parliament for Kildonan-St. Paul, who was the only representative of any level of government in attendance. (How times have changed: I remember well the steadfast support the former Member of the Legislature for St. John's, Gord Mackintosh, showed the Gwen Secter Centre when it was perilously close to being closed down. And, of course, for years, the area in which the Gwen Secter Centre is situated was represented by the late Saul Cherniack.)
Sophie Shinewald's granddaughter, Alix (who flew in from Chicago), represented the Shinewald family at the event. (Her brother, Benjamin, who lives in Ottawa, wasn't able to attend, but he sent a pre-recorded audio message that was played for the audience.)
Musical entertainment for the evening was provided by a group of talented singers, led by Julia Kroft. Following the concert, attendees headed inside to partake of a sumptuous assortment of pastries, all prepared by the Gwen Secter culinary staff. (And, despite my asking whether I could take a doggy bag home, I was turned down.)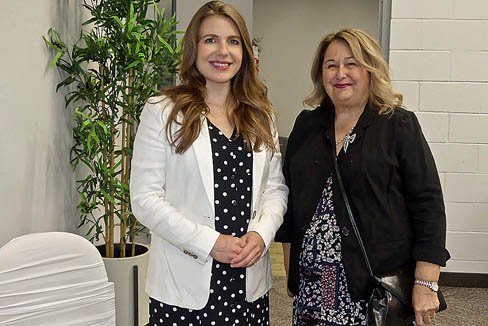 Palestinian gunmen kill 4 Israelis in West Bank gas station
This is a developing story.
(JTA) — Palestinian gunmen killed four people and wounded four in a terror attack at a gas station near the West Bank settlement of Eli, the Israeli army reported.
An Israeli civilian returning fire at the scene of the attack on Tuesday killed one of the attackers, who emerged from a vehicle, and two others fled.
Kan, Israel's public broadcaster, said one of those wounded was in serious condition. The gunmen, while in the vehicle, shot at a guard post at the entry to the settlement, and then continued to the gas station which is also the site of a snack bar. A nearby yeshiva went into lockdown.
Israeli Defense Minister Yoav Gallant announced plans to convene a briefing with top security officials within hours of the attack. Kan reported that there were celebrations of the killing in major West Bank cities and in the Gaza Strip, initiated by terrorist groups Hamas and Palestinian Islamic Jihad. Hamas said the shooting attack Tuesday was triggered by the Jenin raid.
The shooting comes as tensions intensify in the West Bank. A day earlier, Israeli troops raiding the city of Jenin to arrest accused terrorists killed five people.
The Biden administration spoke out over the weekend against Israel's plans to build 4,000 new housing units for Jewish settlers in the West Bank. Israeli Prime Minister Benjamin Netanyahu also finalized plans to  transfer West Bank building decisions to Bezalel Smotrich, the extremist who is the finance minister. Smotrich has said he wants to limit Palestinian building and expand settlement building.
Kan reported that the dead terrorist was a resident of a village, Urif, close to Huwara, the Palestinian town where terrorists killed two Israeli brothers driving through in February. Settlers retaliated by raiding the village and burning cars and buildings.
—
The post Palestinian gunmen kill 4 Israelis in West Bank gas station appeared first on Jewish Telegraphic Agency.