They were denied Jewish weddings in the Soviet Union. So these 3 couples just got married again.
BOSTON (JTA) – Veiled brides holding white bouquets; a gold-colored chuppah; the signing of ketubahs, Jewish marriage contracts; lively Jewish music wafting through a social hall as guests danced the hora.
It had all the telltale signs of a traditional Jewish wedding. But the three couples were already married — and had been for a collective total of 125 years.
The event on Wednesday was an opportunity for three Ukraine-born couples to have the Jewish ceremonies they could not have when they first wed, when Jewish practice was forbidden under communism in their country.
"It was my dream for many, many years and dreams come true," said Elisheva Furman, who first married her husband Fishel in Ukraine 50 years ago.
Held by Shaloh House, a Chabad Lubavitch organization in Boston that serves Jews from the former Soviet Union, the event was also an opportunity for Chabad rabbinical students to practice officiating at Jewish weddings.
Shaloh House launched a rabbinical training institute in 2021, after Rabbi Shlomo Noginski, an educator at the school, was stabbed eight times outside the building in a vicious attack that jolted Boston and especially its Jewish community.
"This wedding ceremony is a victory of love and kindness over oppression and hate," said Rabbi Dan Rodkin, director of Shaloh House, in a statement. "It is a testament to the strength of the Jewish people and the resilience of these Soviet-born couples, who want to celebrate their union in accordance with their faith and heritage."
Rodkin himself grew up in Russia. The Chabad movement, which is especially strong in the former Soviet Union, where it was born, has sought to reach Jews from the region whose practices and connection to Judaism were attenuated by living under communism. Shaloh House offers a school, synagogue and community center all focused on Boston's substantial community of Russian-speaking emigres.
Growing up, despite antisemitic repression, Elisheva and Fishel Furman both said their families maintained a strong Jewish identity and privately observed Jewish holidays. But "it was dangerous" to show their faith in public, said Elisheva, the grandmother of four. So when they got married, they did so only in a civil ceremony.
Their religious ceremony and the two others that took place Wednesday, individualized for each couple, stretched for more than four hours and featured a festive meal and desserts including traditional Ukrainian and Russian foods.
The event took place in the lead-up to the one-year anniversary on Feb. 24, of Russia's invasion into the couples' homeland that is under ruthless bombardment that is devastating Ukraine.
Rimma Linkova, who's been married to Alexander Linkov for 40 years, and one was of the other couples being married, has a cousin still in Ukraine. They talk regularly, she said.
"It's almost one year of the war and it's still not ended. It's very difficult. It's dying for no reason." Linkov said.
The third couple was Sofya Hannah and Gedalia Gulnik, who used their Hebrew names.
Yelena Gulnik said she was thrilled to see her parents have a Jewish wedding, something she said her father was initially hesitant to do after so many years of marriage. The mother of three, whose kids attend Shaloh House's day school, was born in Odessa and came in 1994 with her parents to Boston when she was 12 years old.
"My parents never had a chuppah, they never had a religious ceremony. They were not familiar with many religious Jewish traditions," Gulnik said. "But it was an amazing opportunity. I don't think they would have ever done this if Rabbi Rodkin hadn't offered."
Being at a wedding for her grandparents is "a little weird since you don't see it every day," Yelena's oldest daughter said. "But it's certainly exciting."
Among the attendees were New England Patriots Jewish owner Robert Kraft, and his wife, Dana Blumberg, who themselves were married in November. Kraft, whose Campaign to Fight Antisemitism philanthropy launched in 2019, made a $250,000 donation following the attack on Noginski that helped start the rabbinic program.
"When I saw Rabbi Noginksi getting stabbed in my hometown of Boston, it hurt me," Kraft told JTA at the wedding.
"This hit close to home, which was shocking to me," he elaborated in an email response to a question. "It's an important reminder that antisemitism and hate happens everywhere, even in a community like ours."
"Since the attack, I have been moved by how Rabbi Noginski has used this horrible incident as an opportunity to raise awareness of the prevalence of antisemitism and the need to stand up to all acts of hatred," Kraft wrote. "He is a real hero, who not only saved lives that day, but continues to use his experience to educate others."
Noginski's personal story has struck a chord for many. As a young man growing up in St. Petersburg, he and his mother experienced antisemitism, eventually leading them to move to Israel. He and his wife, who at the time of the attack had only recently arrived in Boston, have 12 children.
He has added his voice beyond Boston, speaking in Hebrew at a Washington D.C. rally on antisemitism in July 2021, less than two weeks after the attack. His alleged attacker was arrested but has not yet been tried.
But while the attack was in the background at the wedding event, it was not the main focus as the families celebrated together.
"The wedding has enormous meaning," said Dmitry Linkov about his parents' ceremony.
He was 5 when his family left Kyiv and settled in Boston. They lived secular lives when he and his younger sister was growing up, he said, but he and his wife, active in Chabad in Chestnut Hill, now embrace more religious practice and observe Shabbat and keep a kosher home.
"What my parents have done tonight will be passed on for generations. It's a blessing for our future generations," Dmitry Linkov told JTA.
He hopes the Jewish wedding ceremony inspires other Jews from the former Soviet Union who fled persecution.
"They are celebrating for a nation," he said. "It's pretty amazing."
Mazels: Tell Us About Your Life Milestones
Have you or a loved one celebrated a Jewish life-cycle event recently? We're thinking bar/bat mitzvahs, weddings, conversions, and so on. We want to hear about them!
Share some details with us below, and we may reach out for more information.
By filling this out, you acknowledge you agree to JTA's Privacy Policy: jta.org/privacy-policy
What type of milestone are you sharing?(Required)
—
The post They were denied Jewish weddings in the Soviet Union. So these 3 couples just got married again. appeared first on Jewish Telegraphic Agency.
Focus group Oct. 11 at Simkin Centre for people concerned about personal care homes

As Manitobans have gone to the polls and with a new legislative assembly about to begin a new four-year term, the challenges of long-term and continuing care homes need to be communicated.
MARCHE, the Manitoba Association of Residential and Community Care Homes for the Elderly will be holding a focus group on Wednesday, October 11 that is intended to provide the community at large a forum to express thoughts and provide ideas and recommendations for the future.
Please join us on Wednesday, October 11th at the Saul & Claribel Simkin Centre. We look forward to hearing from you.
See poster below for more information and how to register to attend.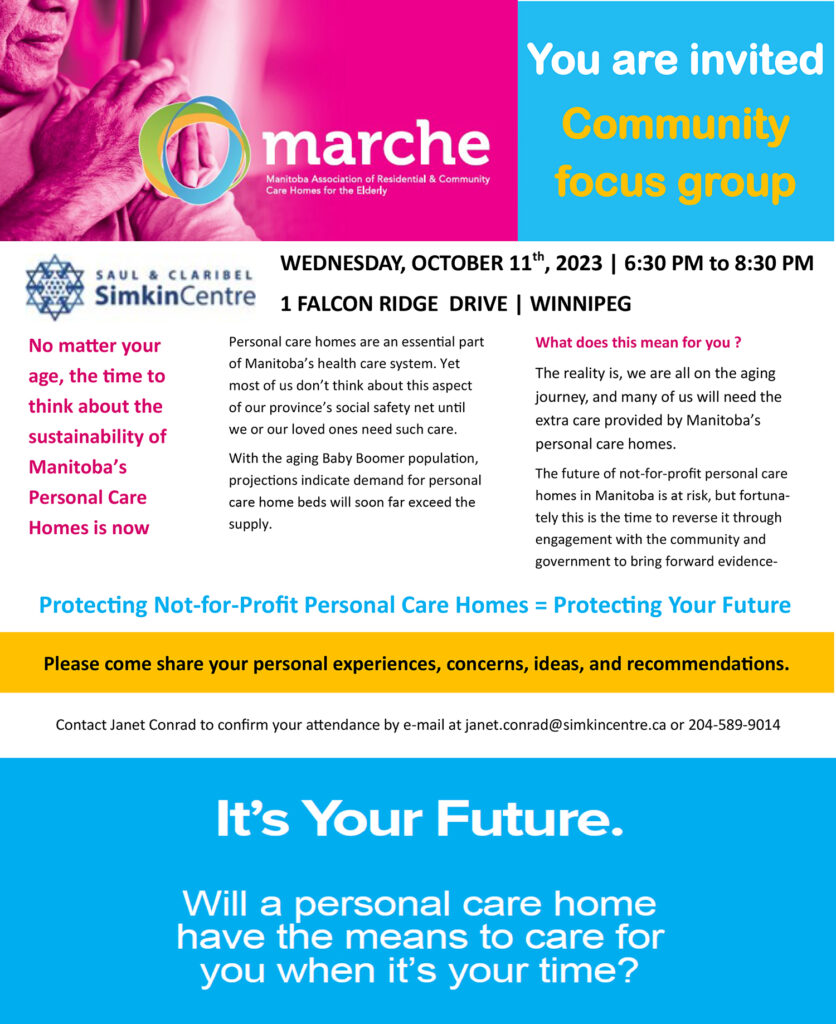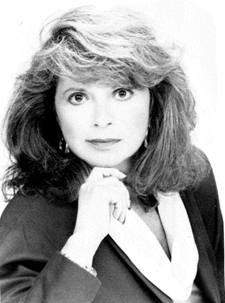 Phyllis Pollock died at home Sunday September 3, 2023 in Winnipeg, after a courageous lifetime battle with cancer.
Phyllis was a mother of four: Gary (Laura), daughter Randi, Steven (deceased in 2010) (Karen), and Robert. Phyllis also had two grandchildren: Lauren and Quinn.
Born in Fort Frances, Ontario on February 7, 1939, Phyllis was an only child to Ruby and Alex Lerman. After graduating high school, Phyllis moved to Winnipeg where she married and later divorced Danny Pollock, the father of her children. She moved to Beverly Hills in 1971, where she raised her children.
Phyllis had a busy social life and lucrative real estate career that spanned over 50 years, including new home sales with CoastCo. Phyllis was the original sales agent for three buildings in Santa Monica, oceanfront: Sea Colony I, Sea Colony II, and Sea Colony. She was known as the Sea Colony Queen. She worked side by side with her daughter Randi for about 25 years – handling over 600 transactions, including sales and leases within the three phases of Sea Colony alone.
Phyllis had more energy than most people half her age. She loved entertaining, working in the real estate field, meeting new and interesting people everyday no matter where she went, and thrived on making new lifelong friends. Phyllis eventually moved to the Sea Colony in Santa Monica where she lived for many years before moving to Palm Desert, then Winnipeg.
After battling breast cancer four times in approximately 20 years, she developed metastatic Stage 4 lung cancer. Her long-time domestic partner of 27 years, Joseph Wilder, K.C., was the love of her life. They were never far apart. They traveled the world and went on many adventures during their relationship. During her treatment, Phyllis would say how much she missed work and seeing her clients. Joey demonstrated amazing strength, love, care, and compassion for Phyllis as her condition progressed. He was her rock and was by her side 24/7, making sure she had the best possible care. Joey's son David was always there to support Phyllis and to make her smile. Joey's other children, Sheri, Kenny, Joshua and wife Davina, were also a part of her life. His kids would Facetime Phyllis and include her during any of their important functions. Phyllis loved Joey's children as if they were her own.
Thank you to all of her friends and family who were there to support her during these difficult times. Phyllis is now, finally, pain free and in a better place. She was loved dearly and will be greatly missed. Interment took place in Los Angeles.
Gwen Centre Creative Living Centre celebrates 35th anniversary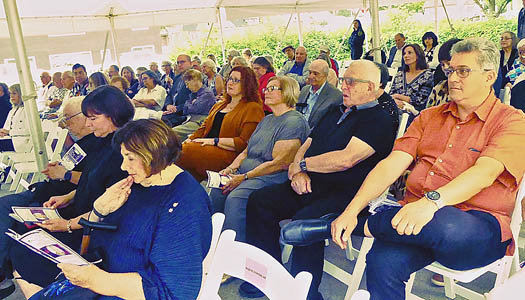 By BERNIE BELLAN Over 100 individuals gathered at the Gwen Secter Centre on Tuesday evening, July 18 – under the big top that serves as the venue for the summer series of outdoor concerts that is now in its third year at the centre.
The occasion was the celebration of the Gwen Secter Centre's 35th anniversary. It was also an opportunity to honour the memory of Sophie Shinewald, who passed away at the age of 106 in 2019, but who, as recently as 2018, was still a regular attendee at the Gwen Secter Centre.
As Gwen Secter Executive Director Becky Chisick noted in her remarks to the audience, Sophie had been volunteering at the Gwen Secter Centre for years – answering the phone among other duties. Becky remarked that Sophie's son, Ed Shinewald, had the phone number for the Gwen Secter Centre stored in his phone as "Mum's work."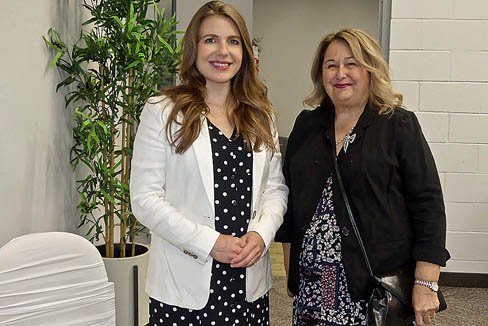 Remarks were also delivered by Raquel Dancho, Member of Parliament for Kildonan-St. Paul, who was the only representative of any level of government in attendance. (How times have changed: I remember well the steadfast support the former Member of the Legislature for St. John's, Gord Mackintosh, showed the Gwen Secter Centre when it was perilously close to being closed down. And, of course, for years, the area in which the Gwen Secter Centre is situated was represented by the late Saul Cherniack.)
Sophie Shinewald's granddaughter, Alix (who flew in from Chicago), represented the Shinewald family at the event. (Her brother, Benjamin, who lives in Ottawa, wasn't able to attend, but he sent a pre-recorded audio message that was played for the audience.)
Musical entertainment for the evening was provided by a group of talented singers, led by Julia Kroft. Following the concert, attendees headed inside to partake of a sumptuous assortment of pastries, all prepared by the Gwen Secter culinary staff. (And, despite my asking whether I could take a doggy bag home, I was turned down.)