This Israeli village on the Lebanon border was isolated for decades. Now it's a tourist hotspot.
GHAJAR, Israel (JTA) – A group of 40 tourists filed into Khateb Sweets on a recent Sunday afternoon, bringing chatter — and their cash and credit cards — to what had been a quiet cafe in this equally sedate village in the Golan Heights.
They left after consuming pastries and hot tea spiced with ginger, anise and cinnamon, whereupon an Israeli Jewish couple came in, then an Israeli Arab family and three Canadians.
The steady foot traffic typifies the wave of tourists that since last fall has hit this community of 2,900 people, nearly all Alawites, an Islamic sect.
Ghajar (pronounced RA-zhar) had for decades been unusually cut off from the rest of Israel. Residents could come and go, but outsiders could visit only through prior arrangement with the Israel Defense Forces, which considered the village within a closed military area where Lebanon and Israel's Galilee and Golan Heights regions intersect.
The IDF's lifting of the restriction without explanation on Sept. 8 led to an immediate rush of visitors eager to explore Ghajar.
How immediate? Ahmad Khateb, a pastry chef who owns the eponymous cafe, was working that day at his consultancy job at a hotel in the Galilee town of Tzfat, when his employee called to report an unusual stream of tourists entering the shop. The following morning, Khateb resigned to work at his café full time.
Approximately 4,000 people visited Ghajar the day the town opened, he said. Another 6,000 visited the following day — briefly tripling the number of people in town. For day three, a Saturday, Ghajar turned a soccer field into a parking lot.
"It's like a gift that fell from the sky," Khateb said of the village's opening and his subsequent increase in sales. He's now considering expansion to other locations.
Ghajar possesses a Forbidden City-like attraction for Israelis, who travel extensively inside their own country because it requires a flight to visit others.
"You know why we came here? Because there aren't a lot of places [in Israel] we haven't been," said Shmuel Browns, a Jerusalem-based tour guide accompanying his brother and sister-in-law visiting from his native Toronto. "We wanted to get a sense of what makes this village unique."
It is also notable as the only Israeli community of Alawites, a Syria-based ethnic minority best known as the group that the country's dictatorial rulers for the past 52 years — current president Bashar al-Assad and his late father, Hafez — are descended from. Bilal Khatib, who is Ghajar's accountant and spokesman, said Alawites tend to be secular people who value a person's character and are respectful of other Muslim sects and different religions. Ghajar contains no mosques, since, except on holy days, people pray individually at home.
"It's a way of life," Khatib said. "We respect people as people. Our religion is to be a good person, love everyone and hold no hatred against anyone, be they Druze, Jew, Christian or Circassian."
But most unusual is Ghajar's provenance, on which outsiders tend to stumble. "Ghajar was part of Lebanon, right?" the Israeli couple at the cafe asked Khateb.
No, he responded.
So began a short primer that residents are wont to recite to visitors — a timeline of a village of just one-fifth of a square mile. (The fields on Ghajar's outskirts constitute an additional five square miles, on which the village plans to expand.)
Israel captured the Golan Heights, including Ghajar, from Syria during 1967's Six-Day War and officially annexed it in 1981. After Israel ended its 18-year war in Lebanon in 2000, the United Nations certified the IDF's withdrawal and established the two countries' border going through, rather than around, Ghajar. Israel later announced plans to withdraw below the U.N. line. That would have split the village into northern and southern sections. Residents protested, preferring to remain under Israeli sovereignty rather than be divided. Ultimately, Israel didn't erect a barrier inside the village.
"It's a headache," Jamal Khatib, a physical education teacher at the village's lone high school, said of the chronology.
Orna Mizrahi, an analyst at the Tel Aviv-based Institute for National Security Studies, agrees with that characterization. As a member of the National Security Council, she briefed then-Prime Minister Ariel Sharon on Ghajar at what proved to be his last Cabinet meeting hours before he suffered a debilitating and ultimately fatal stroke in 2006.
As to why the IDF recently opened the town, Mizrahi cited the completion of a security fence around Ghajar, along with the lessened threat of cross-border attacks by the Hezbollah terrorist organization, due in large part to the recent maritime border agreement between Israel and Lebanon that incentivizes the government in Beirut to restrain Hezbollah.
"The security considerations are different. The situation in Lebanon is different," she said.
Exactly why the United Nations associated the town with Lebanon, even though most of its residents are from a Syrian sect, is a point of confusion for many who visit. A 1965 Syrian map that Bilal Khatib printed offers an explanation: It shows Ghajar as an enclave completely inside Lebanon except for a narrow sliver connecting it to Syria proper.
Bilal Khatib (he, Jamal Khatib and Ahmad Khateb are unrelated) lives in the northern section and said he would not want his sister, who lives south of the U.N.'s 2000 demarcation, to be inaccessible.
The U.N.'s dividing point, known as the Blue Line, would be "splitting families," he said. "We have to be united." In practice, this line exists only on maps and has no impact on the life of Ghajar residents, who are fully under Israeli rule.
Ghajar residents tend to see themselves as Syrians holding Israeli citizenship. It's a high-achieving population: According to Jamal Khatib, 400 Ghajar residents hold a college degree, making the town far more educated, on average, than Israeli Arabs overall. He said there are 50 physicians, 30 lawyers, 27 dentists and two professors, most commuting to jobs in the Galilee. Until Syria's civil war began in 2011, Ghajar residents legally crossed at nearby Kuneitra to attend Syrian universities, he said.
"There's no profession in Israel that's not represented here," he said.
Politically, Ghajar stands out for supporting mostly Jewish-majority parties. In the recent election, Benny Gantz's centrist party got 24% of the 555 citizens who went to the polls in the village. The Arab party Raam got only 14% of the votes and the rest went to other Jewish lists, including the haredi Orthodox Shas party.
Ghajar puts a premium on livability. Fountains, parks and outdoor sculptures abound, landscaping and building façades are colorful and nary a speck of litter is evident. Homes are large and well-kept, on par with other upscale areas in Israel. Motorcycles and the honking of vehicles' horns are prohibited. Visitors may not enter between 8 p.m. and 8 a.m., Jamal Khatib said, adding that Ghajar has long banned hotels and bed-and-breakfast inns and does not plan to change the rules in response to the flood of visitors.
Some visitors have littered and urinated in public, even entered residents' homes without knocking, he said.
"A year ago, you wouldn't have seen that," said his son, Ryad, who works as Ghajar's coordinator of volunteers, including handling traffic control on days when tourists abound.
Unlike many small towns in Israel, Ghajar operates its own sanitation service rather than linking up with other municipalities through a regional council. Doing so is an unusual expenditure, but it's one that means visitors to the town may see Ghajar's name on a garbage truck — a potentially powerful symbol.
"We're doing it not for you, but for ourselves," Jamal Khatib said of the village's quality-of-life values. "I like that people come, but they should respect the rules, respect our privacy."
For its part, Ghajar projects respect for the wider society. Street signs and storefronts appear in Hebrew and Arabic. The Park of Peace includes a statue of the Virgin Mary, a sculpture of an open Koran, an Alawite sword symbol and a menorah.
"You and I believe in one God," Jamal Khatib said. "Your deeds speak as to who you are."
From his back porch a few moments later, a donkey's braying could be clearly heard, hundreds of sheep observed and calls to prayer drifted over from a mosque – all in Aarab el Louaizeh, a village in Lebanon perhaps 100 yards away.
In a ravine below, soldiers of the United Nations and the Lebanese army in their separate posts walked outside. The U.N. soldiers entered two vehicles and began their twice-daily patrol of the border. Alongside the border road is the Hatzbani River, where Khatib fished as a young man. At his property line, a separate fence on Ghajar's northern perimeter is nearly complete.
But the fence wasn't erected to divide people or demarcate boundaries: It's to keep boars, jackals and porcupines from scaling the slope and entering the village, Khatib said. He soon received an alert on his phone.
"The notification says there are cows on the road," he explained. "It's dark. Be careful."
—
The post This Israeli village on the Lebanon border was isolated for decades. Now it's a tourist hotspot. appeared first on Jewish Telegraphic Agency.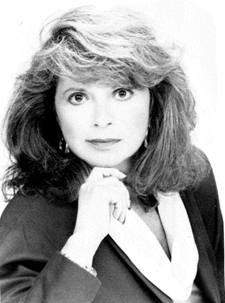 Phyllis Pollock died at home Sunday September 3, 2023 in Winnipeg, after a courageous lifetime battle with cancer.
Phyllis was a mother of four: Gary (Laura), daughter Randi, Steven (deceased in 2010) (Karen), and Robert. Phyllis also had two grandchildren: Lauren and Quinn.
Born in Fort Frances, Ontario on February 7, 1939, Phyllis was an only child to Ruby and Alex Lerman. After graduating high school, Phyllis moved to Winnipeg where she married and later divorced Danny Pollock, the father of her children. She moved to Beverly Hills in 1971, where she raised her children.
Phyllis had a busy social life and lucrative real estate career that spanned over 50 years, including new home sales with CoastCo. Phyllis was the original sales agent for three buildings in Santa Monica, oceanfront: Sea Colony I, Sea Colony II, and Sea Colony. She was known as the Sea Colony Queen. She worked side by side with her daughter Randi for about 25 years – handling over 600 transactions, including sales and leases within the three phases of Sea Colony alone.
Phyllis had more energy than most people half her age. She loved entertaining, working in the real estate field, meeting new and interesting people everyday no matter where she went, and thrived on making new lifelong friends. Phyllis eventually moved to the Sea Colony in Santa Monica where she lived for many years before moving to Palm Desert, then Winnipeg.
After battling breast cancer four times in approximately 20 years, she developed metastatic Stage 4 lung cancer. Her long-time domestic partner of 27 years, Joseph Wilder, K.C., was the love of her life. They were never far apart. They traveled the world and went on many adventures during their relationship. During her treatment, Phyllis would say how much she missed work and seeing her clients. Joey demonstrated amazing strength, love, care, and compassion for Phyllis as her condition progressed. He was her rock and was by her side 24/7, making sure she had the best possible care. Joey's son David was always there to support Phyllis and to make her smile. Joey's other children, Sheri, Kenny, Joshua and wife Davina, were also a part of her life. His kids would Facetime Phyllis and include her during any of their important functions. Phyllis loved Joey's children as if they were her own.
Thank you to all of her friends and family who were there to support her during these difficult times. Phyllis is now, finally, pain free and in a better place. She was loved dearly and will be greatly missed. Interment took place in Los Angeles.
Gwen Centre Creative Living Centre celebrates 35th anniversary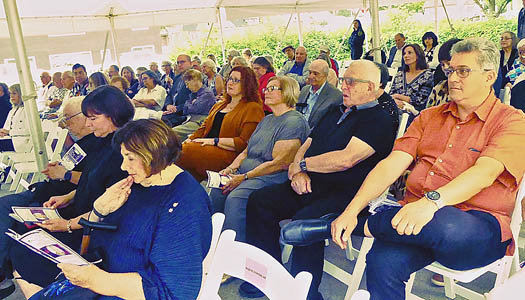 By BERNIE BELLAN Over 100 individuals gathered at the Gwen Secter Centre on Tuesday evening, July 18 – under the big top that serves as the venue for the summer series of outdoor concerts that is now in its third year at the centre.
The occasion was the celebration of the Gwen Secter Centre's 35th anniversary. It was also an opportunity to honour the memory of Sophie Shinewald, who passed away at the age of 106 in 2019, but who, as recently as 2018, was still a regular attendee at the Gwen Secter Centre.
As Gwen Secter Executive Director Becky Chisick noted in her remarks to the audience, Sophie had been volunteering at the Gwen Secter Centre for years – answering the phone among other duties. Becky remarked that Sophie's son, Ed Shinewald, had the phone number for the Gwen Secter Centre stored in his phone as "Mum's work."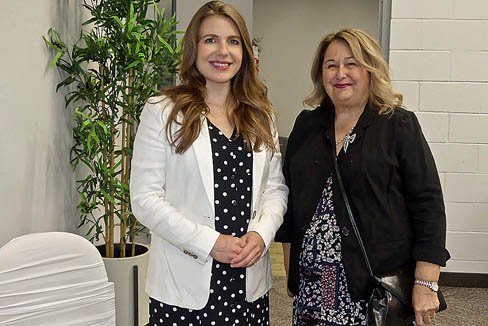 Remarks were also delivered by Raquel Dancho, Member of Parliament for Kildonan-St. Paul, who was the only representative of any level of government in attendance. (How times have changed: I remember well the steadfast support the former Member of the Legislature for St. John's, Gord Mackintosh, showed the Gwen Secter Centre when it was perilously close to being closed down. And, of course, for years, the area in which the Gwen Secter Centre is situated was represented by the late Saul Cherniack.)
Sophie Shinewald's granddaughter, Alix (who flew in from Chicago), represented the Shinewald family at the event. (Her brother, Benjamin, who lives in Ottawa, wasn't able to attend, but he sent a pre-recorded audio message that was played for the audience.)
Musical entertainment for the evening was provided by a group of talented singers, led by Julia Kroft. Following the concert, attendees headed inside to partake of a sumptuous assortment of pastries, all prepared by the Gwen Secter culinary staff. (And, despite my asking whether I could take a doggy bag home, I was turned down.)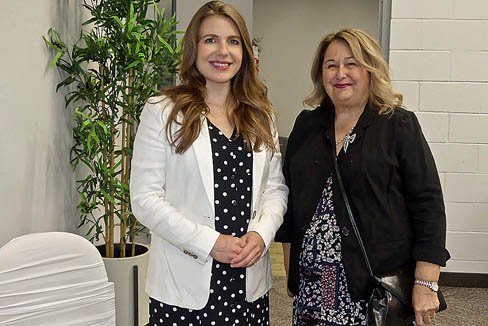 Palestinian gunmen kill 4 Israelis in West Bank gas station
This is a developing story.
(JTA) — Palestinian gunmen killed four people and wounded four in a terror attack at a gas station near the West Bank settlement of Eli, the Israeli army reported.
An Israeli civilian returning fire at the scene of the attack on Tuesday killed one of the attackers, who emerged from a vehicle, and two others fled.
Kan, Israel's public broadcaster, said one of those wounded was in serious condition. The gunmen, while in the vehicle, shot at a guard post at the entry to the settlement, and then continued to the gas station which is also the site of a snack bar. A nearby yeshiva went into lockdown.
Israeli Defense Minister Yoav Gallant announced plans to convene a briefing with top security officials within hours of the attack. Kan reported that there were celebrations of the killing in major West Bank cities and in the Gaza Strip, initiated by terrorist groups Hamas and Palestinian Islamic Jihad. Hamas said the shooting attack Tuesday was triggered by the Jenin raid.
The shooting comes as tensions intensify in the West Bank. A day earlier, Israeli troops raiding the city of Jenin to arrest accused terrorists killed five people.
The Biden administration spoke out over the weekend against Israel's plans to build 4,000 new housing units for Jewish settlers in the West Bank. Israeli Prime Minister Benjamin Netanyahu also finalized plans to  transfer West Bank building decisions to Bezalel Smotrich, the extremist who is the finance minister. Smotrich has said he wants to limit Palestinian building and expand settlement building.
Kan reported that the dead terrorist was a resident of a village, Urif, close to Huwara, the Palestinian town where terrorists killed two Israeli brothers driving through in February. Settlers retaliated by raiding the village and burning cars and buildings.
—
The post Palestinian gunmen kill 4 Israelis in West Bank gas station appeared first on Jewish Telegraphic Agency.