'We're listening,' Israel's new Diaspora minister says in first public comments in the US
AUSTIN, Texas (JTA) — The new Israeli government is listening to the concerns of more liberal Jews, Israel's new minister of Diaspora affairs said on Thursday.
But Amichai Chikli said that while some proposed changes that worry Americans — including an overhaul to the country's Law of Return — would happen slowly, any criticism is largely misplaced.
"There is a large alarm on the left, it's obvious, and it affects dramatically most of the Jews who live here in America," Chikli said at the summit of the Israeli American Council, which aims to keep Israelis in America connected to Israel, often through business.
"We had an election. The result was crystal clear. We were very honest with our agenda, and it is our responsibility to form this agenda," he said. "And it does not mean that we are not listening. We do listen, and I spent hours today, yesterday, to listen to Jewish leaders and what they have to say about the Law of Return, about the judicial changes, and everything. We're listening to the criticism. We're listening to the concerns. We care about it."
Chikli was making his first public comments outside of Israel since being appointed minister of Diaspora affairs late last month in Israel's new right-wing government, helmed by Prime Minister Benjamin Netanyahu. Netanyahu's decision to ally with extremist parties, including ones that advocate for curbing rights to Arab Israelis, LGBTQ Israelis and non-Orthodox Jews, has drawn concern from across the Diaspora, as has the government's effort to weaken Israel's judiciary, which historically has acted to protect the country's minorities.
Diaspora Jewish leaders have raised particular concern about the coalition's agreement to amend Israel's hallmark Law of Return, which permits anyone with a Jewish grandparent to claim citizenship. The eligibility rules were crafted to reflect the Nazis' criteria for whom to kill during the Holocaust, but Israel's religious parties say that has left the door open to immigrants who are not invested in building a strong Jewish state.
Speaking in a live interview with Israeli journalist and TV presenter Miri Michaeli, Chikli said he believed it was a problem for Israel's identity that a decreasing percentage of immigrants from the former Soviet Union are connected to Judaism and many of them don't stay in Israel for very long.
But the new minister said any changes to Israel's Law of Return would happen slowly and through a process that includes consultation with others.
"No one, no one is going to cancel the Law of Return, which is fundamental for the state of Israel," Chikli said.
"We're not saying we're about to cancel Chapter Four tomorrow morning," he said, referring to a technical name for the law. "That's not what's going to happen. What's going to happen is there's going to be a committee to determine how can we deal with this serious challenge. And as you see when you go into the details, that's a challenge. We need Israel to be a strong Jewish state, and we need to tackle this challenge, and we're going to do it slow. We're going to do it by listening to all."
Chikli, who has previously made disparaging remarks about Reform Judaism and who has said the LGBTQ Pride flag is an antisemitic symbol, grew up and lives on a kibbutz founded by the Conservative movement of Judaism where three-quarters of voters backed left-wing parties in the most recent election. He said his government's critics would do well to change how they form their opinions about the government.
"I think that maybe one tip is less Haaretz and New York Times, and more common sense and tachlis, what the government is actually doing," Chikli said, referring to newspapers perceived as liberal and using the Hebrew word meaning details. "That's it. We are proud to be Zionists. Me, myself, I'm proud to represent this government."
Nearly 3,000 people, many of them Israelis living in America, are expected to attend the IAC's summit in Austin this week. Chikli's comments came during the opening day, when Israeli President Isaac Herzog spoke to the summit via video message and acknowledged concerns around the new administration.
"It's no secret that, since Israel's most recent election, questions were raised by many of our friends around the world and in the United States," Herzog said. "Our friends want to know that Israel will continue to carry the rich, ethical heritage on which our country was founded, that it will continue to stand for those values of democracy, liberty and equality, which are the animating force behind the United States and Israel alliance. So allow me to reassure you that Israeli democracy is strong."
Many of the events during the conference's first day did not address the month-old government, its turmoil or the concern ricocheting across the world, including among many of Israel's allies.
Ofer Krichman, an Israeli expat who works in finance and lives in New Jersey, told the Jewish Telegraphic Agency that he had expected the new Israeli administration to be a bigger topic of conversation.
Instead, he said, he had conversations about "ideology, but based not on politics, based on Jews all around the world, antisemitism, how to cope with that, which is not business, but that's a valid topic to discuss, and it's a concerning topic."
One of Chikli's first acts was to extend his title to include a mandate to fight antisemitism. He says the movement to boycott Israel, known as BDS, is of particular concern to him. Noa Tishby, Israel's first special envoy for combating antisemitism and delegitimization of Israel, also spoke during the summit's first day.
The turmoil was on the minds of some attendees. Grinstein, the founder of the Reut Group, a nonpartisan Israeli policy think tank, told JTA that the relationship between Israel and world Jewry is at a pivotal moment.
"The new government represents a massive challenge to world Jewry on a number of counts," Grinstein said. "First of all, the government handed responsibility over key touchpoints to world Jewry in Israel to the most radical factions of the government. … These things really make it structurally challenging for world Jewry to be as involved in Israel as they used to be."
Those concerns offered an undercurrent during the first day of the conference. But the dominant vibe was simply on making business connections and meeting people.
Shani Gil, who works in real estate in the Los Angeles area, said she spent her first day at the conference going through the booths, mingling and handing out business cards.
"It's an electric vibe in the air," she said. "Everyone's very excited."
—
The post 'We're listening,' Israel's new Diaspora minister says in first public comments in the US appeared first on Jewish Telegraphic Agency.
Focus group Oct. 11 at Simkin Centre for people concerned about personal care homes

As Manitobans have gone to the polls and with a new legislative assembly about to begin a new four-year term, the challenges of long-term and continuing care homes need to be communicated.
MARCHE, the Manitoba Association of Residential and Community Care Homes for the Elderly will be holding a focus group on Wednesday, October 11 that is intended to provide the community at large a forum to express thoughts and provide ideas and recommendations for the future.
Please join us on Wednesday, October 11th at the Saul & Claribel Simkin Centre. We look forward to hearing from you.
See poster below for more information and how to register to attend.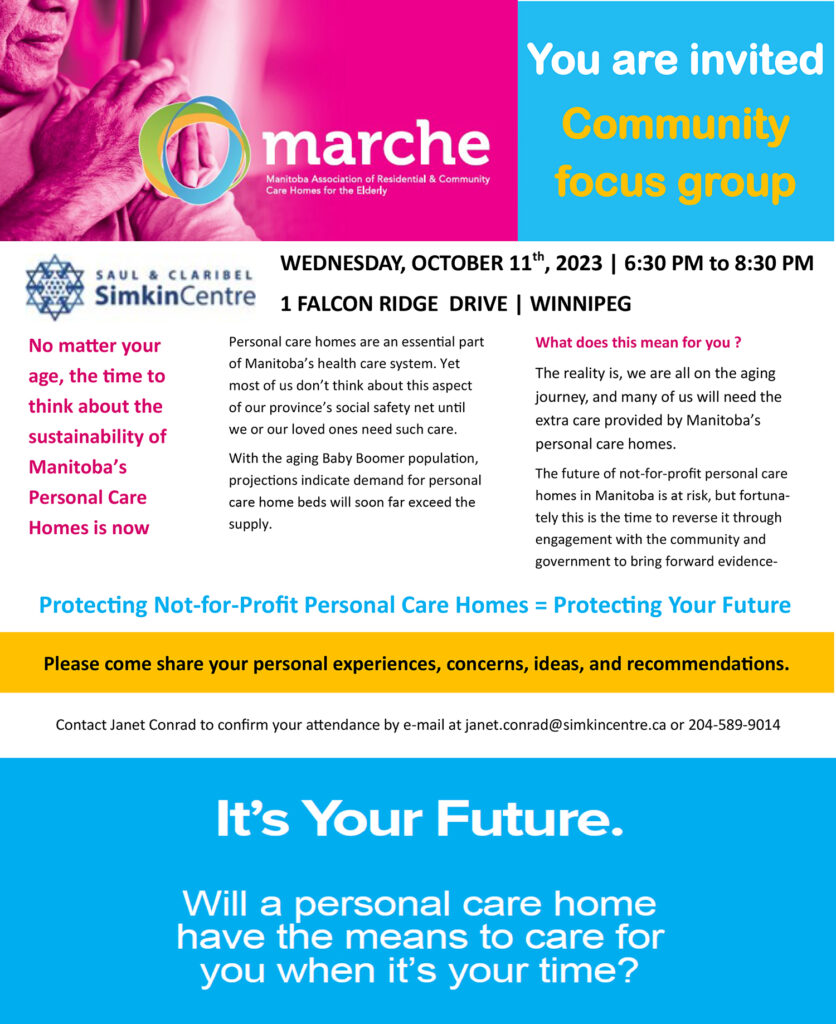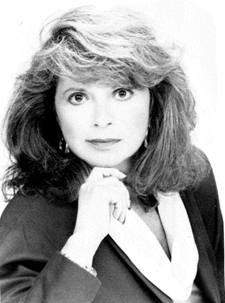 Phyllis Pollock died at home Sunday September 3, 2023 in Winnipeg, after a courageous lifetime battle with cancer.
Phyllis was a mother of four: Gary (Laura), daughter Randi, Steven (deceased in 2010) (Karen), and Robert. Phyllis also had two grandchildren: Lauren and Quinn.
Born in Fort Frances, Ontario on February 7, 1939, Phyllis was an only child to Ruby and Alex Lerman. After graduating high school, Phyllis moved to Winnipeg where she married and later divorced Danny Pollock, the father of her children. She moved to Beverly Hills in 1971, where she raised her children.
Phyllis had a busy social life and lucrative real estate career that spanned over 50 years, including new home sales with CoastCo. Phyllis was the original sales agent for three buildings in Santa Monica, oceanfront: Sea Colony I, Sea Colony II, and Sea Colony. She was known as the Sea Colony Queen. She worked side by side with her daughter Randi for about 25 years – handling over 600 transactions, including sales and leases within the three phases of Sea Colony alone.
Phyllis had more energy than most people half her age. She loved entertaining, working in the real estate field, meeting new and interesting people everyday no matter where she went, and thrived on making new lifelong friends. Phyllis eventually moved to the Sea Colony in Santa Monica where she lived for many years before moving to Palm Desert, then Winnipeg.
After battling breast cancer four times in approximately 20 years, she developed metastatic Stage 4 lung cancer. Her long-time domestic partner of 27 years, Joseph Wilder, K.C., was the love of her life. They were never far apart. They traveled the world and went on many adventures during their relationship. During her treatment, Phyllis would say how much she missed work and seeing her clients. Joey demonstrated amazing strength, love, care, and compassion for Phyllis as her condition progressed. He was her rock and was by her side 24/7, making sure she had the best possible care. Joey's son David was always there to support Phyllis and to make her smile. Joey's other children, Sheri, Kenny, Joshua and wife Davina, were also a part of her life. His kids would Facetime Phyllis and include her during any of their important functions. Phyllis loved Joey's children as if they were her own.
Thank you to all of her friends and family who were there to support her during these difficult times. Phyllis is now, finally, pain free and in a better place. She was loved dearly and will be greatly missed. Interment took place in Los Angeles.
Gwen Centre Creative Living Centre celebrates 35th anniversary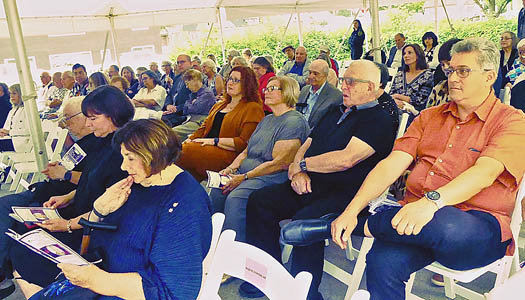 By BERNIE BELLAN Over 100 individuals gathered at the Gwen Secter Centre on Tuesday evening, July 18 – under the big top that serves as the venue for the summer series of outdoor concerts that is now in its third year at the centre.
The occasion was the celebration of the Gwen Secter Centre's 35th anniversary. It was also an opportunity to honour the memory of Sophie Shinewald, who passed away at the age of 106 in 2019, but who, as recently as 2018, was still a regular attendee at the Gwen Secter Centre.
As Gwen Secter Executive Director Becky Chisick noted in her remarks to the audience, Sophie had been volunteering at the Gwen Secter Centre for years – answering the phone among other duties. Becky remarked that Sophie's son, Ed Shinewald, had the phone number for the Gwen Secter Centre stored in his phone as "Mum's work."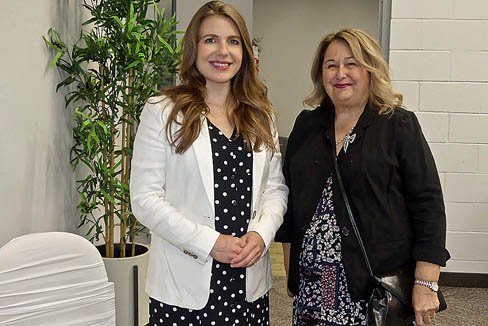 Remarks were also delivered by Raquel Dancho, Member of Parliament for Kildonan-St. Paul, who was the only representative of any level of government in attendance. (How times have changed: I remember well the steadfast support the former Member of the Legislature for St. John's, Gord Mackintosh, showed the Gwen Secter Centre when it was perilously close to being closed down. And, of course, for years, the area in which the Gwen Secter Centre is situated was represented by the late Saul Cherniack.)
Sophie Shinewald's granddaughter, Alix (who flew in from Chicago), represented the Shinewald family at the event. (Her brother, Benjamin, who lives in Ottawa, wasn't able to attend, but he sent a pre-recorded audio message that was played for the audience.)
Musical entertainment for the evening was provided by a group of talented singers, led by Julia Kroft. Following the concert, attendees headed inside to partake of a sumptuous assortment of pastries, all prepared by the Gwen Secter culinary staff. (And, despite my asking whether I could take a doggy bag home, I was turned down.)