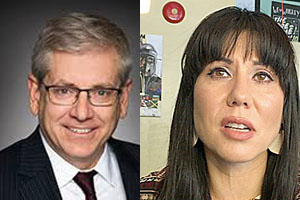 Introduction: Earlier this month two NDP Members of Parliament, Charlie Angus and Leah Gazan, raised the hackles of many individuals by suggesting that Israel was denying the Covid vaccine to Palestinians on the West Bank. Myron Love wrote a strongly worded criticism of those two MPs, which you can read here. We also offer a letter by reader Diane Zack, who defended the two MPs:
By MYRON LOVE
NDP Member of Parliament Charlie Angus is "shocked" – in his own words – that B'nai Brith Canada has accused him of "promoting anti-Semitic conspiracy theories" by reprinting an article from the Guardian news paper in England, which Jewish News Syndicate editor Jonathan Tobin describes as the equivalent of a medieval blood libel.
"The myth that the Palestinians were denied the vaccine demonstrates the persistence of anti-Semitism and ignorance about who governs Arabs in the West Bank and Gaza," Tobin notes, in a feature on the JNS website on January 5.
The article in question, Tobin points out, accuses Israel of only approving the Covid vaccine to Jews in keeping with the slant that the Guardian and other mainstream media take. Tobin also cites a similar report from PBS's "News Hour" as evidence of the lies constantly being spread about Israel in certain segments of the media.
The truth is, Tobin continues, that Arab citizens of Israel – about 20% of the population – are being vaccinated just like Jewish citizens.  (The media seem to still be completely unaware after 70 years that there are Arab citizens of Israel.)  Those Arabs who live within the boundaries of Israel, including Palestinians who live in united Jerusalem but who have chosen not to become Israeli citizens, are also getting the vaccine, he adds.
As well, Tobin notes, "contrary to those who harp on Israel's supposedly tyrannical role as "occupier" of the West Bank and Gaza, the Jewish state doesn't administer the daily lives of Palestinians who live there. The health-care system in the villages, towns and cities of the West Bank where Arabs live is run by the Palestinian Authority, not Israel. Those who live in Gaza are ruled by the Hamas terrorist organization, which operates the coastal enclave as an independent Palestinian state in all but name".
He further points out that "you had to scroll down to the 13th paragraph of the Guardian article to where the paper noted that the P.A. has not asked for help from Israel. Indeed, it cut off coordination on issues relating to health care and security since early last year to express its pique at the Trump administration's peace proposal, which it rejected just as it has all such efforts for decades".
So how – considering that the two Palestinian governments are refusing any Israeli aid – can Israel be accused of denying that aid?  In addition, shouldn't the Israeli government' priority be to vaccinate its own citizens before anyone else?
Tobin also notes that the Guardian reports that the P.A. is pursuing its own vaccine solutions with international pharmaceutical companies – as it should. I don't see anyone suggesting that Israel is trying to block any such agreements.
"Since vaccinations of Palestinians in the West Bank and Gaza are not Israel's responsibility, and both the P.A. and Hamas have rejected Israeli offers of coordination and help on the issue, why then have supposedly reputable news organizations spread this lie?" Tobin asks.
"The answer," he writes, "is that the claim fits into the ongoing narrative about Israel and the Palestinians that much of the mainstream media has adopted for the last half-century. In doing so, those who spew such falsehoods not only serve to help demonize Israel, but also to deprive the Palestinians of any agency for their fate or the conduct of their leaders.
"It's important to understand that this is not just another example of inaccurate Mideast reporting by journalists who don't know any better. By claiming that Israel is deliberately depriving Palestinians of a life-saving vaccine, outlets who give credence to this charge are pumping new life into old anti-Semitic canards that amount to blood libels against Jews.
"Much like past allegations that Jews harvest the organs of Palestinians, poison their children or have engaged in mass slaughters in the course of attempting to suppress rocket fire and other accounts of terrorism, the vaccine is just the latest entry in a long list of untruths about Israel intended to make it seem uniquely evil. Such fabrications are a necessary corollary of arguments that call for the elimination of the only Jewish state on the planet and the only nation being targeted for such treatment.
"Part of this campaign necessarily involves not just ascribing evil motives to Israelis, but in reinforcing general ignorance about the facts of the conflict. It also shows that the line between legitimate criticism of Israeli policies—and anti-Zionist and anti-Semitic smears—is one that some in the news media who ought to know better simply don't recognize. Shifting the discussion about what is already a complex conflict from one about territory and national rights to one in which Jews are cast in the role of murderer of non-Jews that stands at the heart of classic anti-Semitic tropes remains deeply troubling. Journalists who do this are not only making peace even harder to achieve; they are also ensuring that the debate about the Middle East is transformed into one in which real crimes against Jews can be rationalized and even justified."
Charlie Angus's response to B'nai Brith was that when he was in Israel last January, an Israeli official told him that "getting into Gaza is virtually impossible and the Israeli Government carefully controls who gets in and what is allowed into Gaza".  He takes that to mean that because Israel controls its border crossing with Gaza – whose government is in a self-declared state of war with Israel – that Israel "occupies" Gaza.
Angus is obviously unaware that Egypt also has a border with Gaza and that the Egyptian government also "carefully controls who gets in and what is allowed into Gaza", Why therefore does Angus not conclude that Egypt is "occupying" Gaza?
At the same time that Angus is spreading anti-Semitic lies, he adds in his rebuttal to B'nai Brith that he "continues to be an ally in the fight against anti-Semitism".
What is particularly disappointing is that the Guardian article was also retweeted by Winnipeg Centre NDP MP Leah Gazan, who is a daughter of a Jewish Holocaust survivor. 
Here is a contrasting opinion:
Earlier this month, the Centre for Israel and Jewish Affairs (CIJA) and B'nai Brith Canada accused Timmins-James Bay MP Charlie Angus and Winnipeg Centre MP Leah Gazan of anti-semitic behaviour for publicly criticizing Israeli policy.
The two MPs had posted a link to an article from The Guardian newspaper that pointed out that Palestinians in the Israeli-occupied territories are not among the beneficiaries of Israel's rapid rollout of Covid-19 vaccines, whereas the neighbouring Jewish settlements are. Ms Gazan said that "Israel was excluding people from being vaccinated based on discriminatory decisions and a clear violation of human rights".
The Winnipeg branch of the United Jewish People's Order (UJPO) supports these MPs for publicly taking a stand, and pointing out the double standard of Israeli policy, which discriminates against the Palestinian people. We also want to take a stand against the pro-Israel lobby groups who label anyone who criticizes Israel as being anti-semitic. They are promoting this definition of anti-semitism in order to attempt to intimidate people from speaking out for human rights and justice in Israel/Palestine.
On January 8th, the CBC radio program The Current interviewed the Director of the School of Public Health at Ben Gurion University, who is also on the Israeli National Advisory Committee for Covid-19 about their vaccination rollout program. After discussing the reasons for its success, the Director was asked by the radio host to comment on the 'fierce criticism' of Israel around the world for its exclusion of Palestinians in the West Bank and Gaza from the vaccine. The Director replied that if it was only up to the Minister of Health, the Palestinians would be getting vaccinated too for both moral and utilitarian reasons. He further hoped that the vaccination program would reach the Palestinians soon.
Ms Gazan's and Mr. Angus' comments are not anti-Semitic and we thank them for supporting the human rights of the Palestinian people in the occupied territories of Gaza and the West Bank, in spite of facing unfounded criticism.
Diane Zack
On behalf of the United Jewish People's Order
Winnipeg