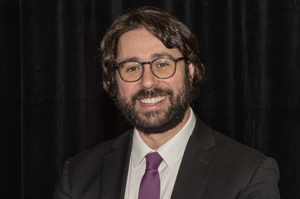 By BERNIE BELLAN Two ongoing stories have certainly led to a fair bit of conjecture within Winnipeg's Jewish community as to whether there's more to both stories than we've been told. The first has to do with Rabbi Matthew Leibl's leaving his position as one of the two rabbis at the Shaarey Zedek.
Like most of you who have been following this story with rapt interest, what's happened since the Shaarey Zedek made the surprise announcement that Rabbi Matthew will not be returning as rabbi for Winnipeg's largest and oldest congregation has been a great deal of speculation as to whether there may be more to this story than the ostensible reason we've been given.
Now, while I may be a nosy "quasi-journalist" – as I like to style myself, so far I haven't heard anything that would definitely contradict the explanation that Rabbi Matthew's contract – which ended June 30 – after only three and a half years, is not being renewed.
I watched his farewell address on June 25, as I'm sure so did many others, in the hope that we might be given a sliver more information as to why a young, dynamic rabbi who has only been in his position since November 2018, would now choose to leave that position.
On the face of it, I suppose we should accept Rabbi Matthew's explanation that he wants to spend more time with his two young children, but let's be honest: Shaarey Zedek congregation's relationship with its rabbis over the years has not always been a pleasant one.
It wasn't that long ago (2012) that Rabbi Larry Pinsker's controversial departure from that congregation also led to widespread speculation as to the reason or reasons that underlay that move.
It would be inappropriate to engage in any sort of rumor mongering here by repeating some of the rumors that I've heard as to why a charismatic and popular young rabbi would be leaving his position so early into his career, but I did find it interesting to learn, in watching Rabbi Matthew's farewell address, that he is still going to remain a rabbi – and will be available to officiate at weddings, for instance. (I presume he'd also be available to perform funeral services and serve as a rabbi at bar or bat mitzvahs that are held outside a synagogue.)
One wonders what might happen in a few years' time when both Rabbi Matthew's children will be enrolled in school full time. Surely someone as gifted as Rabbi Matthew still has an enormous contribution to make to any community of which he's a part – whether that's in Winnipeg or somewhere else.

The other story that's caught my attention was a blog entry on June 15 on the Times of Israel website by Catherine Chatterley, Director of the Canadian Institute for the Study of Antisemitism.
I hadn't been aware of Chatterley's post until I received a phone call from someone whom I know well – and who's involved with a prominent pro-Israel organization here, who asked me whether he could write a letter to the editor in response to what Chatterley had written. I said to him that I found it a little strange that someone would want to write a letter to the editor about something that appeared in an entirely different publication (in this case an online one), so I demurred from accepting what he might want to write.
Then I received yet another call from someone who's also very involved with another organization here asking the same thing. What, I wondered, could Chatterley have written that would lead two different individuals wanting to write letters to this paper about something that was never published in our own paper?
Subsequently, I read Chatterley's blog. I could see that what she wrote might raise hackles among more right wing elements within both our Jewish community and the non-Jewish community, but with all due respect to those individuals who found Chatterley's comments so provocative, I thought that what she wrote was well reasoned and hardly the sort of piece that would engender strong criticism.
Here though is an excerpt of what she wrote that I suppose might be construed as somewhat controversial:
"Over the last month, I watched many Jews on Facebook expressing bewilderment at the deafening silence of their non-Jewish contacts and read op-eds by the heads of Canadian Jewish organizations echoing a similar concern and literally begging Canadians to 'start caring about antisemitism.' The reason for this silence is that some people are not interested, first and foremost, they do not care about the foreign region of the Middle East and they are trying to survive economically and psychologically in the midst of an insane never-ending pandemic. Secondly, however, most non-Jews do not see antisemitism as the root cause of Palestinian rage, even if it flares up as a side effect of that rage. Instead, they see the imbalanced and unjust conditions in the Middle East; they see a strong Israel armed to the teeth with American weapons, both offensive and defensive, not a vulnerable people surrounded by enemies; they see the Palestinian people living under Israeli military occupation in the West Bank with its daily restrictions and humiliations, and under the rule of Hamas in Gaza with no democratic elections in sight and no new honest effective leaders on the horizon. They see hopelessness and frustration that explodes under the pressure of hot war, especially among young people with dim hopes for the future. This is not to justify any violence, as all violence is unjustifiable, it is simply to understand the dynamics of these endless cycles of conflict and how many people perceive them outside the Jewish community…
"For the foreseeable future, however, it is diaspora Jewry that will be held hostage by this seemingly irreconcilable conflict 10,000 km away. And given the political and cultural trajectory before us, I believe these hostages will be targeted with increasing rage and antisemitism in Canada and the United States, especially in relation to violent developments in the Middle East. Diaspora Jews, including their children, may also face growing exclusion in coming years if things continue to deteriorate politically, be it stated obviously or performed more covertly."
I'm not sure that I buy the argument that the rise in antisemitism that we've been witnessing of late is directly a result of Israel's behaviour toward Palestinians. For many of the individuals that have been engaging in incendiary antisemitic rhetoric, they don't need much of an excuse to hate Jews. I'm also not sure to what extent many of these same individuals also give a damn about Palestinians – or how much they know about the Israel-Palestine conflict. As to others in the non-Jewish community who may be more sympathetic to the Palestinian cause because of the perceived imbalance between Israel and Palestinians, to say that "diaspora Jewry will be held hostage by this seemingly irreconcilable conflict… targeted with increasing rage and antisemitism in Canada and the United States" seems a bit of an overstatement.
Yes, in certain instances, such as what's been going on at some university campuses for years, i.e., unsafe environments in which to display pro-Israel sentiments, the Middle East conflict has boiled over into overt hatred for Israel, but to say that "diaspora Jewry will be held hostage" and we may face "growing exclusion in coming years if things continue to deteriorate politically" is describing a worst case scenario.
What I found most surprising about Chatterley's article, however, is that, until now she has received strong support from right wing Jews. One wonders to what extent some of those supporters will be sufficiently angry that she has attempted to tie antisemitism to Israel's behaviour toward Palestinians that they will want to drop their support for her.
And, judging by the two calls I received from individuals asking that they be allowed to respond to Chatterley's article – and they were both from representatives of what I would consider to be right wing organizations, I would suggest that she has now stepped into quite a bit of a quagmire. I give her full marks for being courageous though; she must have known beforehand that what she was writing would be considered offensive to many of her supporters.