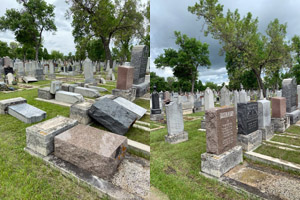 By BERNIE BELLAN Early in the morning of Wednesday, June 29, staff at the Shaarey Zedek cemetery discovered that approximately 70 headstones in an older part of the cemetery (Sections 1 and 2) had been toppled over night.
In a report posted to the CJN website, John Longhurst wrote that "Ron Ukashi, executive director of Congregation Shaarey Zedek, said the cemetery has security cameras and police are collecting evidence."
However, after we attempted to contact Ran Ukashi on June 30 to ascertain whether there actually are security cameras at the cemetery (which I have never seen), and we were told by an informed source that "There are no security cameras currently in place at the cemetery. My understanding after speaking to Ran is that implementation of surveillance there would be quite costly."
Ran Ukashi has not responded to a follow-up phone call nor, as of the time or writing, has he responded to an email request for clarification about security cameras.
While we understand that questions surrounding security can be sensitive, it might come as a surprise to family members of deceased relatives that there are no security cameras at the Shaarey Zedek Cemetery.
If Ran Ukashi had simply told John Longhurst that he would not comment on aspects of security relating to the cemetery, we would have understood that, but that is not what he told Longhurst.
On June 30 four workers from Larsen's Memorials came out to the cemetery with a crane and, over the course of seven hours, set about restoring all but two of the headstones that had been toppled. I spoke with David Bohn of Larsen's, to ask him whether Larsen's was paid anything for their work.
He responded that the company did it entirely free of charge. He also said that they were able to restore all but two of the stones to their original state. Those two stones had shattered upon being toppled, David said.
The stones in the older part of the cemetery are generally in a weaker state than newer stones, and it would not have required much effort to topple them, we were told by a memorial expert.
What Larsen's did is reminiscent of a similar situation in 2014 when the Hebrew Sick Benefit Cemetery was vandalized and workers from Everlasting Memorials came out to repair the damage – again totally free of charge. Also, in 2009, Eden Memorials (which has since gone out of business) did similar repair work at the same cemetery after an act of vandalism had occurred there.
However, in a message sent to Shaarey Zedek members, thanks were offered to another memorialist company, in addition to Larsen's. According to information that we have verified, only Larsen's performed any work. However, we have verified that a representative from another company did come out to the cemetery to look at the damaged headstones, but was unable to offer immediate assistance. That was the extent of that company's involvement.