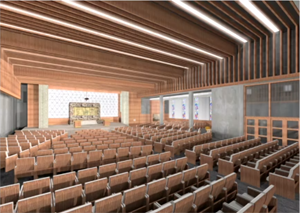 On June 30, the Shaarey Zedek released detailed plans of how it will handle operations during the reconstruction of the synagogue. Following is that announcement in full:
Dear Friends,
The number one question we've been asked in 2022 is about the relocation of synagogue operations during construction. We appreciate your patience with us — it has been a challenging process to assess options, reach consensus, and negotiate lease terms. Today we are pleased to provide you with the plan! After exploring countless options from commercial spaces to hotels, we chose to keep close to the Jewish community — our new temporary homes will be at Temple Shalom and the Asper Jewish Community Campus, and we will operate there fully beginning Monday, July 25.
Our friends at Temple Shalom (1077 Grant Avenue) have graciously leased us space for:
• Administrative Offices.
• Sanctuary for Daily Minyan (Sunday to Friday, and Saturday Evenings).
• Sanctuary for Funerals and other Life Cycle Events.
• Space for small to medium-sized Programs and Meetings.
Our friends at the Asper Jewish Community Campus (123 Doncaster Street) have also generously leased us space for:
• Friday Evening and Shabbat Morning Services in the Berney Theatre.
• Shabbat Luncheon (Kiddush) in the Adult Lounge or other spaces depending on attendance.
• High Holy Day Main Service in the Gymnasium (will be decorated for ambience).
• High Holy Day Children's Activities.
• Spaces for some Programs and some Meetings.
• Our Catering and Takeout operations will share space with Schmoozer's Cafe. We will therefore only offer pareve and dairy-only options for the foreseeable future.
A few other things to know:
• Saturday morning Bar and Bat Mitzvahs will be held at the Berney Theatre. Bar and Bat Mitzvahs that are on other days such as Rosh Chodesh, Thursdays, and Saturday Evenings, will have venue options based upon availability of the Berney Theatre, and Temple Shalom. If you select to have your simcha at a hotel or other venue, we will now provide clergy to officiate the service. We have also invested in new audio and visual equipment so we can be flexible for your event and offer streaming almost anywhere. The catering we can offer at hotels and other venues will be based upon their policies and your independent arrangements with them. For instance, you may be able to order desserts from Shaarey Zedek that we can deliver to the facility, but the venue will cut and serve.
• Funerals will continue to be offered graveside as they always have, and at Temple Shalom with our clergy team. We will not have funerals at the Asper Jewish Community Campus. We do not have a set location for Meals of Consolation; however, we can provide options based upon availability or cater at a venue you privately arrange such as a house, condo/apartment lounge, or other location.
• Sisterhood Gift Shop will become virtual! An online store is being developed so you can select and pay for items – then pick them up from our administrative offices at Temple Shalom when we receive them, or we can ship to you for a fee.
Our staff are beginning to pack offices, and we are working with a company to assist in packing up, moving, and storing items. Much care will go into packaging our ritual items, and historical artifacts and documents.
Important Dates:
• Week of July 17 – Administrative offices will transition to Temple Shalom. It is best to email or call us first before coming to Shaarey Zedek or Temple Shalom as there will be downtime as we set up our workstations, network, and equipment. Updates will be posted on the main page of our website.
• Saturday, July 23 – The final in-person Shabbat Morning Service at Shaarey Zedek will be at 10:00 AM.
• The final in-person Daily Minyan at Shaarey Zedek will be at 6:00 PM.
• Sunday, July 24 – Morning and Evening Minyan will be virtual only as we transition equipment to Temple Shalom.
• Monday, July 25 –
• Our first in-person Daily Minyan Services will take place at Temple Shalom – Morning Service at 7:30 AM and Evening Service at 6:00 PM. Our service schedule will remain the same but will be held at Temple Shalom from that day forward.
• Administrative offices open officially at Temple Shalom.
• Saturday, July 30 – Our first in-person Shabbat Morning Service will be at the Berney Theatre at 10:00 AM.
All the above updates will be posted on our website, social media, and reminders will be sent by email. Additional information will also be sent out in July.
The combined efforts of our professional team and volunteers to make this transition happen has been significant. Many hours of work and the unwavering commitment of our group has brought us to this point and will continue to propel us forward. We appreciate your commitment to the congregation, this project, and thank you for your patience with us.