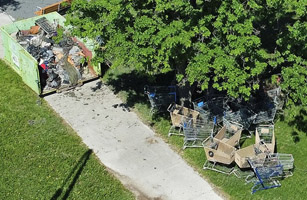 By BERNIE BELLAN Anyone who had driven, cycled, or walked over the west span of the Sherbrook bridge in the past year was bound to notice that the south bank of the Assiniboine River had become home to a great many homeless people.
With tents having sprung up, along with a wide assortment of possessions that the people who had decided to make that area home – at least temporarily, it wasn't long before what was once a pristine area was now covered with a great deal of detritus associated with temporary living quarters. We're not quite sure where the former inhabitants of that particular camp have now moved, but once they did go elsewhere they left behind tents, clothing, a lot of junk, and a huge number of shopping carts.
With the excessive amount of snow and rainfall that Winnipeg received this past winter and spring that area of the riverbank had turned into one heck of a muddy mess.
So it was that one member of Shaarey Zedek Congregation, Ray Singer, hit upon the idea of trying to organize a massive clean-up operation. Ray contacted representatives of the Unitarian Church, which is immediately adjacent to the area of the riverbank that had become one huge garbage dump. He also contacted Rena Elbaze, Engagement & Education Director for the Shaarey Zedek, to see whether Rena might be able to get word out to Shaarey Zedek members, asking for volunteers in the clean-up.
On Wednesday, June 22, the various volunteers, including members of the Shaarey Zedek, the Unitarian Church, also members of the Bear Clan, gathered at the Unitarian Church to begin the quite arduous process of cleaning up the abandoned camp. Volunteers had been asked to bring gloves, goggles, masks, and garbage bags with them, also rubber boots, sunscreen, mosquito spray, and water bottles. Volunteers were also told to wear long pants and long sleeved shirts. They were also told they would work in shifts – with one group working from 9 am – 11 am, while a second group would work from 11 am – 1 pm. As it was, Ray Singer told me the work took much longer than the four hours that had originally been thought would be sufficient.
A local refuse business donated a large bin for the day – and as you can see from the picture accompanying this story, it was filled up. But, as other pictures will attest, the riverbank had become thoroughly softened, not only by the huge amount of snow and rain, but also by the Assiniboine River overflowing its banks this spring. Pulling debris out of the muck was an enormous challenge and, as Ray also noted, many shopping carts were simply stuck in the river and could not be removed.
One of the principal organizers of the clean-up was Michael Thiessen, who is an experienced Bear Clan member, Ray told me, and who has participated in many clean-up operations in the past. Ray also wanted to acknowledge the help provided by "Sonya" of the Unitarian Church, who "was instrumental in getting their volunteers out. Ray added that "Rena Elbaze was similarly effective re marshalling SZ volunteers."
The volunteers were also joined unexpectedly by River Heights Councillor John Orlikow, along with former City Councillor Jenny Gerbasi.
In a follow-up email we received from Ray Singer, he noted that "We filled a 14 cu. metre bin ( 8x11x4.5 feet high). John Orlikow, along with other members of the community today hauled out almost 2 dozen shopping carts and filled a bin full of encampment debris from the Assiniboine River off of Wellington Crescent (next to the Shaarey)." Ray added that, despite having asked for assistance from the City of Winnipeg's Public Works Department, the volunteers were turned down. Apparently city workers thought it was too dangerous to bring equipment that would have been very useful in the operation – such as front end loaders, on to the river bank.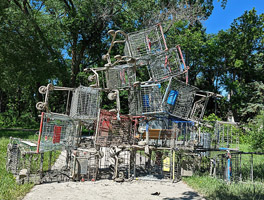 In a surprise twist to the story, the next day (Thursday, June 23), Ray says that he was alerted to the fact that somehow, the shopping carts that had been removed from the muck had been fashioned into a shopping cart pyramid. (One can only imagine the effort that would have taken!) Now, if only whoever built that shopping cart pyramid had expended the same amount of energy helping in the clean-up operation itself. (Or maybe they did. Who knows? Perhaps it was some of the volunteers themselves who decided to create that work of art.)
In any event, hats off to Ray Singer and all the volunteers who came out on June 22 to help restore what had become a notable eyesore for the community.