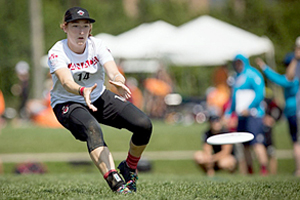 In an email received from Yael Kaplan, who herself is a former Jewish Athlete of the Year nominee, Yael informed us that 2019 Jewish Athlete of the Year Sarah Jacobsohn is now in Toronto, training with Canada's National Ultimate Team for the "World Games," which will be held in Birmingham, Alabama this week – from July 7-17.
According to the World Games website, "The World Games is an 11-day international multi-sport event organized with the support of the International Olympic Committee. Held the year following the Summer Olympic Games, The World Games 2022 will showcase a New Generation of Global Sports in Birmingham from July 7-17, 2022. An anticipated 3,600 elite athletes from over 100 countries will compete for gold in more than 30 of the fastest growing sports in the world."
In Yael's email, she noted that "my friend Sarah Jacobsohn has made the Team Canada World Games Ultimate team. It is the highest caliber of Ultimate there is. The teams are made up of the top 7 female ultimate players and the top 7 male ultimate players in the country. She is the only Winnipegger on the team, as well as the youngest player on the team. It is a HUGE accomplishment and definitely needs some recognition in the J post! She is currently living in Toronto for the summer to train for the games and train with the Toronto 6ixers Ultimate club team. She also helped lead the Winnipeg Fusion Ultimate club team to club worlds (their first bid in I'm not sure how many years..) which take place this summer as well."
Thank you Yael for bringing this to our attention – and congrats to Sarah. In our June 22 issue we'll have a fuller report on how Sarah and her team did.