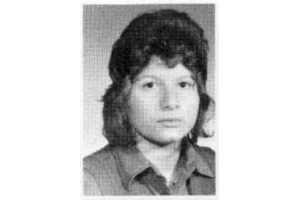 By BERNIE BELLAN
It was 50 years ago this month that the life of a young woman who was loved by all who knew her was cut tragically short as the result of a totally unforeseeable incident.
I didn't know Rebecca Victor (who was commonly known as Rebbie), although it turns out we weren't far apart in age.
According to an obituary that was placed in the January 14, 1971 Jewish Post, "Rebecca Victor, age 15, passed away suddenly on Tuesday, January 5th, 1971, as the result of a shooting accident. She would have been 16 on February 12.
"Born in Winnipeg, she was a graduate of the I.L. Peretz Folk School and a student in Grade X at St. John's High School.
"Active in musical circles, Rebecca had studied piano for a number of years and she was a student of voice with Mrs. Sara Udow. She sang in junior choir at Rosh Pina Congregation for several years and she had also participated in several productions with the Internationals at the Hollow Mug. She was formerly active at the Y.M.H.A. Community Centre where she had been the winner of a number of oratorical contests."
In that same issue of The Jewish Post, Abe Arnold wrote a piece titled "The Meaning of a Young Girl's Life":
"A young girl is dead after an accidental shooting.
"Rebecca Ruth Victor – Rebbie to her friends – died a little more than a month before her sixteenth birthday. To ask why is to express a cry of anguish over the death by shooting of men and women everywhere in the world since guns were invented.
"This particular death, however, is a tragedy for many people and a catastrophic change in the lives of the immediate family.
"Rebbie Victor was a talented young woman with mature interests in the world around her. A student of music and of dance, she showed accomplishment at the piano and had a lovely voice, but music was not all and she had a great zest for the varied experiences of life.
"Rebbie had an earnest concern for other people demonstrated by her active interest in the cause of world peace and in political activities which, to her, were truly devoted to the achievement of a just society.
"Her desire for learning virtually exceeded the bounds of the school, but on January 4 she returned happily to her classroom to begin some new and more stimulating courses and, with the part of a new musical show to be performed later in the winter "The music for 'Camelot' sits on the piano at the Victor home and, alongside it, the music for a Gordon Lightfoot song.
"On January 5 she left school in the company of several classmates and apparently suggested a visit to a Co-operative House on St. Johns Avenue which has been serving as a community youth centre. Rebbie was a frequent visitor to the house, where she had been stimulated by impassioned discussions on war and politics and the injustice of our society.
"On this last occasion her companions were visiting the house for the first time and she was showing them around. They came to a room with a rifle hanging on the wall, which Rebbie herself had probably never seen before. In that place she could only conceive of it as a museum piece – a relic of violent death which she abhorred with all her being. To one of her companions, however, it was a curiosity to be investigated and it proved to be not a relic, but a live instrument of death.
"Can anyone imagine the shocked reaction of the young man – who squeezed the trigger in jest – at the deadly results? Can one conceive of the overpowering shock of the father on being suddenly called to the hospital to be told that his only child is no more? Can one grasp the grief of the mother who is told by her husband that their daughter has been torn from life? And can one conceive of the confounded feelings of remorse of the person who owned the gun, and of the others associated with the Co-op House?"
Abe Arnold's piece goes on to try to place young Rebbie Victor's death in a larger context relating to gun violence.
In light of the fact that it is the 50th anniversary of Rebbie Victor's senseless death, Richard Yaffe, who was both a schoolmate of Rebbie's and a good friend, contacted me to say that he wanted to mark the anniversary in some way – which is why you see the memoriam accompanying this article on this page and not on the usual memoriam page.
I noted that I did not know Rebbie Victor, but after I spoke with Richard I began to realize just how wide a swath of friends she actually had. In the normal course of a week I happen to speak with any number of different individuals about various matters. As it turned out, three different times when I mentioned Rebbie Victor's name and asked different people whether they knew her I was greeted with the same reaction: "I knew Rebbie really well."
From her obituary and Abe Arnold's piece it is clear that Rebbie was a young woman of immense talent – and who, had she lived, was destined for great things.
I often remark to others that the stories in our paper which resonate most profoundly with readers are stories of lives cut tragically short – either as the result of a sudden accident or perhaps a premature death due to a terminal illness.
I have no special reason to want to pay tribute to Rebbie Victor beyond anyone else whose life might have ended all too prematurely, but it is somewhat significant to think that, as we are going through a period in which the daily recitation of the numbers of deaths from Covid has become a ritual which we would all like to be rid of, there are names attached to those numbers.
Fifty years on, will people think back to the period in which we are now living and remember the tragedy that befell so many of our loved ones? Thank you, Richard Yaffe, for taking the trouble to recall a life snuffed out 50 years ago – whose life, and tragic death, resonated to such a huge degree with so many others.