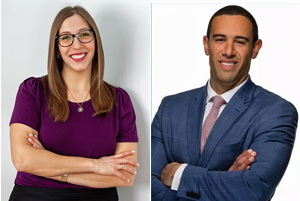 By BERNIE BELLAN
In late November we reported that the Winnipeg branch of the Canadian Associates of Ben Gurion University had made a major transition in its local leadership when longtime Winnipeg chair Sheldon Zamick handed over responsibilities to two thirty-something members of our community: Diandra Etkin and Aaron Migie.
The notion that local leadership of a major Jewish organization would be passed on to two individuals who would be considered part of the next generation of leaders is significant in that it marks the first time that has happened here.
We spoke with both Diandra and Aaron – to find out more about their respective backgrounds and to discuss with them what they hoped to achieve as co-chairs of CABGU.
Diandra Etkin teaching at Brock Corydon
in Hebrew Bilingual program
Diandra Etkin is presently a teacher in the Hebrew Bilingual program at Brock Corydon School, where she has been teaching for the past three years.
Two summers ago, Diandra explains, she went to Israel for the summer where she enrolled in an Ulpan program. With that under her belt she was now equipped to begin teaching Hebrew at Brock Corydon which, she says, she loves doing.
When Diandra first began teaching at Brock Corydon, she says, it was in the English program. But, having been a student in the Hebrew Bilingual program herself when she was an elementary school student (at Margaret Park School), Diandra always had an interest in moving over to teaching in the Hebrew side of the program.
Her first year in the Hebrew Bilingual program (last year) Diandra taught both Hebrew and English subjects. This year, she says, she is teaching only English subjects in the program.
Diandra says that her first visit to Israel followed what has by now become a well-worn pattern for many young members of our community: She participated in the March of the Living in 2006 when she was a student at University of Winnipeg Collegiate and, the next year, she was part of the Birthright program in Israel.
"I fell in love with Israel," Diandra says. "Everything I had heard about Israel was coming true." Diandra notes that she actually spent her 18th birthday in Israel during March of the Living. In that vein, Diandra has also served as Adult Ambassador for Shalom Square.
It was when she returned from her summer Ulpan experience in 2019, however, that Zach Ostrove, Executive Director of CABGU sought Diandra out to serve on the CABGU board here.
"Zach and I were in the Hebrew Bilingual program together," Diandra explains. When Zach approached her, one of the things he mentioned about Ben Gurion University that held a particular interest for Diandra, she says, was the very innovative research being conducted at that university in the areas of autism and neurodegenerative disease."
"I've taught many students with autism," Diandra explains. (Brock Corydon, like most schools, has students with special needs who are integrated into the regular school program. Diandra also had experience teaching autistic students the two years she spent teaching prior to her coming to Brock Corydon, she notes.)
When asked what she hopes to achieve as co-chair of CABGU here, Diandra says, "For me the reason in taking on this role is to connect Canadians with Ben Gurion University. We will try to bring awareness to all the emerging areas in which BGU is a world leader."
As far as her and Aaron's being considerably younger than any other chairs of local Jewish organizations, Diandra observes that "Being a little bit younger – we can use social media platforms to show everyone in the community how to help fundraising and innovative projects."
Aaron Migie has always had a strong connection to Israel
Aaron Migie's connection to Ben Gurion University follows a somewhat different path than Diandra's. Aaron's mother, Sonora, who was born in India and moved to Israel with her family as a young girl, grew up in Dimona, which is only a short 40 minute car ride away from Beer Sheva, where Ben Gurion University is located.
Aaron explains that he still has many relatives in Israel and has visited there quite often – most recently in 2018, when he also happened to visit Ben Gurion University. (He was already on the board of CABGU by that time, he notes.)
He adds that he has cousins who have themselves attended – and graduated from Ben Gurion University, so he has a long familiarity with that institution.
Like Diandra, Aaron was enrolled in the Hebrew Bilingual program (at Brock Corydon School). Following Brock Corydon, Aaron attended Joseph Wolinsky Collegiate when it was still in the north end. (Even though Aaron is only 38, he would have been among the last students to have attended Joseph Wolinsky when it was still on Matheson Avenue.)
Aaron also attended Kelvin High School, following which he obtained his bachelor's degree from the University of Manitoba in economics and business.
At the age of 22 Aaron began what has now become quite a successful career in the financial industry, starting as a financial representative for Investors Group, then moving on to Assante Wealth Management – with which he has now been associated for 14 years. In recent years he has started his own group at Assante known as Migie Wealth Group.
Aaron says that his involvement with the Jewish community as a young adult began with the Jewish Federation's Young Adult Division (YAD). Like Diandra, Aaron was approached by Sheldon Zamick and Zach Ostrove with an invitation to join the CABGU board here a few years ago.
When Sheldon Zamick decided to step down as board chair, Aaron says that he "was very humbled and honoured to be asked to become co-chair" with Diandra.
"I wouldn't have taken on the role unless I had great people in my corner," he adds, citing Sheldon Zamick, Zach Ostrove, and Mark Mendelson, CEO of Canadian Associates of Ben Gurion University.
What's impressed Aaron about the local board of CABGU, he says, is "how many talented people are on it. There's a tremendous diversity of people – with a huge amount of experience in so many different areas – engineers, accountants, teachers, and so on."
And, when it comes to mounting successful fund raising drives, Aaron observes that "little Winnipeg has done quite well." He points to such successful programs as the events held in recent years honouring Marjorie and (the late) Morley Blankstein; and Hope and Howard Morry.
As well, the contribution of the Vickar family to Ben Gurion University is something that Aaron says has played a significant role in the growth of the university.
As Diandra and Aaron assume their co-chairmanship of what has become quite a dynamic Winnipeg organization, they both say they're looking forward to meeting with other board members every second month in the new year – on Zoom.
And, as unlikely as it seems that there will be an in-person Board of Governors meeting at Ben Gurion University this coming April (much like the one that was scheduled to have taken place this past April and which was also forced to be held online), at some point in the not too distant future, the Winnipeg branch of CABGU is going to be represented in Beer Sheva by two of the youngest board co-chairs I'm sure have ever sat in on a board meeting there.