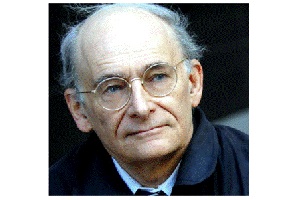 Jan. 4, 2021 Winnipeg-based international human rights lawyer David Matas has been awarded the first ever Global Humanitarian Leader of the Year award by the human rights group Canadians in Support of Refugees in Dire Need (CSRDN).
The award recognizes outstanding individuals, organizations and programs that uphold the principles of peace, justice and mercy, irrespective of race, colour or religion.
CSRDN congratulated and thanked Mr. Matas for decades of dedication to the cause of human rights and especially for his work documenting the horrors of forced organ harvesting in China.
"CSRDN advocates for the most oppressed and persecuted people globally and believes that every life is precious regardless of race or religion,' said Dr. Aliya Khan, the CSRDN co-chair. "We want to recognize David's tremendous contributions to saving lives and justice by speaking out against the horrific crimes of forced organ harvesting in China. Killing people for their organs is a most cruel and barbaric practice and must be stopped."
Mr. Matas has dedicated his life to defending the rights of society's most vulnerable members. A lawyer and recognized authority on human rights, immigration and refugee law, he serves as senior legal counsel for B'nai Brith Canada and has been involved in numerous national and international human rights groups. He was named to the Order of Canada in 2008 for his contributions to human rights legislation and immigration and refugee law.
In 2010, Mr. Matas and former Edmonton MP David Kilgour were jointly nominated for the Nobel Peace Prize for four years of investigative work into allegations that Falun Gong followers in China were being killed for their organs. They meticulously examined transplant programs of hundreds of hospitals in China, drawing on media reports, official propaganda, medical journals, hospital websites and a vast amount of deleted websites found in archives.
The forced killing of prisoners of conscience for their organs started on an industrial scale in China in 2001, but it continues today with Falun Gong victims being replaced by House Christians, Uyghur and Tibetan prisoners.
In recent years, nearly two million Uyghurs and other Turkic Muslims have been detained in camps in China in the largest mass detention of a minority community since the Holocaust. Mr. Matas has repeatedly urged Canada to recognize the crisis as an act of genocide .