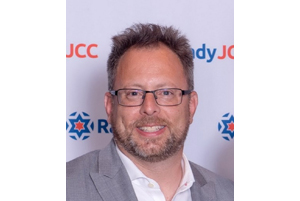 By BERNIE BELLAN
Of all the Jewish organizations that have been hit hardest by the lockdown under which we have all been living to one extent or another since March 2020, none was more adversely affected than the Rady JCC.
While fitness programs continued to be offered, although on a much reduced scale and under careful monitoring provisions, all cultural programming was eliminated from the Rady JCC's schedule quite early on.
Then, when the provincial government ordered increased lockdown measures for fitness facilities, first under Code Orange, then even more stringently under Code Red – when all fitness facilities were ordered to close completely, the Rady JCC found itself having to pare its staff to the bone, with the exception of its child care operations, which the provincial government ordered to remain open – even under Code Red.
However, other JCCs across North America had responded to the pandemic in a variety of ways, including a host of different online programs, so we were somewhat puzzled by the Rady JCC's not offering any programs at all, beyond some online fitness programs.
Recently, the Rady JCC announced though that it will be returning with an enhanced series of online cultural program beginning this month, including a brand new Music 'n Mavens series, a jazz series, some sort of collaboration with the Gwen Secter Centre on a speakers series, and an international Jewish film festival.
Although dates have not been established yet for all programs, according to Rob Berkowits, executive director of the Rady JCC, details are about to be announced imminently (perhaps even by the time you read this).
We spoke with Rob about some of the challenges with which he's had to deal – especially financial ones. He noted that the Asper Foundation has now played a crucial role in helping to restart cultural programming – something that until quite recently, Rob said, he wasn't sure could be offered at all for the foreseeable future.
"We operate like a business," Rob explained. When pressure started to be put on the Rady JCC to begin offering some sort of online programming, "it wasn't as simple as simply setting up a camera" and begin filming various cultural events.
The financing had to be in place first, he noted. And, while other JCCs, such as Vancouver's, have continued to offer a wide range of online programming, throughout the pandemic, "Vancouver kept charging members" without any freeze on memberships – unlike Winnipeg, where all memberships have been frozen since the end of August," Rob explained. (Members at the Rady JCC have been asked instead to consider donating their membership fees to the Rady JCC, for which they would receive charitable tax receipts and Rob did note that many members have done exactly that.)
While the Rady JCC did find that, as a result of the pandemic, it had $700,000 less in revenue by the end of September than it had budgeted, Rob did acknowledge that financial assistance from the federal government in the form of a $700,000 grant did manage to offset that financial hole. In fact, the year end financial report of the Rady JCC did show a surplus of $40,000 in revenues over expenditures, but it was clear that some major cutbacks were needed in order to be avoid going severely into debt – with no prospect of digging out of that hole.
As a result, in the fall there were major layoffs across the board, including every staff member except for childcare staff, and only four other staff: Rob himself, Zach Minuk, Director of Development, Partnerships & Communications, and two members of the finance department, Barry Miller and Victoria Morton.
One of the major challenges the Rady JCC has had to deal with has simply been being able to continue paying its monthly rent to the Asper Campus. As one can well imagine, just keeping the Rady JCC open incurs major operating costs.
And, while the Rady JCC has received financial assistance from the Jewish Foundation (in the form of $92,000 in emergency allocations, which were part of the three-phased rollout of emergency funding the Foundation has provided to a huge number of local Jewish organizations), the loss of revenue from such sources as the annual sports dinner has had a huge negative impact, in addition to the loss of membership revenue.
Rob, though, did acknowledge help that's been given by individuals within the community, saying "We have been receiving some very kind donations".
In his email to members announcing the new cultural programs that are about to begin starting with Music 'n Mavens (Tuesdays and Thursday) this month, Rob wrote:
"Finally, to our members, our partners, and our community: please know your ongoing love, outpouring of support, and constant generosity allows us to continue to push forward and work tirelessly, ensuring that when we can reopen our doors, we will be ready to welcome you home."