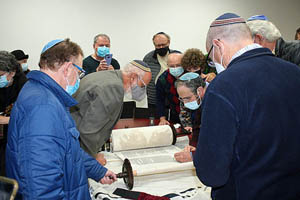 In the picture here Adas Yeshurun – Herzlia President Jack Craven, who donated the new Torah to the congregation, can be sign filling in the final letter of the Torah – a "lamed" (the last letter of the last word in the Torah, "Yisrael").
Craven donated the Torah in memory of his late parents and sister. Rabbi Yosef Benarroch says that the purchase of the Torah represents the culmination of a long search for a new Torah that led to his examining 15 different Torahs altogether.
The sofer (or scribe) for this Torah was contacted three months ago, Rabbi Benarroch said.
The purchase of this Torah represents the first new Torah brought into Winnipeg in many years.