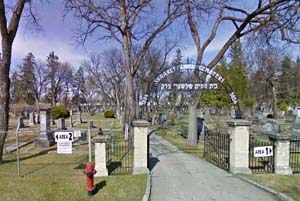 By MYRON LOVE  A few weeks ago, I contacted the Shaarey Zedek Synagogue on behalf of a friend to inquire as to the cost of his funeral when the time comes (which hopefully is still quite a ways off). The quote I received was $16,000. That would include the plot, the Chevra Kadishe fees (for proper Halachic preparation of the body), transportation, digging the grave and perpetual care.
Now while this would appear to be a rather large chunk of change, the numbers are similar to those of Congregation Etz Chayim (which manages our community's other three cemeteries – the Hebrew Sick, Rosh Pina and Bnay Abraham) and Beth Tzedec Congregation, which operates one of Calgary's two Jewish cemeteries. (The rabbi's or cantor's fee there is an extra $500.)
I would point out that those numbers are not a great deal higher than were reported in this paper ten years ago, when this writer last surveyed the cost of Jewish funerals across Canada. At that time, the top figure at Etz Chayim was just over $13,000.
What hasn't changed is that the top line numbers apply to non-members of the synagogues – and that goes for most of the congregational-run cemeteries in the Prairie provinces. At Etz Chayim, for example, members pay $11,000 (as compared to about $8,500 in 2011). Shaarey Zedek members pay $12,000.
(We asked Rena Boroditsky, Executive Director of the Chesed Shel Emes, what happens in cases of an indigent individual. She responded: "SZ, Etz Chayim & Chesed absorb the cost of those without means , there's a wide range of circumstances. The last several years Chesed has waived all or part of about 5 funerals per year. I'm sure the cemeteries have subsidized far more than that."
At Calgary's Beth Tzedec, members pay about $3,000 less. As well, the Calgary congregation has a "plot plan" whereby members in good standing who have been dues-paying members since the 1980s have the price of their plot waived – saving another $3,000.
Now, there is a considerably less expensive alternative in Calgary for members of the Jewish community who are either members of the city's other four synagogues or are unaffiliated. That would be the 37th Street communal cemetery, which is operated by the city's century-old Chevra Kadisha.
Former Winnipegger Rick Pollick is the executive director of the Calgary Chevra Kadisha. He reports that the 37 Street cemetery was opened about a dozen years ago. Each of the four congregations has a designated section.
"We have one price ($5,000) – all-inclusive – for everyone," he says.
Winnipeg also has a less expensive alternative for Jewish burial. That would be Temple Shalom's Beth Chaim Mikdash Shalom – which is located in a designated area in the midst of Chapel Lawn Cemetery in Headingly – although – as with Etz Chayim and Temple Shalom – there is also separate pricing for members and non-members. Members pay about $3,600, which includes the plot, the funeral shroud, the social hall rental and administrative fee. For a Temple member's immediate family (parents or children) who are not members, the total maximum price is about $5,500. Non-members pay an additional $1,000.
Perhaps not surprisingly, smaller Jewish communities on the Prairies have lower burial fees. In Edmonton, for example, the Chervra Kadisha operates the one century-old cemetery and charges an all-inclusive $10,000 fee (plus GST) for all burials.
According to a report in the Alberta Jewish News last December, the current six-acre cemetery is running short of space. As a result, the Chevra Kadisha has plans to open a new cemetery – on 30 acres – next spring.
Chevra Kadisha President Rhoda Friedman says that at that time, "we may have to reassess our fee structure".
Regina's Jewish burial fees are $8,000 for members of the community's main synagogue – Congregation Beth Jacob and $12,000 for non-members.
"We haven't raised our rates in the last five years," reports Miriam Freedman, Beth Jacob's executive director.
While the executive director of Saskatoon's Agudas Israel congregation refused comment, ten years ago, the burial fee for members was $7,250 –with non-members paying $11,250. Most likely, current charges are on a par with Regina's figures.
Now, to be presented with such a large bill at a time of mourning may be disconcerting for your surviving family members. My advice – buy a plot (or double for couples) now and reduce the future financial burden on your family members.
Editor's note:
The situation in Toronto is quite different than in any of the Western Canadian cities that have been cited in this article. There are two private funeral homes serving the Jewish community: Benjamin's and Steeles Memorial Chapel. The cemeteries, however, are run completely on their own. We contacted Steeles to get an idea how funeral costs in Toronto compare with Winnipeg. At the current time all funerals are being conducted graveside.
We were told that a plot at Pardes Chaim Cemetery, for instance, is $3276 plus HST. There is an additional opening and closing fee payable at the time of the funeral, which is currently $1902.06.
As far as the services provided by Steeles, they have a lengthy list of services, including the professional services of staff ($2815); preparation and sheltering of the deceased ($725); automobiles (hearse – $425, general duties vehicle – $295); transfer of the deceased ($375); burial shroud ($395). The total for all these services comes to $5505.
In addition, the costs of caskets range form $1095 for a "classic casket" to $5795 for something called the "Shalom Hardwood".
Altogether though, the costs for a Jewish funeral in Toronto, going by Steeles' price list and including the cost of a plot, are somewhere in the $12,000 range.
We were also interested in the typical cost of a non-Jewish funeral. According to one website, the average cost for a funeral in Manitoba in 2020 was $12,094.