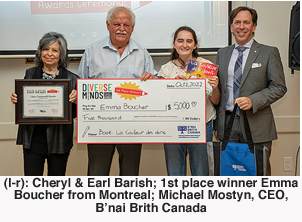 By BERNIE BELLAN In 2019 B'nai Brith Canada inaugurated a writing competition for high school students known as the "Diverse Minds Writing Competition."
On June 19 of that year an audience gathered in the Multipurpose Room of the Asper Campus heard from Cheryl Barish who, along with her husband, Earl, came up with the idea for creating and sponsoring a competition of this sort in Manitoba, after having heard about a similar contest in Washington DC.
The goal, Cheryl explained back then, 'was to "have high school students express their thoughts and feelings about human rights" by writing a book no longer than 24 pages, but that would also include illustrations.
'The challenge was put out to all high schools in Manitoba. Participating students were invited to submit entries either individually or as part of a two-person team (with one person doing the writing and the other, the illustrations).
'As part of the guidelines, students were asked to aim their books at young kids (K-Grade 5). The books were to have themes of "diversity, tolerance and inclusion".
'Suggestions for topics that might form the basis of entries included: "bullying, equal rights, accepting those who are different from you, social and gender issues, religious and cultural tolerance."
'According to Cheryl Barish, she and Earl decided to put up a various amount of award money, including $3,000 for the winning entry. As well, the winning entry was "to be published and put into school libraries" across the province.'
The first year "Diverse Minds" was publicized in Manitoba high schools, 50 entries were received. Ten finalists were eventually chosen by a panel of judges, with all ten invited to appear at the June 2019 event.
The following year – 2020, the Diverse Minds competition was expanded to include students from Ontario, Quebec, and Alberta, as well as Manitoba, although each province held its own competition separate from the other provinces. The same applied in 2021.
But this past year the competition, although still open to students in only the same four provinces, became a national competition, with five finalists chosen by a panel of 10 judges. In a press release issued by B'nai Brith Canada, it was noted that "Diverse Minds is a revolutionary contest designed to promote the vital values of diversity and inclusion through the media of storytelling and illustration. High school students are invited to create books geared towards elementary school students. The winning book is published and the top three entrants are awarded monetary prizes."
The judges this year included a very impressive roster: Cheryl Barish; Wayne Ewasko, Minister of Education, Province of Manitoba; Isha Khan, President and CEO of the Canadian Museum for Human Rights; Franklin Switzer, Chair of the Board of B'nai Brith Canada; Lucinda Chodan, former Vice-President of Postmedia and currently Executive Editor of the Montreal Gazette; Jay Harris, Past Chair, B'nai Brith Canada; Lorrie Goldstein, Editor Emeritus, the Toronto Sun; Elly Barlin Daniels, theatre producer; Michael Mostyn, CEO, B'nai Brith Canada; and Judy Foldes, COO, B'nai Brith Canada.
On October 2nd, the five finalists from across Canada, along with family members and other guests, gathered in the Adult Lounge of the Asper Campus, to learn who this year's winner of the competition would be.
The event was emceed by Marvin Rotrand, National Director for Human Rights, B'nai Brith Canada (also a former Montreal city councillor who served an astounding 39 consecutive years on Montreal City Council).
In introducing the five finalists, Rotrand quoted Britain's former Chief Rabbi, the late Rabbi Jonathan Sachs, who said: "To defend a country you need an army, but to defend a civilization you need education."
Michael Mostyn, B'nai Brith CEO, said: "We are proud of the young participants' incredible work and dedication. The Diverse Minds Writing Competition is a valuable exercise in fostering diversity and inclusion for youth."
The winner of this year's Diverse Minds competition was a student from Montreal by the name of Emma Boucher, whose book (which she also illustrated) was titled "La Coleur des dons" (The colour of the gifts). Emma received a cheque for $5,000 for finishing first.
In second place was a student from Edmonton, Olivia Cai, while the third-place finisher, Sarah Elman, is also from Montreal.
Other finalists included Boluwatife Adetunmbi (writer), a grade 10 student at Fort Richmond Collegiate and Samuel Nunes (illustrator) who was born in Brazil in 2004 and moved to Canada in 2019; and Paris Kehler, also a Winnipeg student.
In the press release issued by B'nai Brith, students who might be interested in entering the 2023 Diverse Minds competition are invited to submit entries until April 16, 2023. Information can be obtained at www.bnaibrith.ca/diverseminds.