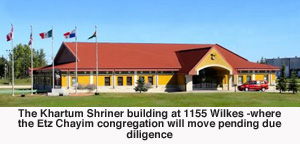 As was first diclosed on this website on September 16, the Etz Chayim Congregation has put its synagogue building up for sale. We also reported that the congregation was looking for a new location somehwere in the south part of the city. On Erev Yom Kippur congregation president Avrom Charach told the congregation that a new building had been purchased, but the exact location would not be revealed until the end of this month.
The Jewish Post & News has, however, learned the site of Etz Chayim's new home (pending of course, finalization of the deal to purchase): 1155 Wilkes, the current home of Khartum Shrine, headquarters for the Shriners in Winnipeg.
Here is an excerpt from Avrom's remarks to the congregation on October 4, which were also reprinted iin the Etz Chayim newsletter:
We "know that being able to physically gather in one place…together…is critical to the life of a congregation……a congregation of our size cannot survive without a building to call home.
As we know, and has been reported many times over the past 10 + years – this building is getting old and needs millions of dollars of investment to bring it back up to the standard we would want for the foreseeable future. Even then, it is too large for our needs, too expensive to operate, and too far from the large majority of our current and future membership. The time came to either invest in this old building or invest in our future in a new home.
Over the last decade, our shul has discussed moving to the southwest part of the city where the majority of our congregation lives, and where we have the best opportunity for future growth. In fact, over the past 4-5 years there have been proactive efforts to achieve this objective. However, for various reasons – not the least of which has been Covid – we have until now not found the right opportunity, one that made good sense to move forward.
It is in this context that I want to address the many rumours circulating about the state and future of this synagogue. So let me be perfectly clear. We are NOT closing our doors! We are very much alive and we are committed to moving forward in a way that is financially responsible, as seamless as possible, sensitive to community demographics, and focused on enhancing the spiritual life of our community.
As I wrote to you all last June, the board committed to the process of relocation – with the first step being to list our current home for sale. Was it an easy decision? NO! Many of us have a deep emotional connection to this building, including me. But change is inevitable and it was concluded many years ago, that this could not be our home forever. So we took that leap of faith, and have put this building up for sale. I am re confirming that our home is up for sale. The listing details are being finalized and a sign will be up shortly.
As fate would have it – or maybe it was something bigger than fate given that we are a shul – within 24 hours of signing the listing agreement, we learned that a building we had expressed interest in a few years ago was coming up for sale.
With the guidance and leadership of one of our members, we drafted and submitted an offer to purchase. We met with the vendors to negotiate terms, and subsequently held a special Board meeting to review the details. The Board approved the purchase contingent on due diligence to ensure that the property is as advertised. On September 14 the vendors accepted our offer. Both parties have agreed to keep the details confidential until due diligence is complete at the end of this month.
In short, I am confirming that we are in the process of securing a new physical home for Congregation Etz Chayim.
Now, I caution, there can be a variety of issues that will impact a prospective purchase. So while we are optimistic, we must also be realistic and careful. While we firmly believe that the deal will be finalized, it is NOT yet a done deal. Still, we felt it was imperative, given that rumors have been flying in recent weeks, that you hear from me – on behalf of the Board – what the facts are.
No doubt you all have questions…and we want to be forthcoming with answers. In fact, it is our responsibility to keep you informed of what we are doing. Assuming the due diligence clears, we will be arranging a town hall meeting during November that will be dedicated to this subject. If the due diligence does NOT clear, we will develop contingency plans for a temporary home so that the sale of the current building can proceed.
This is an exciting time. It's an emotional time. And it's a stressful time. But most of all, it's simply time to move forward."