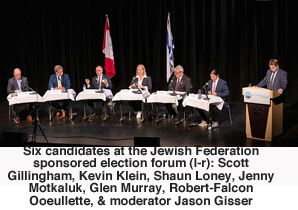 By BERNIE BELLAN On Monday, October 3 the Jewish Federation of Winnipeg sponsored an election forum in which six of the leading mayoralty candidates were invited to participate.
As was explained by moderator Jason Gisser, the rules were that each candidate would be invited to give an introductory statement, after which he would pose a series of eight questions to the candidates.
Each candidate would be given one and a half minutes to respond to the question. Once all the candidates had responded to the question, Jason would invite two of the six candidates to add a further 20 seconds to what they had said initially.
While the format was conducive to what turned out to be a relatively genteel event, the fact that the candidates were not allowed to enter into any sort of exchanges with each other no doubt removed any opportunity for a livelier debate. Also, five other candidates for mayor were not even invited to participate.
What follows is my impression of the evening. I want to make clear that I do not support any particular candidate and have not made up my mind how I will vote. Reports that I have read to date either tend to focus on individual candidates or, when they do report on a particular election forum, are relatively truncated. Instead, as is my usual style in reporting on a fairly lengthy event, I like to offer the reader snippets of what occurred so as to give more of a flavour of what went on – without intending it to be a comprehensive repetition of what was said.
Looming over the entire evening, it must be noted, however, given the news story that the CBC had recently broken which raised questions about Glen Murray's behaviour while he was the executive director of the Pembina Institute, was the possibility that one or another of the candidates would want to launch into some sort of attack on Murray, who is the clear front-runner according to the most recent poll.
The fact is that the only reference to that news story came at the very end of the evening when Robert-Falcon Ouellette made an obvious allusion to the story – when he told of his experience having served in the Canadian Armed Forces for 27 years. During that time, he noted, there was a strong emphasis placed on maintaining the utmost respect for moral behaviour within the armed forces.
Ouelllette went on to say that "No matter what you do at the end of the day, you need a moral leader who will stand up for what is right in our city, that there are certain actions which are unacceptable in our city and there are times as a leader you must say the truth and speak that truth."
"And so I speak it here today and I hope people understand what it is I'm talking about because it's certainly unacceptable for us to be here on this stage all together." (Interestingly, the CBC story that quoted Ouellette had the spelling of that last word as "altogether." I would suggest that would impart quite a different meaning to what he meant.)
But, that remark came late in the evening, when the candidates were invited to give closing remarks for two minutes each, and – after moderator Jason Gisser had finished posing questions to the candidates.
Prior to that time though each of the candidates certainly came across as articulate and passionate. Perhaps the one candidate who decided to try to separate herself from the pack most distinctly was Jennie Motkaluk, who took a more strident approach when, for instance, she referred at different times to "critical race theory" and "woke" attitudes. She also brought a few smiles from the other candidates when she said she really likes "growth and money."
The first two questions that Jason Gisser posed, however, might have seemed somewhat parochial to any non-Jews in the audience (and probably a good many Jews as well). The first had to do with anti-Semitism and what each of the candidates would do to combat it if they were mayor. Would they be willing to attend a planned mayors' conference on combating anti-Semitism? they were asked. Not surprisingly, none of the candidates came out with a position defending antisemitism.
The second question – and one that evidently caught some of the candidates off guard, was whether they would want the city to adopt the "IHRA" definition of anti-Semitism. It was clear that not all the candidates were up to speed on what the IHRA definition of anti-Semitism is. I'm not quite sure what bringing it up had to do with a mayoralty contest in Winnipeg. It reminded me of the effort some years back – not just in Winnipeg, but throughout the world, to declare cities "nuclear free zones" – an interesting proposal, no doubt, but what relevance does it have to urban issues?
The next question though was very much one that has elicited a huge amount of discussion during this election: What would the candidates propose to do about poverty and homelessness?
Glen Murray said that he had practical experience combating homelessness – even prior to serving as mayor of this city, when he helped to foster a neighbourhood housing project in the Spence neighbourhood where, he said, 300 houses were built.
Shaun Loney demonstrated an especially keen knowledge of this file, citing his own background as what he described as a "social entrepreneur," placing a strong emphasis on creating jobs. "I would add add 1,000 social enterprise jobs to Winnipeg," he said.
As far as housing is concerned, Loney said he would create a "$100 million land trust."
"It's not a money problem," he added; "it's a system problem."
Robert-Falcon Ouellette was somewhat dismissive of candidates' promises to alleviate homelessness and poverty, asking whether "any of the politicians here are going to do anything but check off all the right boxes? Politicians are great at discussing things," Ouellette suggested, but when it comes to actually doing things –well, that's a different matter.
Later he added this observation: "Seventy-five percent of homeless people are aboriginal. They don't need a home; they need a friend."
Kevin Klein related his own experience growing up in poverty. His mother was actually killed by his abusive father when he was a kid, he told the audience and "I've lived under the poverty line a good part of my life," he said.
As for politicians not ever doing anything but discuss things, Klein said that he personally brought forward a motion at City Hall to create "Homes for Heroes" – a project that saw a small number of homes allocated to war veterans in Winnipeg.
Scott Gillingham said that he was proud to have been involved in the effort to create a certain amount of "modular housing" for people living below the poverty line. He also said that City Council is implementing a "poverty reduction plan" that he was involved in crafting.
As for Jenny Motkaluk – she said that "the solution for poverty is a really nice job."
"I want to bring 16,000 high paying jobs" to Winnipeg, she added.
As for homelessness, Motkaluk said "there are 780 derelict houses in this city. I want to auction them off."
Shaun Loney added that "we need to realize that governments and not-for-profits need to work together."
Jason Gisser asked each of the candidates to describe their "bold vision" for the future.
Jenny Motkaluk said that "the single biggest impediment to growth and investment in this city is our political leaders."
Glen Murray said "We need to spend money on things that will make this city more beautiful." He noted that when he was mayor three of the projects that were built during his time in office included: Waterfront Drive, the Esplanade Riel, and the Canadian Museum for Human Rights. (He observed as well that the CMHR was a great example of all three levels of government working together.)
In contrast, he noted that the single largest project undertaken by the city since his time in office was "$200 million spent of refurbishing the Post Office."
Shaun Loney pointed to the deterioration of Winnipeg's "green canopy", saying that there are 30 different organizations devoted to protecting and expanding the number of trees in the city. He said he would like to consolidate all those efforts and work hard to protect our imperiled urban canopy.
Robert-Falcon Ouellette proposed the creation of an "urban national park" within Winnipeg to add green space to the city.
Kevin Klein said that his bold vision is to make Winnipeg "safe", noting that "We can't attract more people here if they don't feel safe. People won't ride the bus if they don't feel safe."
The next question was about infrastructure.
Jenny Motkaluk said "We're going to end the corruption" associated with infrastructure projects.
Glen Murray said "We need more value planning to determine whether a project will return in value what it cost to build." He cited Waterfront Drive as a project that has paid back many times over what it cost the city to create the infrastructure for that development.
Kevin Klein did comment later though that residents of Waterfront Drive are now having to deal with a huge upsurge in break-ins.
Shaun Loney said that rather than think about expanding infrastructure we ought "to focus on the infrastructure we've already built."
Robert-Falcon Ouellette cited the example of Quebec City and its transit system as something Winnipeg could emulate, saying that in that city "People really enjoy taking the bus."
In response to that suggestion, Kevin Klein said that currently "Seven thousand people a day in Winnipeg don't even pay for the bus."
Scott Gillingham proposed extending the Peguis Trail and widening Kenaston Boulevard.
Jason Gisser asked about public safety and what each of the candidates would do to make Winnipeg safer.
Scott Gillingham said that as mayor he would sit on the police board. He also said that he would split up police calls so that police don't respond to every call for service, with other personnel used in situations that would be better served by another type of emergency responder.
Shaun Loney called for a return to community based policing – with "more cops walking the beat," adding that "people are going to continue to commit crimes unless they get the intervention they need." He also observed that we need to "address homelessness" before we can make inroads in enhancing public safety.
After the final question was answered the candidates were allowed one final opportunity to sum up their platforms. As noted, it was then that Robert-Falcon Ouellette was the only candidate even to obliquely refer to the controversy that had recently surfaced about Glen Murray.
And, while five of the six candidates hung around afterwards to schmooze with audience members, Glen Murray took off immediately after the forum was over. I offer that not as an editorial comment – merely an observation.