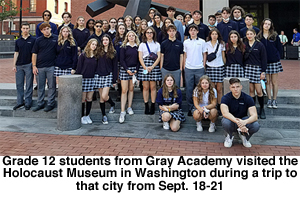 By BERNIE BELLAN It's been a while since I've been able to report on Gray Academy without having to focus on how Covid had so drastically affected the lives of both students and teachers there. While every other school in the province was similarly affected, Gray Academy offers so many unique programs – almost all of which had to be put on hold for the past two and a half years, that when I spoke with Head of School Lori Binder on Tuesday, September 20, hearing of everything that had been going on there in just the short 11 days that the school had been open when we talked was somewhat overwhelming.
I began by asking Lori how it felt to be back – now that all restrictions that had previously been imposed by the province had been lifted?
"It's a wonderful start to a new school year," Lori said. "It's quite positive all around."
While Gray Academy had complied with all requirements having to do with Covid that had been imposed by the province, Lori noted that "in each of the past two and a half years we did our own due diligence in addition to requirements from the province."
For instance, Lori referred to the "dashboard" that Gray Academy maintains on its website which gives information about any cases of Covid that may be reported among both students and families of students. (The website is password protected and is accessible only to families of students as well as staff.)
"No other school is keeping a dashboard that I'm aware of," Lori observed.
With reference to programs and activities that are now back in place after a long hiatus, Lori said: "Almost all of the things that we weren't able to do are back."
For instance, she mentioned that a trip that students were originally supposed to have taken in the spring of 2019 to visit the Holocaust Museum in Washington, D.C. – when those students were in Grade 9, was now happening – as we spoke, although the students were now in Grade 12. (Students had left for Washington on Sunday, September 18 and were scheduled to return on September 21. That trip had been an annual event sponsored by the Asper Foundation for years.)
As to whether students who are now in Grades 10 and 11, as well as the current Grade 9 class, will also be able to participate in similar trips to Washington, Lori said that they will, but the timetable for doing that has not been set as yet. She added that the school is working with the Asper Foundation on planning future trips.
Turning to other activities that are back in full swing, Lori noted that "athletics are back," the musical "Mama Mia" will be put on in February, "band is fully back – with wind instruments" (as well as instruments that don't require special breathing techniques; there were band sessions during Covid but when you have to wear a mask the amount of music a band can perform is somewhat limited). "And now our kids can sing freely," Lori added.
Something else that has resumed is the debating program – with members of the debating team scheduled to head to Boston in October 2023.
And – here's something that I noticed when I attended the G.R.O.W. in Gimli 20th anniversary celebration on September 14 at a house just across from the campus parking lot – and wondered why the parking lot was so full that evening: Gray Academy families were experiencing a "fun fair" (on September 14) for the first time since 2019 – on the grounds of the Asper Campus.
"We had a gathering of all our high school students in the Berney Theatre the first day of school," Lori observed – but there wasn't room for all 221 of them – which is an indication of how robust enrollment in the high school is once again. (The Grade 12 class alone has 45 students, which is close to the highest number it's ever had. Lori said that she'll have full enrollment figures available to give me by the end of September, noting that a couple of families in the JK-6 years are still in the process of enrolling their kids. She said though that she expects enrollment from JK-12 to be somewhere in the area of 468 students.)
And, while this year's Grade 12 graduating class currently has 45 students, the 2024 and 2025 graduating classes will also have over 40 students each, if enrollments remain as they currently are.
In some respects, while Covid restrictions may have been lifted, changes that were instituted in the past couple of years, including staggered drop-off and pick-up times, and separate entrances for different age groups, have remained in place.
However, as Lori noted, the physical markings on floors that demarcated different areas for different groups of students have all been removed. "Our kids can all walk freely now," she said.
I wondered though whether any students are still wearing masks?
"Some are choosing to wear masks," Lori answered. "As we communicated with families prior to the start of school year, that would be no problem. Our school is a mask-friendly environment."
I asked also about the HVAC system in the school: How good is the ventilation?
"We still have good respiratory and sanitization etiquette" systems in place, Lori explained. "Our HVAC system is a MERV filter-13 system – one of the best filtration systems available, with the cycle of fresh air intake increased" substantially over what used to be in place.
Insofar as curriculum is concerned, Lori said that the school is about to embark on a two-year project to "reimagine its Hebrew curriculum," thanks in large part to a grant that it has received from the Jewish Foundation.
As well, a new strategic plan for all of Gray Academy will be launched in January 2023, Lori added.
Speaking of Hebrew, I asked whether the exchange program with Danziger High School in Kiryat Shemona, during which students in Grades 10 and 11 go to Israel, while students from Danziger come here in turn, is back on?
"Yes, it is," Lori answered, with students from Gray Academy scheduled to travel to Israel this coming Purim. However, rather than students from Danziger coming to Winnipeg this current school year, the plan is for them to come next Sukkot, which begins late September next year.
As far as the graduating class's usual trip to Israel goes, Lori said "we have enough data to support Grade 12 going," but with the planned resumption of March of the Living (which has also been on hold for three years) – also around the same time, it is not yet clear how many students might want to go on a graduating class trip to Israel in 2023.
As if reading about all these activities weren't enough to want to make you pause and take a breath, Lori continued: "Our student council just went on a leadership retreat to Camp Massad" (which was the very first time that's happened, she noted).
Grades 8 and 9 will also have their own spirit weeks, which often take place in Gimli or Hecla, over the next few months, she added.
I asked about plans for a Shabbaton – which would often take place in Gimli or Hecla in the past?
"This year the Shabbaton will be at the Clarion Hotel," Lori said.
Some other interesting facts that Lori mentioned during our conversation include:
• This fall year marked marks the 25th anniversary of the opening of Gray Academy.
• The school has more than 65 new students. (Interestingly, some of the students new to the school this year are from Ukraine.)
• 17 students left the school when their parents moved to different cities.
• Once again the school has an international student – from Brazil, the sibling of a previous international student.
• The Kaufman Silverberg Library is once again open to students – something that hadn't been the case since March 2019. And – for the first time, students can now access digitized books there.
One final note though – and this is more a sign of the times when it comes to restaurants of all types: Schmoozer's is not accessible to in-person visits by students during school hours – because Schmoozer's doesn't have enough staff on hand to accommodate all those students who would typically want to come there for lunch. Instead, arrangements have been made to have lunches delivered to designated drop-off points within the school itself if parents phone Schmoozer's prior to 9:30 am on a given day and place their orders.