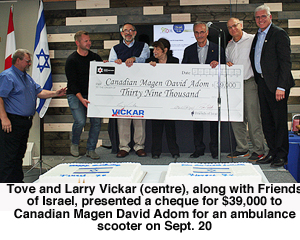 By BERNIE BELLAN Friends of Israel is a Christian non-evangelical organization dedicated to providing support for the State of Israel. Founded in 1938 by a group of concerned Christians in Philadelphia who had just witnessed the Nazi savagery of Kristallnacht, FOI actually predated the founding of the State of Israel by 10 years.
On September 22 FOI held what was called "Honour Israel Night" at a small church in west St. James. The event had been much postponed as a result of Covid – and the fact that the evening marked the 74th anniversary of the founding of the State of Israel might have seemed a little odd to attendees – considering that Yom Ha'atsmaut fell this year on May 6. Still, as organizer John Plantz noted in remarks made to attendees, "better late than never."
The small basement hall of New Life Sanctuary Church was packed with individuals who were either there because they support FOI or because, as was the case with representatives of Canadian Friends of Magen David Adom, they have a special relationship with FOI. It wasn't quite the setting that the Victoria Inn provided the last time FOI held an Honour Israel Night, which was in October 2018, but it was a "haimesh" (not an "Amish") atmosphere.
Also, similar to that FOI event four years ago, this most recent evening also marked the donation of an ambulance scooter to Canadian Magen David Adom – this time through the combined efforts of Larry and Tove Vickar, along with FOI. (The cost of an ambulance scooter is $40,000, we were told, of which Larry and Tove contributed half.) By the way, the ambulance scooter that was donated in 2018 was donated by Helen Atnikov, who passed last year. And, speaking of ambulances donated to CMDA, we would be remiss not to mention again the incredible generosity of Ida and Saul Alpern who have donated not one, but two ambulances to CMDA.
One further note: FOI worldwide has now donated six ambulances and six ambulance scooters to Magen David Adom.
The evening was a somewhat odd outpouring of love and affection for the Jewish people who, we were reminded several times, are God's "chosen people" and to whom the land of Israel was promised in the Bible. (Not that I needed to reiterate that point, but in all honesty, I'm not entirely comfortable hearing that we have a "God-given right" to Israel. Over to you, Myron, for a fierce rebuttal.)
What the evening also included was a speech by Rady JCC executive director Rob Berkowits – who told me beforehand that he wasn't quite sure why he was asked to be the special guest speaker.
But, Rob proved to be an eloquent speaker after all. He wove together his own initial familiarity with Israel when he was an evening student at the Rosh Pina many moons ago when the Jewish National Fund would hold an annual quiz for students, testing their knowledge about Israel. Rob told the audience that he always "aced" those tests and a certificate he won for finishing first one year was proudly hung on his bedroom wall.
Rob also told of his father, Alex – who was a Holocaust survivor, and Alex's own love for Israel. "When there was a story about Israel on the news," Rob said, "my father would tell me, my brother and my two sisters, to immediately keep quiet."
In 2011 Rob became executive director of the Manitoba-Saskatchewan branch of the JNF. He had already been to Israel several times before, but he related that "the more I learned about Israel, the more I fell in love with Israel."
In 2015 Rob moved over to the Jewish Foundation of Manitoba where, he explained, "I was tasked to grow the assets of the Foundation" which, at the time he joined, were $100 million. Four years later, Rob had helped grow those assets by an additional $20 million, he said.
As part of his duties, Rob noted, "I worked with specific donors to show them specific opportunities" where a donation to the Foundation could have immediate and practical effects. One time, Rob continued, "I took one donor to Israel. He had never been before." That donor was so impressed with what he saw on that trip that he "funded a synagogue" in an Israeli town.
Following Rob's remarks, there were speeches by other officials from Friends of Israel. I have to admit I was confused though, when two of those individuals related that they found out later in life that they were Jewish – and they now refer to themselves as "Jews." I don't want to get into this whole paradox of "Jews who accept Jesus as their saviour," but suffice to say that it's not an easy concept to wrap your head around.
Still, when audience members were asked to pick up the Israeli flags that had been placed in the centre pieces on each table and wave them, it was something to see.
I'm not sure how well this evening would have gone over with critics of Israel – of whom many are readers of this paper. But – thanks for the cake, John (Plantz). It was delicious.