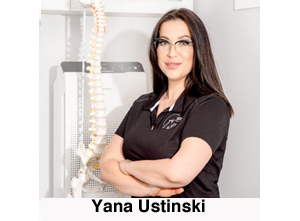 By BERNIE BELLAN In 2018 Yana Ustinski immigrated to Canada from Israel with her husband Leo and her two children, Leenes (pronounced Lee-Nes) and Adam, who were seven and five respectively at the time. Like many another immigrant to Canada, Yana had hoped to be able to find work in her chosen profession, which was as a pharmacist. (Leo was a production planner in Israel and he was able to find work in his field upon the family's move to Winnipeg.)
"I had been a pharmacist for seven years in Israel," Yana told me during a phone interview. "The last two years I was manager of the pharmacy where I had been working."
Unfortunately, as is the case with many other foreign professionals, once they arrive in Canada they find that no matter how much training and experience they may have acquired in their native country, the requirements to practice a particular profession here can be onerous indeed.
Such was the case for Yana, who was born in the former Soviet Union and immigrated to Israel along with her parents when she was 13. (Her father, by the way, is a pediatric surgeon, while her mother is also a pharmacist. Both parents still reside and work in Be'er Sheva.)
"I did my army service and enrolled in Tel Aviv University," Yana says. But, rather than continuing her studies in Israel Yana decided to return to Russia to study pharmacy.
"I spent five and a half years studying pharmacy in Russia," Yana explains. (She adds that she met her husband, who was in Israel, on Facebook during that time.)
"Every three months I would return to Israel," Yana adds. (Readers may not be aware that it's only a three hour flight from Moscow to Israel.)
Upon her graduation in Russia, Yana returned to Israel, where she obtained her certification as a pharmacist. She also continued her studies, subsequently acquiring a masters in pharmacy.
But, working as a pharmacist in Israel is completely different from working as a pharmacist in Canada, Yana explains.
"In the pharmacy where I worked (which was in Rishon Letsion) there were three pharmacists, but there were no pharmacy technicians and no pharmacy assistants. It was very stressful."
Yana explains that she and Leo had relatives in Winnipeg and, like many other Israeli immigrants who have made their way to Winnipeg, the main reason she and Leo decided to apply to come here was to provide a "safe future for our kids."
I asked Yana whether she and Leo received any help from the Jewish Federation, but she said they didn't. For the first little while they lived in an apartment, she says, but eventually they built a house in Bridgewater,
But, upon applying to be licensed as a pharmacist here Yana discovered that it was not going to be an easy task.
"I had to study everything from the beginning. I spent 12 hours a day studying, but I had two young kids to look after," she notes. (Both Leenes and Adam have been enrolled at Gray Academy since the Ustanskis first arrived here.)
The requirements to be licensed as a pharmacist in Manitoba meant that Yana would eventually have to pass five different exams.
"But if you pass two exams (which she did), then fail the third (which she did) – you're out," Yana observes.
Thus it was that Yana decided to switch gears entirely and begin studying for a different career entirely –as a massage therapist.
"I had a friend who was studying it (message therapy) and I thought: 'It's still in the medicine field,' so I enrolled in Evolve College."
This past June Yana graduated her two-year course in massage therapy and opened a practice in her home.
Although she does have a website – yanatherapy.ca, Yana says that most of her clients have come as a result of word of mouth. Her website though does give detailed descriptions of the many forms of massage in which Yana is trained.
If you would like to contact Yana her email address is ustinski.yana@gmail.com.