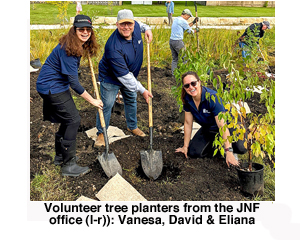 As the original environmental organization through planting trees for the last century it seemed only natural for JNF to join forces with the friends of the Harte Trail and the city of Winnipeg's 1,000,000 tree challenge and lend our support and muscle. On Sunday September 18, more than 60 people from both the Jewish and general communities joined forces to plant 75 new trees, generously provided by JNF, along the Harte Trail in Charleswood.
Working together with the wonderful people of the Harte Trail, Nola Lazar, JNF local president, led the effort along with the local JNF board to organize a wonderful grassroots program. In advance of the planting the city of Winnipeg dug the holes and then provided a live session to show everyone how to proceed.
The day was capped off with delicious ice cream and juice supplied by our friends from the Harte Trail for the little kids and the 'big kids'. In the spring, a formal ceremony will take place where a plaque will be placed acknowledging the JNF and Jewish community's contribution of the 75 trees along the trail.