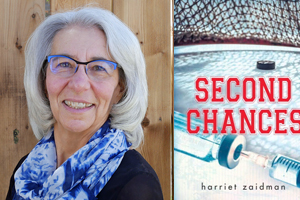 By MYRON LOVE Two years ago, Harriet Zaidman was short-listed for the Geoffrey Bilson Award for Historical Fiction for Young Readers for her novel, "City on Strike," relating to the Winnipeg General Strike of 1919.  This year, the Winnipeg-based author of children's books and novels intended for young adults was nominated for a second time and, this time, she did win the award for her recently published second novel, "Second Chances,"which takes place against the background of the polio epidemic.
The Geoffrey Bilson Award is a Canadian literary award that goes to the best work of historical fiction written for youth each year. The award is one of several such honours given out by the Canadian Children's book Centre each year – presented in partnership with the Toronto International Festival of Authors – with the children's literary awards presented this year at Toronto's Harbourfront Centre at an in-person ceremony which was held on September 29.
"It was a wonderful evening," says Zaidman, who has also published three children's books.
It has only been in recent years that the lifelong teacher/librarian has taken her pen to put her own words and ideas on paper. "I had been writing book reviews since the 1990s," Zaidman says. "I have always had a lot of ideas for stories. I finally decided that I should take a chance and turn them into stories."
She was further encouraged in that direction in 2007 when she was accepted into a summer writing program at the Banff School of fine Arts.
Zaidman notes that she self-published her first children's book, "Daisy's Biggest Success," with illustrations by local artist Sarah Neville, through Amazon in 2013.
She credits her skill in writing in part to a course she took in Education where the professor emphasized concise writing. "We had to condense our writing into a precis of no more than 250 words," she recalls. "Every sentence had to be full of content and meaning. I loved it."
She adds that in writing children's books, every word is important because the number of words used is by necessity limited. "If you change one word, it can change the entire story," she points out.
Zaidman followed up her inaugural children's book with two more – "Sherman and the Shape Sheep Contest" – which came out in 2016 – and "Benny's Dream Horse," in 2018. Both books were published by local publisher Peanut Butter Press.
For her first novel, "City on Strike", Zaidman chose to approach four publishers and sell them on the idea of a work coinciding with the 100th anniversary of the Winnipeg General Strike.
"I emphasized the relevance of the story set against that background considering that it was a historic moment," she observes. "I told the story from the point of view of an immigrant family – focusing on a 13-year-old boy and his younger sister – involved in the strike. I based the story on my own family's immigrant experience."
"City on Strike" as well as "Second Chances" were both published by Red Deer Press out of Ontario.
"I was thinking of the Polio epidemic and how many people's lives were turned around," she says. "What if a Terry Sawchuk or Billy Mosienko had been afflicted by polio? T hey wouldn't have been able to accomplish what they did in hockey."
For her protagonist, she centred the story around a teenaged hockey player who develops polio and his struggles. To add further depth to the plot, she created a relationship between the afflicted teen and a Métis girl from Roostertown he meets in the hospital (at a time when the largely Métis neighbourhood was about to be leveled to make way for the Grant Park Shopping Centre) and the racism this girl faces in the hospital.
Zaidman's books are available at the usual locations – McNally Robinson and Chapter's locations, As well, she sold copies of the book at the weekly St. Norbert Farmer's Market throughout the summer.
Undoubtedly, Zaidman has ideas brewing for future books.