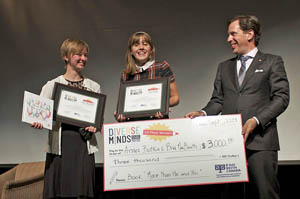 We received the following communication from Adriana Glikman, National Program Coordinator of B'nai Brith Canada:
We had a wonderful evening, September 15, celebrating all the finalists in Manitoba who created beautiful books for our "Diverse Minds" creative writing contest.
As you know, "Diverse Minds" is a creative writing contest designed to promote the vital values of diversity and inclusion in Canada through storytelling and illustration.
All Manitoba high school students were invited to create books geared towards elementary school students. We had over 45 entries from all across Manitoba – from Winnipeg to Flin Flon, Selkirk, Brandon, Morris, Ils des Chênes and St Jean-Baptiste.
First place winners were Bria MacBeath and Anna Bokin, from Linden Christian School, who wrote about diversity and inclusion. The duo received a cash prize of $3,000 and had their book, titled "More than Me and You" published by B'nai Brith.
In second place was Haley Shore of Gray Academy, who created a lovely book titled "Better Together".
In third place were Natalie Wiebe and Shykira Jess from River East Collegiate, who wrote a book called "A Bird who Couldn't Fly".
This year we had an incredible panel of judges, including:
The Hon. Cliff Cullen, Manitoba Minister of Education
Cheryl Barish, B'nai Brith member, community youth advocate and sponsor
Jordan Farber, community leader
Isha Khan, President and CEO, Canadian Museum for Human Rights
Ace Burpee, 103.1 Virgin Radio Host
Danny Smyth, Winnipeg Police Service Chief of Police
Paul Samyn, Editor, Winnipeg Free Press
Wendy Erlanger, Educator and Head of Operations, MB, SK and the north, Second Harvest
Karen Menkis, Advocate for Inclusion and Diversity projects
Gail Asper, President, The Asper Foundation
Michael Mostyn, CEO B'nai Brith Canada
Tannis Richardson, volunteer and philanthropist
Mayor Brian Bowman, Mayor of Winnipeg