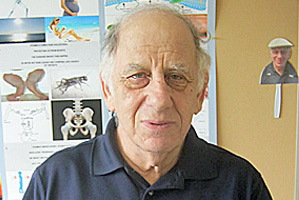 By MYRON LOVE In a career filled with accomplishments and awards matched by few in terms of longevity, the accolades keep coming in for Michael Eskin, the longest-serving member of the University of Manitoba`s Department of  Food and Human Nutritional Sciences (where he has also served as Department Chair and Associate Dean).
The university recently announced that Eskin is one of two professors at the institution who have been elected Fellows of the Royal Society of Canada (RSC), the country's most esteemed association of scholars, scientists and artists.
"To say that I am pleased would be an understatement," says the esteemed professor, who has also served our community as a Chazan for many years."
He notes that 85 scholars from universities across Canada were inducted this year.  This brings the number of Fellows at the University of Manitoba to 53 members, which represents around three percent of the total faculty.
The Royal Society of Canada, Eskin points out, was founded in 1882 and incorporated by an act of Parliament. Election to the RSC is considered the highest honour an academic can achieve in the arts, social sciences and sciences. The RSC's mission is to recognize scholarly, research and artistic excellence, to advise governments and organizations and to promote a culture of knowledge and innovation in Canada and with other national academies around the world.
During the course of a career that has spanned 54 years at the University of Manitoba,  Eskin  (who is originally from Birmingham, England) has become one of the world's leading food science writers, with 17 books to his credit. His book, "Biochemistry of Foods", now in its third edition, is used in university courses around the world and has been translated into several different languages. In addition to his books, he has published over 250 research articles, book chapters, monographs, abstracts and several patents.  
   The centerpiece of his career has been his work on the development of edible oils, by playing a key role in the successful development of canola oil.
He is also to be honoured in October with induction into the Order of Manitoba, having received the Order of Canada in 2016. In 2016, Eskin was also selected by the students in his faculty as Professor of the Year.
Last year, he became just the fifth Canadian scientist to receive the very prestigious Supelco AOCS (American Oil Chemists Society) Research Award.  This award has been presented to scientists in many different disciplines, including organic chemistry, physical chemistry, biochemistry and nutrition. Three of the previous recipients of this award were also Nobel Prize winners.
Eskin  has been an active member of the Society for many years, having served as chair of the AOCS Lipid Oxidation and Quality Division as well as the first chair of the AOCS Division Council. In addition to serving as an associate editor of JAOCS, he was co-editor of Lipid Technology for seven years and is currently associate editor of education for the AOCS Lipid Library.
The official RSC induction for Eskin and his fellow new members is slated for November 19th, coinciding with the RSC's annual Celebration of Excellence and Engagement, Nov. 15-20, in Montreal. Over the course of the week, thousands of delegates from throughout Canada and around the world will engage in science sessions featuring the insights of hundreds of scholars, artists and scientists on the key issues of our time.
Having recently celebrated his 80th birthday, Eskin continues to teach two online classes with over 200 students and is already busy on his 18th book on "Functional Foods and Chronic Diseases", with his colleague Professor Michel Aliani, slated for publication in 2022.