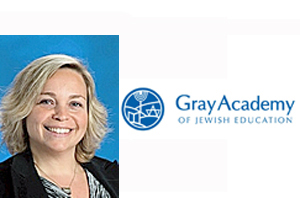 By BERNIE BELLAN In our September 1 issue we reported that Gray Academy had become the first school in Manitoba that would be requiring all high school students age 12 and up to be vaccinated in order to attend school this year.
At the time that we reported that decision, which had been made by the board of the school and which had just been publicly announced on August 24, Head of School Lori Binder said that she had received a number of inquiries from parents who were unhappy with the decision to require that all high school students be vaccinated, but she added that it would take some time to assess the full reaction among parents.
We can now report that only 4% of students – a total of 20 out of 485 who had previously been registered to attend Gray Academy this year, have left the school as a result of the mandatory vaccination policy. As well, to this point five new students have been registered in the school following the announcement. Finally, three students who had previously been registered in the school will now be home schooled instead, Lori noted. (Five students who had attended Gray Academy in 2019 were home schooled last year, she added.)
In discussing the ramifications of the new vaccination requirement, Lori explained that "we spent a good week and a half speaking with a number of families" about the new policy. In all, she said, "twelve families departed out of the more than 300 families altogether" who send their children to Gray Academy. Health and safety were our foremost concerns," Lori noted.
But, when I asked her whether there was any one particular concern brought up by parents who objected to the new policy, Lori answered that "there was a spectrum of concerns."
She also demurred from answering the question "out of respect for the privacy of the families involved" when I asked her whether the families that were opposed to having their children vaccinated came from a particularly identifiable component of the Jewish community. (To be clear, we have received reports that objections to vaccinations run especially strong within certain members of newly arrived immigrants to Winnipeg.)
"It was very important to speak to these families, hear their concerns, to explain how the decision was made and to support them in all ways possible," Lori said, adding that "never before has the board had to make a late decision such as this one, but we are in a pandemic and are centering the health and safety of the entire school community".
While 12 families did decide to withdraw their children from Gray Academy, other families "that had shared concerns about the decision did decide to stay," Lori also noted.
In terms of total number of students, enrolment at the school this year compares favourably with previous years. There are 76 new students in the school, compared with 58 new students last year.
Perhaps of greater concern to the Jewish community might be the fact that the families of 20 different students have left Winnipeg since the end of the school year last June. (Until we see the results of this year's census, however, we still will not have a clear idea what the size of Winnipeg's Jewish population really is.)
Other information reported by Lori Binder during our conversation is that 33 students graduated from Gray Academy in June, and there are 25 students in the graduating class this year.
When you factor out the students who have left Winnipeg, Gray Academy has a "94% retention rate," Lori said, not including the students whose parents pulled them out of the school because of the mandatory vaccination policy.
Altogether, there are 458 students registered at Gray Academy this school year, which compares with 481 last year (2020), 492 in 2019, 469 in 2018, and 2017, Lori reported.
As far as class sizes go, the two-meter separation between students in grades one to six still remains in place (as it does in all elementary schools in Manitoba), but as a result of having all Gray Academy students in grades seven to twelve now vaccinated , Lori explained that there is more flexibility as to class sizes in the high school.
While still maintaining a meter-and-a-half separation between students in the high school, spaces such as the Multipurpose room can now be used as classrooms that can accommodate far more students with two meters distance, which is the distance maintained in the elementary school.