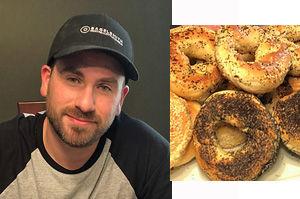 By MYRON LOVE Budding entrepreneur Phil Klein goes full bagel within the next few weeks. The founder of Bagelsmith is optimistic as he goes against the trend of endangered restaurants in downtown Winnipeg as a result of the economic damage caused by Covid-19.
"We have a great location (at 185 Carlton Street beside the Ichi-Ban Restaurant and across from the Convention Centre) right in the heart of downtown," says the former provincial civil servant. "We have the high density Holiday Towers to the east and the new True North Square development to the north.
"I am really excited. This neighbourhood is a good fit for us."
Klein, the son of Jerry and Jan Klein, notes that he worked in the pizza business in his younger days but, in recent years, had been working in human resource management.
"I had been thinking about a career change for a while," he says. "Then, one evening, my wife and I were watching a show on the Food channel and the subject of bagels came up. I decided immediately that I wanted to open a bagel shop – and my wife agreed."
It took two years for the new bagelmeister to perfect his recipe for making Montreal-style bagels – authentic Montreal bagels are first boiled in water with honey, which gives it a sweeter taste – and settle on the right location. He reports that he had settled on a lease just before Covid struck.
Rather than being discouraged, Klein started his new business online with home deliveries. "We had to do something to get some exposure," he says. "The response was really positive. It provided us with great exposure. Sales were so brisk after just the first three weeks that we had to hire more staff and bring in more equipment and bigger kettles to keep up the demand.
"We also are selling our bagels in places such as Myer's Deli and Piazza De Nardi."
Bagelsmith has been designed to be a grab and go operation rather than an eat-in restaurant. "We will have our large kettle for boiling bagels up at the front," Klein says. "Customers will also be able to see the bagels coming out of the oven."
The bagel selection initially will feature the basics: plain, everything, poppyseed and sesame. "It is with our shmears that we will be having some fun," Klein notes.
"We're going to have a large selection of schmears," he said. "We have upwards of 40 different recipes to choose from. Among the options are plain cream cheese, jalapeno cheddar, carmelized onion, wasabi, buffalo ranch and pizza flavourings."
Klein adds that he will be bringing in smoked meat from Montreal.
For further information about Bagelsmith and its products, dial up or drop in.