Chief Executive Officer of Simkin Centre Laurie Cerqueti assesses how things have changed more than six months into the pandemic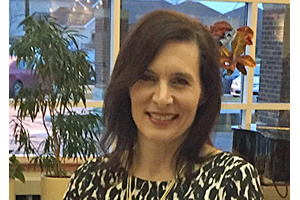 By BERNIE BELLAN   As part of our continued commitment to reporting on how various agencies within the Jewish community are functioning during these exceptionally difficult times, from time to time we've been speaking with the heads of agencies that are directly involved with the senior population of our community.
We recently spoke with Laurie Cerqueti (pronounced Cherqueti, by the way), who's now been in her role as CEO of the Simkin Centre for 19 months. Naturally, given all that's happened, we wondered whether she had ever experienced anything nearly as difficult as what she – and the rest of the 250 staff at the Simkin Centre have been experiencing these past six months.
"I graduated from nursing in 1994," Laurie said, "but nothing that I've ever done before comes close to what we've been going through these past six months." (Prior to becoming CEO of the Simkin Centre, Laurie had been CEO of Meadowood Manor in Winnipeg.)
When I spoke with Laurie early in May – a month and a half after the lockdown of all Personal Care Homes in Manitoba had been put into effect, she described all the extra requirements that had been placed on PCH's, including having to severely restrict access to the building; extra sanitation procedures; training of almost all staff in feeding and swallowing assistance; and so much more.
Despite the increased burdens that were placed on all PCH's in the province, the only additional funding from the Provincial Government came in the form of "money to ensure facilities are in line with revised Manitoba Fire Code requirements, including provision of fire suppression systems and increased fire separation enhancements."
In my May report on the Simkin Centre I noted the concern that Laurie had back then that, while PCH's were going to have to shoulder extra financial burdens, there would be no additional assistance forthcoming from the Province:
"What about the financial situation for the Simkin Centre?" I wondered. "How different is it as a result of the pandemic?"
"There are a number of large costs for equipment and supplies – right when it started happening," Laurie answered, "and there are ongoing costs."
"And you mean Simkin will have to assume responsibility for those costs – and not the province?" I asked.
"I'm not confident that the province will fund partially or fully any of this," Laurie said.
"Really – wow!" I said. "You mean it's all going to fall on to the Personal Care Homes themselves to fund?"
"It could," Laurie said. "I'm not confident"(that the province will provide the funding).
She added that, in addition to the extra costs imposed on PCH's for equipment and supplies, "there are all these new rules – if you've traveled, you can't come to work for 14 days; if you have any symptoms you have to go get swabbed, and then you have to have the A-OK, you can come back to work; or people that have pre-existing conditions aren't able to work. So there are increased staffing costs that we are incurring."
As it turned out, there wasn't any more money made available to hire extra staff – even though workers at PCH's were advised not to report for work if they had the slightest suspicion they might be sick. Further, the practice of workers moving between different PCH's to fill vacant shifts was no longer allowed (quite understandably – in order to minimize the chances of community transmission of the virus).
In July, Julie Turenne-Maynard, executive director of MARCHE — The Manitoba Association of Residential and Community Care Homes for the Elderly — reported that the COVID-19 pandemic was "shining a spotlight on long-term care across the country and highlighting the consequences of a 10-year funding freeze in Manitoba."
She said that "while Manitoba's personal care homes have been largely fortunate in the fight against COVID-19 (and, as we've all seen since then, that assessment sadly proved quite wrong as PCH's have been hit with outbreaks of the virus.) they have been chronically underfunded, despite increasing costs and needs from residents."
Over the past 10 years, Turenne-Maynard noted, "dietary expenses at homes operated by MARCHE's members have increased by 36 per cent and the cost of incontinence supplies increased by 50 per cent."
Further, in the case of the Simkin Centre, the spiraling cost of kosher food – as we have noted many times before in this newspaper, has only added to the financial burden of the Jewish Personal Care Home.
Yet, despite all the pressures that the Simkin Centre has been facing, when I asked Laurie how she would describe morale among staff at the home, she said "staff morale has been very good to excellent".
Laurie described the many ways in which members of the boards of the Simkin Centre Home Board and Foundation Board and residents' relatives have gone above and beyond in attempting to express their appreciation to the staff. For instance, there have been weekly treats provided to staff – paid for by individual board members, residents and family members (with occasional donations from organizations such as the Gwen Secter Centre); t-shirts emblazoned with the Simkin Centre logo and the words "Simkin Strong" or #simkincares on the back; and various activities intended to boost morale.
You can read more about what the Simkin Centre has been doing to keep spirits up among both staff and residents in the Simkin Centre newsletter that is in this issue. You can also follow Simkin Centre activities on their very colourful Facebook page, or sign up to receive their weekly e-newsletter "The Simkin Star" http://eepurl.com/gVT8Q1
Despite the upbeat tone in Laurie's voice though, I had to ask some tough questions about the toll that the pandemic has taken on residents – both physically and emotionally.
I wondered, for instance, whether there has been any noticeable increase in the number of deaths at the Centre of late?
"There have been more deaths recently than what we usually experience," Laurie said. "Whether it's a result of loneliness, it's hard to say, but over the past few months there is no doubt there have been more deaths here than there would have been normally' (but she adds that none of the deaths are either COVID related or have anything to do with the care residents receive.)
I wondered whether the loosening the rules governing visits by family members has had any noticeable effect on residents' moods? (Until July, no family members were allowed into the actual building. You probably recall the heart-rending stories – and pictures – of residents trying to communicate with family members on Facetime or by looking through windows.)
Laurie answered that staff continue to find creative ways to keep residents busy, having fun, and remaining connected to family and faith. Whether this is through FaceTime visits (which has actually connected residents with family members that they otherwise would not have ever connected with), drive-by parades, virtual Passover and High Holiday services or other socially distanced programming.
While it's certainly an improvement now that each resident is allowed to have visits from two family members, the fact that it always has to be the same two family members who are allowed inside has made it difficult for many families to decide who the two indoor visitors will be.
And, although outdoor visitation has been made available at the Simkin Centre – under strict conditions, now that the weather has gotten colder, those visits will be coming to an end. Plans are underway to determine and renovate a suitable space for visiting during the winter months, Laurie noted.
Given what Laurie told me about the higher than average number of deaths of late in the Simkin Centre, I asked whether there are some vacant beds?
Laurie did say that, while there are some vacancies, "a lot more people in general who are paneled (the process whereby someone is allowed to move into a PCH) are not coming" to the Simkin Centre – or to any other PCH for that matter. The honest to god truth is that so many seniors are terrified at the prospect of having to go into a PCH and subsequently be removed from their families while the pandemic rages. Of course, that places enormous extra burdens on the families of seniors who would otherwise be candidates for admission into a PCH – it goes without saying.
It's also important to note that, as average life expectancy has increased, the individuals who do reside in PCH's are much older than what was the typical case not too long ago.
"From 15 years ago to what we see now there are so many more residents who require a much higher level of care," Laurie observed, while noting once again that there has been no concomitant increase in government funding for PCH's.
I suggested that I could ask readers to bear in mind the increased financial obligations of the Simkin Centre – and perhaps consider making a donation.
Despite the inevitable stress that anyone who's involved in health care these days must be feeling, Laurie Cerqueti still ended our conversation by saying that "I really like being associated with the Jewish community and Jewish personal care home."
I suggested that maybe it's because Jews and Italians are so alike in so many ways. (My wife and I are often mistaken for Italians when we travel.)
"I'm not Italian myself," Laurie laughed, "but when you've been married to an Italian for 25 years you might as well be."
Winnipeg Jewish Theatre to open season with world premiere of "Pals"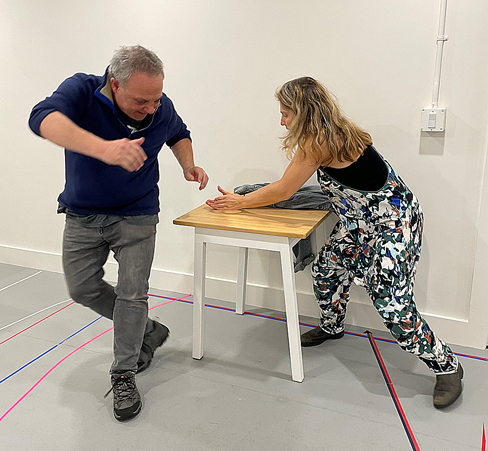 By BERNIE BELLAN The opening show of Winnipeg Jewish Theatre's 2023-24 season promises to be a clever and poignant take on relationships between men and women, when "Pals" makes its world premiere on November 9 in the Berney Theatre, running until November 19.
"Pals" is the third two-person show created by the team of Diane Flacks and Richard Greenblatt. Interestingly, when I spoke with Flacks and Greenblatt while they took a break from rehearsing the play in Toronto, they told me that their previous two two-person plays also had one word titles – with four letters in both: "Sibs" and "Care."
"Pals" is the story of two friends, told over a 25-year time period. Their friendship survives many tribulations, including both characters entering and exiting many other relationships. The play uncovers the underlying tensions that permeate all friendships.
"Pals" opens with the two characters meeting for the first time. I asked Diane and Richard whether the notion of their having sex ever enters into the plot, but Richard was quick to exclaim, "We don't have sex."
Diane also noted that, in the case of her character, she is married to another woman. (Diane is a lesbian in real life.)
The fact that the characters maintain a friendship though becomes a source of friction within their respective relationships. It raises the question: Can you have an intimate, albeit platonic, relationship, with a member of the opposite sex all the while you're in a physical relationship with someone else?
I asked whether the characters in "Pals" are Jewish (which both Diane and Richard are), and the answer was "yes."
Both Diane and Richard have had past associations with the Winnipeg Jewish Theatre. Richard's goes back a very long time – when he directed the critically acclaimed "League of Nathans" in 1995.
Diane Flacks appeared in a one-night performance of a show in 2021 called "25 Questions for a Jewish Mother," which was a part of that year's Tarbut festival. There were no in-person events that year, due to Covid, but "Jewish Mother" was available on Zoom and had a huge audience.
In addition to writing for the stage, Diane Flacks has written for TV, including Working the Engels, Baroness Von Sketch Show, Young Drunk Punk, PR, and The Broad Side.
Richard Greenblatt has performed in theatres across Canada and abroad, as well as in feature films, television and radio. He co-wrote 2 Pianos 4 Hands, which played on five continents and in over 150 cities since it opened in 1996.
Pals is directed by the internationally acclaimed director Jillian Keiley. More information, tickets and 5-show subscriptions can be found at: www.wjt.ca. You can also reach WJT by phone at (204) 477-7478.
To watch a preview video from Pals, click here: https://www.youtube.com/watch?v=z2W0VmHHFbA
Simkin Centre introduces Friday afternoon Shabbat services – open to all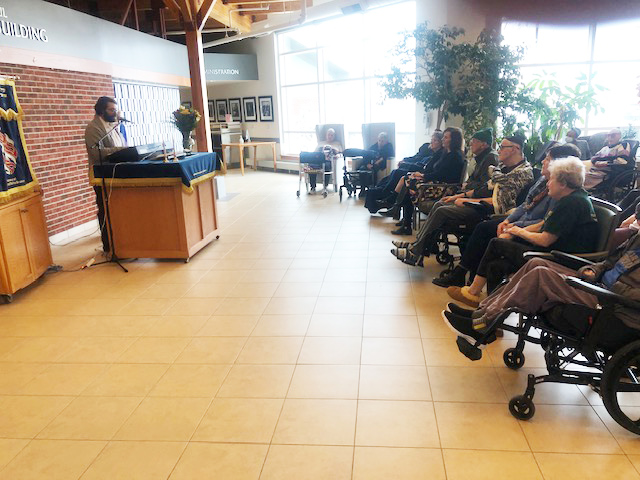 By BERNIE BELLAN (Posted Oct. 31) The Simkin Centre held its first ever Friday afternoon Erev Shabbat service this past Friday (Oct. 27), led by Rabbi Matthew Leibl.
There were more than 30 residents in attendance, along with various other outside guests. The service was approximately 45 minutes long and was filled with stories and songs associated with Friday evening Shabbats – some from Rabbi Leibl's own childhood and some from more recent years.
The Friday afternoon Erev Shabbat services are now to become a regular features at the Simkin Centre and are open to anyone to attend.
To watch a short clip of Rabbi Leibl introducing his first Friday afternoon service click https://youtu.be/hLSrV18K58o
The complete text of MP Marty Morantz's speech at the community vigil for Israel on October 10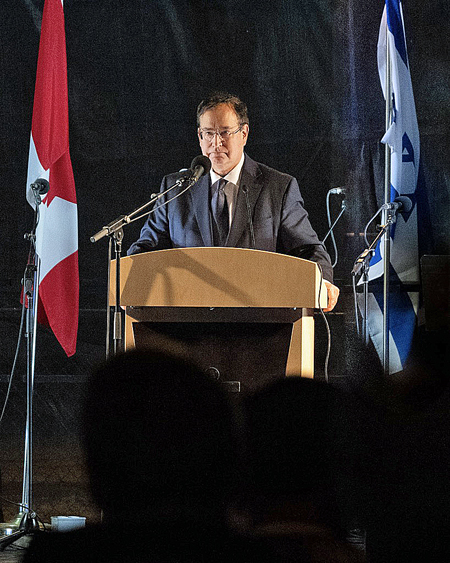 Tonight we are all Israelis!
Conservatives stand with Israel.
Pierre Poilievre stands with Israel.
On Saturday we woke up to unspeakable images.
We must stand shoulder to shoulder with Israel as it defends itself from these criminal and barbarous acts.
On Shabbat, Hamas brutally invaded Israel, invaded homes, killing hundreds, taking hostage hundreds.
More Jews were killed in Saturday's attack than in any single day since the Holocaust.
Some 1500 human beings killed in a single day would be like 6000 Canadians being murdered in a single attack.
They were children, babies, men, women.
They were young people just out listening to music at a dance party.
This was an unprecedented brutal attack.
As we speak Hamas is threatening to execute innocent hostages.
This outrage cannot, must not stand.
Don't let anyone tell you Hamas is the legitimate voice of the Palestinian people. It is not a government.
They are a genocidal murderous and evil death cult and they must be defeated.
But friends, we have seen evil before.
Jews have been persecuted for millennia, but we have survived.
Conservatives unequivocally condemn the invasion of Israel by Hamas terrorists and the sadistic violence that Hamas has carried out against innocent civilians.
Now is the time for moral clarity. There is no moral equivalency between democratic Israel and the butchers of Hamas.
There is no response, no matter how strong, that would be disproportionate to the crimes Hamas has committed.
Israel has the right to defend itself against these attacks and respond against the attackers – as any other country would.
Theodore Herzl, the father of modern Zionism, said, "If you will it, it is no dream."
In 1948 that dream became a reality – a homeland in Israel, the promised land.
Working together Israelis turned a desert into an oasis.
An island of democracy surrounded by a sea of autocracy.
A Jewish state where Jews could live in peace free from fear and persecution.
Let there be no doubt. Israel is the ancient and indigenous homeland of the Jewish people.
We will not let the butchers of Hamas take that dream, long realized, away from us.
Many politicians will stand with Israel when it is easy.
But listen to what they say when it is hard.
They will talk about "both sides."
I'm here to tell you that there is only one side.
The side of morality.
The side of democracy.
The side of Israel.
We see too often politicians at the United Nations unfairly singling out Israel for criticism.
I will always stand against the unfair singling out of the Middle East's only democracy.
Already there are calls for Israel to deescalate.
I ask you.
Would any country deescalate after having its people slaughtered in cold blood?
I wish the people of Israel and its brave soldiers Godspeed on their mission to defend the promised land from pure evil.
As Prime Minister Stephen Harper said:
Through fire and water Canada will stand with you.
Am Yisrael Chai!