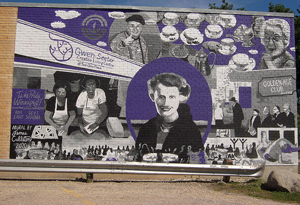 By MYRON LOVE
It has been said that a picture paints a thousand words and that is certainly true of the new wall mural on the south side of the Gwen Secter Creative Living Centre at Syd Glow Place.
The mural by local artist James Culleton – which was completed a couple of weeks ago – visually captures the highlights of the GSCLC and its predecessor, the Golden Age Club, which was brought to life in the postwar 1940s by the National Council of Jewish Women at their building on the southeast corner of Pritchard and Salter. Clockwise from the top, observers may recognize Syd Glow (whose name is now part of the name of Gwen Secter Centre, as in Syd Glow Place), a cascade of teacups representing the Centre's annual fundraising tea, long time member Sophie Shinewald – who passed away just a couple of years ago at the age of 106, a scene from the old Golden Age Club on Pritchard, scenes across the bottom showing a variety of Gwen Secter activities, Phyllis and Sheila Spigelman baking hamantashen and and finally, Gwen Secter's new logo.
In the centre of the mural is a painting of the eponymous Gwen Secter herself, a long time leader in National Council locally and nationally and a trailblazer of seniors' services. The building on Main and Smithfield – a former tire store – was opened in 1988.
"We have had a really positive response to the mural and our new logo," Reports GSCLC program co-ordinator Dan Saidman.
He notes that the project grew out of a new book that will be released early next year recounting the history of the Gwen Secter and its predecessor, the Golden Age Club. The book is based on research that was compiled last summer by summer student Gram Schellenberg from archival sources.
Saidman notes that the Golden Age Club was the first seniors drop-in centre in Canada. "It was modeled after a similar program in Chicago," he says.
He points out that mural artist James Culleton has been working as a professional artist for over 20 years. Other clients for whom he has executed wall murals include the West End Cultural centre, the Winnipeg Folk Festival and Birchwood Ford – to list a few.
"I've known James for years," Saidman says. "He was once the artist-in-residence at the art gallery I used to operate."
At this time of Covid when so much has been shut down, including all Gwen Secter programs, the staff has greatly expanded their kosher meals on wheel program, which now provides 600 meals a week to isolated seniors throughout the city.
And the GWCLC has recently embarked on a new initiative – in partnership with the Jewish Child and Family Service and the Jewish Federation of Winnipeg – providing transportation for seniors to medical appointments. The transportation hotline is 204 899 1696.