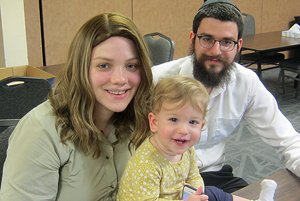 By MYRON LOVE
The Chabad-Lubavitch Jewish Learning Centre is reaching out to Israelis living in Winnipeg with programming to be delivered in Hebrew. In mid-September, Rabbi Mendel and Dvora Altein – newly-arrived Chabad Shluchim most recently from New York – are going to be starting "Ligdol" (meaning "to grow" in Hebrew), a Sunday morning learning program for children – aged 6-10 – of Hebrew-speaking parents.
"There are a lot of Israelis living in Winnipeg who want to be part of a Jewish community," says Dvora Altein. "They are forming their own groups."
Mendel adds that "we believe that many want more Yiddishkeit in their lives," he says. "A lot of Israelis here are telling us that they would love to be able to access Chabad in Hebrew.
"In our advertising, we have included a barcode for people to respond with whatever questions they may have of our program."
Dvora reports that as of mid-August a group of Israeli families had already registered their children for Ligdol and that there has been a lot of interest from other Israeli families.
The younger Alteins would seem to be the ideal couple for implementing the new Lubavitch Centre initiative. As the youngest son of Winnipeg's founding Lubavitcher Rabbi Avrohom Altein – who was sent to strengthen Judaism in Winnipeg by the Rebbe in 1972 – and younger brother of Rabbi Shmuly Altein – who leads the Lubavitch Centre's Jewish Learning Institute – Mendel knows Winnipeg well.
Dvora is Israeli-born. She is one of 13 children of Rabbi Yosef Gerlitzky, who introduced Chabad to Tel Aviv 40 years ago. She reports that there are currently 50 Chabad Houses dotted throughout secular Tel Aviv. Dvora is a teacher by training and will also be teaching in the Lubavitch Centre's school.
Interestingly, Dvora has roots in Canada. Her grandfather, Rabbi Moshe Elye Gerlitzky was one of the founders and directors of Chabad's Yeshiva in Montreal. Rabbi Moshe Elye was in Winnipeg in the 1950s, developing ties to Winnipeg's Jewish Community.
Mendel left Winnipeg at the age of 11 to attend Yeshiva in Detroit.
The couple was married in 2018 in Tel Aviv and had been living in New York for the past couple of years. They arrived here – with daughter Chaya – in mid-July to take up their new duties.
"I am happy that we were sent to Winnipeg," Mendel says. "Although I grew up here, we've moved here as 'Shluchim' of Chabad and the Rebbe, who cared about Jews and Judaism all over the world."
Dvora has also been pleased with her new community. "I like it a lot in Winnipeg," she comments. "It is a lot more peaceful than New York (referring to the traffic rather than the violence that has overtaken the city over the past few months). People have been very friendly and welcoming."
She adds that she has been pleasantly surprised about the availability of kosher food here.
Mendel notes that Ligdol is just the beginning. "We will be offering classes in Hebrew for men and woman, one-on-one study and social activities."
For further information about the Lubavitch Centre's new Hebrew-language programming, contact Mendel at mm@chabadwinnipeg.org.