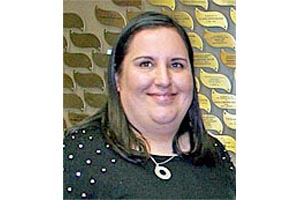 By BERNIE BELLAN
When we last checked in with Danielle Tabacznik, she had just recently moved to Winnipeg in late 2016 to begin working as the program director at the Gwen Secter Centre.
At the time we reported that Danielle told us that the she had "a background in social work – in health…specifically working with older adults." (Danielle noted at that time that she had a Bachelors in Social Work.)
"I used to work in 'Circle of Care', which is part of the Sinai Health System in Toronto," Danielle added, "and when I worked there I worked specifically with Holocaust survivors. I've also worked with seniors – not necessarily Jewish seniors, as program facilitator in a personal care home."
Although Danielle stayed in her position at Gwen Secter for only a little more than a year (to be succeeded by current program director Dan Saidman), while she was there, working in conjunction with the new executive director, Becky Chisick, the two women managed to create an expanded variety of programming for seniors that had seen the centre's weekly program schedule packed with something for just about anyone every weekday.
In October 2018, however, Danielle returned to university to take her Masters degree in Social Work, which, she now tells us, she has completed, and would hope to receive in person (although that doesn't look very likely) at this fall's University of Manitoba convocation.
With such an impressive resumé – and especially with her extensive experience working with Jewish seniors, it seemed a natural fit for Danielle to become the first "Senior Concierge" for the Winnipeg Jewish community. Created by the Jewish Federation's sub-committee on aging and jointly implemented by Jewish Federation and Jewish Child & Family Service, it is a position she has been in since the end of April.
While the term "concierge" is most commonly associated with someone working in a hotel who can arrange things such as making restaurant reservations, booking transportation, arranging porter services, and so on, the duties of a concierge don't have to be limited to someone working in a hotel.
Thus, with the situation in which so many seniors now find themselves: more isolated than ever – and dependent upon others to provide services, such as grocery shopping, transportation to doctors' appointments, and other such activities that they might have been able to arrange themselves pre-pandemic, JCFS saw the need for a person who could serve as a facilitator for those types of things on a regular basis – and Danielle was in a perfect position to fill that role, now that she had completed her Masters work.
Recently, Danielle and I had a phone conversation, during which I asked her to describe how she would describe her role as Senior Concierge at JCFS.
Danielle said: "I'll be reaching out to seniors in the Jewish community who may or may not be isolated and who may not be connected to services. I'll be checking in with them to make sure they're doing okay…to see whether they do need referrals to services. I'll also be asking them whether they're feeling isolated, what programs or services might help them."
As well, Danielle continued, she's started some programs on her own since taking on the role of Concierge, which are specifically designed to lessen the isolation in which so many seniors find themselves as a result of the pandemic.
"Right now I've got the 'Coffee Talk' program, which is meant for people who are feeling disconnected from other people," she gave as an example. "It's just a chance for people to get together – over the phone" (and not through something like Zoom on a computer, which Danielle noted, is not something that every senior is comfortable in using).
Up to five people at a time are brought together for conversation over the phone, Danielle explained.
"I intentionally keep it small so that people can really have a chance to have a good conversation – to really get to know each other.
"I modeled it after how people used to get together at a shopping centre or a Tim Horton's – over coffee. This is an alternative to that."
I asked whether she repeats this type of "party line" with the same five people each time.
"Yes," she said, "we do it every Friday morning. People can join in if they want. If they're not able to, we say to them: 'Okay, we'll see you next week.' "
Danielle added that she'll likely be expanding the "Coffee Talk" program to more than once a week because "it has proved quite popular" and, as the weather gets colder, there is going to be an even greater need for this kind of connection among isolated individuals.
I asked whether the individuals whom Danielle is contacting in her role as Concierge are JCFS clients already?
"Some are, but not necessarily," she answered. "I'm reaching out to seniors in the Jewish community regardless how connected they might be. They might be synagogue members, for instance, but they might also be individuals who don't have any affiliation to the Jewish community at all.
"I'm just making sure that their needs are being met, that they have what they need – and if they don't, I can help refer them to services."
Danielle admitted that the task can be daunting – trying to keep tabs on so many different people.
"I'm busy; I won't deny that," she said, "but it's a good busy."
I mentioned to Danielle that several months ago – when we were really just in the beginning stages of what, it's now apparent, is a pandemic that shows no signs of abating, I had written an article about how JCFS was proving to be of great help to so many different individuals – not all of whom were seniors. (Among the individuals I contacted at that time were several individuals under the age 60 who had specific health concerns that prevented them from getting out to do shopping, although ordinarily they would have been able to do that.)
What I also noted though, was that several of the individuals with whom I spoke did not consider themselves to be part of the Jewish community in any way other than that they had Jewish blood, yet they were all deeply appreciative of what JCFS was able to do for them.
I asked Danielle whether she has had the same experience during the course of her duties thus far.
"Yes," she said, "and I've also had people who have said, 'I'm too young for that' (in response to Danielle's asking them whether they required any help from JCFS).
"I try to work around that," she suggested. "I just try to make people feel included as part of the community – even if they don't necessarily identify that way."
I wondered then, if many of the individuals with whom she's in touch aren't involved with the Jewish community and are not JCFS clients, where does she get the names to call?
"I get them from a variety of sources," Danielle responded. "I get referrals all the time from the community, so I'll get someone's daughter, for example, who might say, 'Can you please check in on my mom?'
"I also get a lot of referrals from workers at JCFS, from the Jewish Federation, from Gwen Secter, from the synagogues…it really comes from everywhere."
I asked Danielle whether she's at all involved in the JCFS program that sees volunteers from the community keeping in touch on a regular basis with JCFS clients?
"No," she answered, "my focus is more on people who are not already connected or who may need connection in terms of group socialization."
If someone with whom Danielle is in touch does request help in a specific area, such as getting groceries or arranging handi-transit, then she says she will connect them with JCFS for their grocery delivery program or Gwen Secter's medical transportation program.
If you would like to speak to Danielle, the number where she can be reached is 204-298-6677. She added that people "can call me with any questions or concerns and I will do my best to help them or to connect them to someone who can help them."