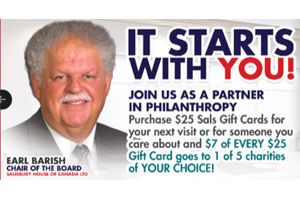 By BERNIE BELLAN
Earl Barish is a man who seems to thrive on taking on challenges – whether it's resurrecting a troubled business or finding a way to fill the void in charitable donations to four of Winnipeg's hospitals that is one of the byproducts of the current pandemic
With his "Pay it Forward" campaign involving Barish's Salisbury House chain, he has come up with a thoroughly imaginative way that provides a real incentive for Sals customers to help out hospitals here (as well as individuals living in DASCH community homes) at the same time as they can still enjoy a meal from Sals.
With the typical organizational skill and attention to intricate details that mark Barish's long and storied career as a businessman and philanthropist, he laid out his latest charitable endeavour for me during a phone conversation we had August 20th.
Here are the components of what Barish is doing, as he explained to me during our phone conversation:
"There are two things we're doing," Barish said. "One is Salisbury House focused, the other is B'nai Brith focused."
"The B'nai Brith one is ongoing through the month of August, so every day there are one or two or three charitable institutions that are receiving lots of gifts."(We'll have a story about the B'nai Brith initiative in our next issue.)
But it's been the Salisbury House "Pay it Forward" promotion of which Barish is particularly proud – since it was a totally new concept that involved a lot of brain storming and ingenuity to come up with a plan that not only provides a great deal of help to specific organizations, it also rewards donors to the program in a variety of ways.
Here's how Barish describes the Pay it Forward program: "It's a blend of business and charities working together to pay it forward and it's a win-win-win for everybody that's involved."
"It does have two parts to it," Barish explained. "The first part is the purchase of a gift card, so a person would go to one of the Salisbury House locations and buy a gift card for $25. For every $25 gift card that they purchase they can direct $7 to one of five charities.
"I reached out to charities in this city that wanted to partner with Salisbury House in this promotion," Barish continued, " and to be fully vested in this promotion – so that we didn't want agencies that would just say: 'Send us some money.' "
The five charities that are participating in the program are: Health Science Centre Foundation, The Children's Hospital Foundation, CancerCare Manitoba Foundation, St. Boniface Hospital Foundation, and the DASCH Foundation (Direct Action in Support of Community Homes).
The second part of the program is "what's happening at the restaurants," Barish said. "We're a food source after all."
"At the restaurants we have a special menu created that has six new items, two long-time favourites from our current menu, and two pick-up items – so there are 10 possibilities – and whenever you purchase anything off that menu you have a choice of directing $3 to one of those five charities. The serving staff can't even ring up your order unless they designate which charity gets the $3."
By the way, "you don't have to use the gift card for that $3," Barish explained.
"But, if you do buy a gift card for $25, $7 goes to the charity…you go to Salisbury House and order from the special menu…three more dollars go to the charity, so fundamentally $10 of the $25 you paid for the gift card has now gone to the charity." (Barish adds there's no expiry date on the gift card.)
On top of all that, since most meals, along with a beverage, are going to cost you a lot less than $25, not only are you contributing $10 to a charity, you'll still walk out with some change in your pocket.
The program began on August 9 and will continue through October 3.
There is another component to the gift card program, which Barish explained:
"You buy a card, but instead of keeping it, you give it to somebody else; it could be a neighbour, a friend, maybe the caregiver who's looking after your elderly parents." Sals will still donate $7 to one of the five charities you can designate.
Finally, Barish said, there's an entirely different aspect to the Sals Pay it Forward program – this time as a complete charitable donation. And – the person who is administering this program is none other than Earl Barish himself. Here's how it works, in Barish's words:
"Let's say you decide to donate $100 to the Health Sciences Centre." You call Earl himself at 204-837-8687. "You make the donation; you are entitled to a receipt because that $100 will be converted into four Salisbury House gift cards and those gift cards will go from the Sals to the charity. It's considered a 'gift in kind'. Your name will go with the gift cards and you'll get a tax receipt.
"So, your $100 donation is costing you much less than $100 – depending on your tax bracket."
"When the four cards are given to the charity, a further $28 now goes from the Sals to the charity" (the same way as if you had bought the cards to keep for yourself)."
Barish then explained why the charities would want the gift cards: "They cannot take money that has been donated without specific direction (from the donor) and buy gift cards from the Salisbury House – or anybody. And yet, they have frontline workers, caregivers, transporters, maintenance people – in the hospitals – doing all these things through COVID, and they have no way of rewarding them other than saying 'thank you' – and they probably do say thank you, but there's nothing more that they can likely do for their workers because they have no funds to take from to give to them.
"So, they're actually quite thrilled to get these gift cards. The gift cards cost them nothing because they've been donated by someone – and they got $28 more in cash in the process."
Even though this particular aspect of the program hasn't been publicized in the media the same way the other component of the Pay it Forward program has, Barish said that various individuals had heard about the gift card donation program and contacted him.
"I had two calls yesterday from people," Barish said, from people wanting to donate gift cards – "one for $1000, one for $1500, and today another for $1,000."
In some cases it's a combination of the two programs, Barish explained. Individuals buy some cards for themselves and give some to the charities – thus generating a tax receipt.
(In the specific case of the St. Boniface Hospital, that institution has actually set up on their website a link whereby an individual can make a donation and indicate that they want that donation to be used to buy a Salisbury House Pay it Forward gift card. It's quite a long link so the simplest way, if you'd like to go to the St. Boniface Hospital website, is Google "make a gift to St. Boniface Hospital". The other four charities do not have websites set up to buy Salisbury House gift cards.)
At that point I asked Barish whether all the Salisbury House locations are open.
"Nine of them are open," he answered. "All of our full-serves are open. There are three of what we call 'quick serves' that aren't open because we had no capacity for people. Unfortunately, Main and Matheson (a Sals that's dear to the hearts of so many north enders and former north enders) is not open and one in Transcona isn't open."
A third quick-serve location – on King Edward, next to the Sals commissary, has been converted to a full serve restaurant, Barish noted. "It will now be our bulk wholesale location where individuals can get large dinners. Since we've introduced what we call our 'heat and eat' dinners…we have 17 different dinners on that menu; there are dinners that can serve from four to six people."
At the end of our phone conversation Barish offered the following additional insight into what he is doing with the Pay it Forward program: "Most restaurants are looking for more ways to get subsidies and so on. I'm taking a completely different approach to this and saying 'Look, we're 89 years in this community, there's no chain like ours – that's Manitoba-based only, and I want to reach out to the community and have the community reach out to Salisbury House in return.'"