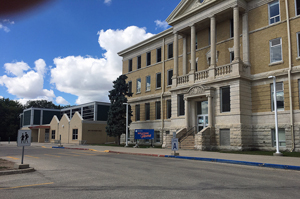 By BERNIE BELLAN
With schools in Manitoba set to reopen on September 8, it goes without saying that there is an enormous amount of apprehension among both parents and students as to what will happen once students are back in class.
Gray Academy, however, has gone to unprecedented lengths to plan for the coming school year. The school prepared a 36-page "Framework for Reopening" pdf that touches upon almost every conceivable concern that parents and students might have. (The pdf is available for viewing on Gray Academy's website.)
On Thursday, August 27, we had a chance to speak with Gray Academy Head of School Lori Binder about some of the preparations that Gray Academy has taken.
Lori began by referring to the "Framework for Reopening" which, she noted, "was sent out to all our families on Friday (August 21). Our staff is returning on Wednesday (Sept. 2) and then, after Labour Day we are reopening for full days of learning for students from Junior kindergarten all the way through to Grade 12 (although, as she explained later during our conversation, different grades will be returning to school on a staggered basis for an orientation day during the first week).
Lori noted that because there are such major differences between the rules that will be in place for elementary schools as opposed to high schools, based on the ability to physical distance, for the elementary school (which consists of Grades 1-6) "we measured and re-measured and measured and re-measured and we are able to commit to 1.5+ metres across the school with two metres (between each student) for students in 1-6 and are therefore capping enrolment where there's no more space…so that leaves us (only) with a couple of spots in a couple of elementary grades."
I asked whether, with the new spacing requirements between students that the province has imposed upon all schools – especially as it applies to elementary, that has forced Gray Academy to turn down applications from parents whose children might have gone to other schools last year?
Lori did acknowledge that "we have had to say no to some inquiries that are most recent, so now Grades 1-4 are full." (She also explained that no class in elementary will have more than 19 students, whereas some classes last year did have more than that.) "In a normal year," as Lori explained, "in Grades 4-6 we could go up to 24 students, but we have made the decision to put health and safety first, so if there is no room for another desk (that would allow for more than 19 students), there will only be a wait list if a spot came open."
That led me to wonder whether there has been a notable increase in interest among parents of elementary aged students who had been enrolled in other schools to send their kids to Gray Academy?
"We're getting inquiries a little bit more than we normally would at this time," Lori responded. "It's August 31st when public schools will be sending out their plans for reopening" so, depending on how those plans unfold, there may be even more interest from parents of students in other schools to send their children to Gray Academy.
(Lori noted, as well, that some high schools will only be having in-class learning two days a week, so that might also affect some parents' plans.)
As far as grades other than elementary are concerned, Lori explained that "in our junior kindergarten and kindergarten programs – also in our high school, we are 1.5 (metres) plus and 1.5 plus means that in early years, it's very similar to the provisions for child care: You're not seated at a desk all day; the kids learn a little bit differently through play, so the provisions in JK and K are therefore very different" (from elementary).
"In high school," Lori continued – and all across the whole school, we'll be cohorting – so every two grades is a cohort. The purpose of a cohort is really to help insure some separation for entry to the school, exiting from the school. For elementary, it's divisions at recess. We're very fortunate to have a lot of space for play, so cohorts (in elementary) will stay in their recess location – and switch the next day.
"In high school we have two grades for every floor so the cohort stays on the floor. The teachers now moves to the classroom." (Until this year students would move to different rooms depending upon the subject being taught.)
I wondered how, notwithstanding the creation of cohorts of students, how much the school would be able to maintain separation of students at arrival and departure times?
Lori answered: "Our JK and K, which is our early years wing, has an outside door – which we keep locked during the day, but we're going to use it for drop-off and pick-up of the kids…when you walk into the school from where the play structure is, one doorway will be where the (Grade) 3's and 4's will enter; another doorway for the 1's and 2's leading to their hallway, and there's actually a third door that has a staircase that goes up, and that's where the 5's and 6's will go straight to their floor and where they'll come out at the end of the day – and for recess."
Naturally, with so much yet to be determined in terms of whether COVID-19 will be successfully contained with all the measures schools will be forced to adopt, Lori added that Gray Academy is also fully prepared to adapt to new requirements – should they be imposed upon the school (and all other schools) by the province.
"Response level two, which corresponds to the provincial response of yellow or orange, only affects 9-12," Lori explained. In that case, those students would return to remote learning, which is what was in place beginning in April until school ended prematurely for all students in early June. "Students in Grades 1-8 would still stay in the building," Lori added.
If the province ordered "Response level 3," Lori continued, "which is the highest response level, then that would take us back to fully remote, except for early years."
"We have articulated to our parents the entire gamut that the province has set out so we could pivot to our 'Gray Away' (which was the term Gray Academy developed to describe its sophisticated remote learning program this past spring), if needed.
School opening itself will be staggered, as was noted earlier in this article, so that each cohort will have a different opening day. This will allow "kids to get used to the routines and parents can get used to the new drop-off and pick-up routines," said Lori.
Based on how well remote learning under 'Gray Away' did in the spring, I wondered whether the school had heard from some parents of students in Grades 9-12 who would prefer that their children be allowed to stay home and take all their classes remotely?
"We have heard from very few parents – very few," Lori answered, who would prefer that their children learn remotely, "but we have also only heard from a few parents who have chosen to home school" their children.
Let's face it though – all the preparation in the world isn't going to dramatically ease the anxiety that parents – and their children, will be experiencing each day as we get closer to September 8.
The staff at Gray Academy have been preparing themselves as best they can, however, and as Lori Binder noted, "we try to be very proactive so that we can have calm parents – so that parents can know what our plans are. It's one of the reasons that we wanted to get our plans out (via the school's website) last Friday – also to keep our staff informed as well.
"We have orientation sessions for our parents on-line next week, in addition to what we're doing with the kids…we want to walk through this and see what's successful that we'll keep assessing" and where changes will need to be made.
So, while we all hold our collective breaths – and pray for the best, the pressure on schools to abide by a dizzying array of new regulations handed down by the province is immense. In the case of Gray Academy, at least, no one can say that the administration of that school hasn't done its utmost to plan for most contingencies. Is it appropriate for a Jewish newspaper to end an article with the expression: Let's keep our fingers crossed?