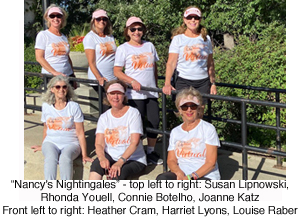 By MYRON LOVE
The 13th annual Cancercare Manitoba Foundation Challenge for Life 20KM walk (or 200-minute workout) has a new look this year – as a result of COVID 19 – with a smaller number of participants and lower expectations.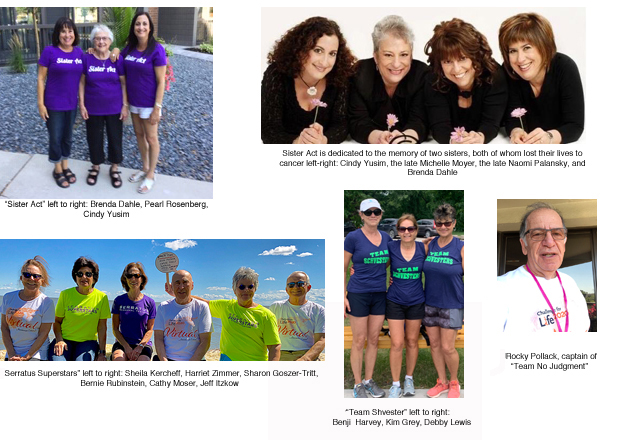 And, instead of thousands gathering on the second Saturday in June, participants this year are walking in small groups covering the same distance over a three-week period from August 1-20.
As usual though, several members of our Jewish community are making their presence felt.
Leading the way in more ways than one is Steven Kroft, who is both one of the leading individual fundraisers taking part in the Challenge for Life campaign and an active participant. (See related profile.)
This year, the top-ranked "Jewish" team is Nancy's Nightingales with close to $16,000 as of August 13 – good for second place in the team rankings. This year, long time team members Connie Botelho, Joanne Katz, Harriet Lyons, Louise Raber, Heather Cram, and Susan Lipnowski were joined by second year member Rhonda Youell.
The"Nightingales" were named after a nurse – a cancer survivor – who is a friend of Louise Raber's. They have been part of the Challenge for Life since the beginning.
"It is certainly a little more difficult this year because of the pandemic," Raber says. "And we didn't do the 20km in one day. Rather, we walked 10 km on August 14 and another 10 on the 15th."
Cancercare Manitoba Foundation has reduced the minimum pledge for each walker to $250 rather than $1,000 this year in light of the current situation, she notes. Nonetheless, she expects that "Nancy Nightingales" will raise more money than ever before due to the larger number of team members this year.
Team Schvesters – also one of the original teams – is the only other team with a significant Jewish contingent among the top ten fundraising teams this year. The team was founded by the "Greenfeld girls": Benji Harvey and her sisters, Lesly Katz and Debby Lewis. Two of the sisters had been diagnosed with breast cancer.
This year, Harvey notes, the team members are Benji and Deb, Kim Gray and Jody van de Vijsel. "While Les has not participated for the last few years, she continues to make very generous financial contributions," Harvey says.
Benji, Deb and Kim all did a 15 km walk, 30 minute upper body core workout and 30 minute yoga stretch.
Jody is also having a garage and bake sale.
Team Schvesters raised just under $7,000.
"We are a small but heartfelt team," Harvey says. "Even though COVID has changed the event there are still lots of teams participating in their own way, which is fantastic."
Perennial fundraising dynamos Serratus Superstars have also been walking in the Challenge for Life since the Challenge inception in 2008. Team captain Cathy Moser reported in an interview with the JP&N last year that the group had raised over $370,000.00 since 2008 – through donations, garage sales, concerts, and bake sales.
This year's team makeup however is much reduced from previous years. Last year, there were 25 walkers under the Serratus Superstars banner. This year, the team numbers six – returnees Moser and her husband Jeff Itzkow, Sharon Goszer-Tritt, Harriet Zimmer and newcomers Bernie Rubinstein and Sheila Kercheff.
Moser, however, remains undaunted. Her own personal goal, she says, is to raise $2,000 and the team's goal is $10,000. "We want to raise much more though," she adds.
The bake sale has long been a part of Team Serratus' fundraising efforts. This year, as reported in the last issue of the Jewish Post & News, Moser has made arrangements with Rachel Nedelec and Madi Spence from Flour and Flower to sell Moser's popular almond roca, with proceeds from sales being donated to Cancercare. The chocolate almond toffee cost $10 a batch and delivery is free.
"They have already sold over 80 batches," Moser says.
Retired Provincial Court Judge Rocky Pollack has also been a long time participant in the Challenge for Life. He knows first-hand the ravages of cancer, having lost his wife, Sharon, to the disease eight years ago.
(While Sharon fought cancer for a number of years, she was also a leader in community fundraising activities for Cancercare Manitoba. Rocky has taken up where Sharon left off to a degree. He currently serves as chair of Cancercare's Community Connection Committee.)
This year, Pollack is captain of Team No Judgment, which includes 12 of his colleagues. "It was a little easier this year having 20 days to complete the challenge," he notes. "Some of us walked while others also did aerobics, kayaking and other exercises."
Team No Judgment raised just under $6,000 this year for cancer research.
Sister Act also has a smaller contingent this year. "It's just me, my mother (Pearl Rosenberg) and my sister, Cindy (Yusim)" says Brenda Dahle.
Pearl Rosenberg, may well be – at 86 – the oldest participant. She has lost two daughters (and Dahle and Yusim, two sisters) to cancer within about a year of each other. Naomi Palansky passed away in 2010 and Michelle Moyer in 2011. Dahle notes that Naomi walked with her family in the first Challenge For Life Walk.
(Readers may aso recall that Naomi's children, Noah and Lexi, started their own team of walkers, "Kids Count, shortly after their mother received her cancer diagnosis.)
"I started taking part in the Challenge for Life on Team Chai in 2008," Dahle writes in an email. "I continue to take part in the 20 k walk with my mom and my sister, Cindy Yusim, in memory of our sisters Naomi Palansky and Michelle Moyer, whose love, strength, and courage continue to inspire us. Money raised will remain in Manitoba and will be used for research, clinic trials, and to support individuals and their families fighting cancer.
"With this being a virtual walk," she continues, "we are being creative in reaching the goal. I have gone on two 6 k hikes and continue to walk 3 k on a daily basis. I also plan on joining my mom on her morning walks in Kildonan Park. I have been doing regular hikes as well as walking with my mother and Cindy."
Dahle reports that Sister Act's fundraising goal this year is lower than it has been in the past due to the coronavirus effect. "In the past, my fundraising goal was $1000.00," she says. "This year, I only reached out once to my former donors, as everyone's circumstances are different, and with the ongoing pandemic, didn't want to offend or upset anyone. "
Dahle notes that donations are still accepted at .
Annual Kick Butt fundraiser also going virtual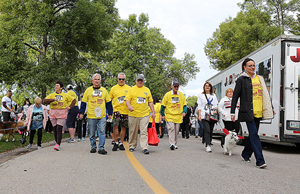 As with the Challenge for Life and every other former group event, Kick Butt, the annual fundraiser which aims to raise awareness of colorectal cancer, has also gone the virtual route.
Sid Chapnick, Kick Butt's founder, is once again taking charge of organizing the event – now in its 13th year.
Chapnick notes that colorectal cancer is one of the three most commonly diagnosed cancers among both men and women. He points out that all funds raised stay in Manitoba to support colorectal cancer research, genetic research for Lynch Syndrome, as well as to raise awareness and advocate for the needs of people who have colorectal cancer.
Participants are urged to wear boxer shorts, pajamas or bathing suits, with prizes for the best Butt Cover.
Since 2016, Denny's Restaurants has been the main sponsor. Chapnick reports that this year, Denny's is contributing a lump sum rather than a portion of proceeds from restaurant operations.
The event this year is scheduled for Saturday, September 12. In the past, the 3-5km walk has been held at Kildonan Park. Due to Covid, this year participants can walk anywhere.
Readers can sign on to the Cancercare Manitoba Foundation website to register for the event: www.cancercarefdn.mb.ca