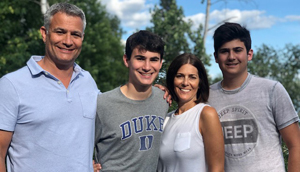 By MYRON LOVE
Steven Kroft is an individual who believes in leading by example.  Thus, the newly-anointed Chair of the Board of the Cancercare Manitoba Foundation (as of June) has for the past couple of weeks been furiously working the pedals on his Peloton exercise bike raising money for the Foundation as a participant in its 13th annual Challenge for Life event.
Halfway through the 20-day Challenge for Life – which in the past has been a one-day, 20km walk – Kroft reported that he had already added over 100 km to his Peloton mileage gauge.
And, among the top individual fundraisers, he was – as of August 11 – in seventh place – having almost doubled his initial pledge.
"The response of Manitobans to our Challenge for Life this year has been amazing considering the circumstances," he says.  "We have about 100 teams participating – about the same as last year.  While we have fewer participants, many more communities throughout the province have become involved."
Whereas in previous Challenge for Life walks, everyone had to come into Winnipeg to take part,  this year's event has been spread over almost three weeks. Participants can choose their form of exercise and take their time doing that exercise wherever they happen to live.
"We have teams and individuals from over 60 communities involved," Kroft reports.  "This is the first time that we have had such a broad range of people participating."
He adds that half way through the Challenge, more than $600,000 had been raised.  Generally, the annual campaign raises about $1 million.
"The generosity of Manitobans at this time is a real shot in the arm for all of us at Cancercare Manitoba and the Cancercare Manitoba Foundation," he notes.
The son of Senator Richard and Hillaine Kroft has a long history of volunteerism in both the Jewish and general community.  In that regard, he is following in the path of his parents and other family members.
"As time went on, I made sure I had the necessary leadership in the business world that would allow me to devote a meaningful amount of my time to community," he points out.
That family business is the Conviron group of companies, of which Kroft is currently CEO and executive chairman.  The business – which specializes in the design and manufacture of plant growth chambers and rooms for use in agricultural biotechnology and other life-science disciplines – was founded by his father in 1964.  Steven, a lawyer by training, joined the family business in 1997.
"I took over running the company when my father was appointed to the Senate in 1998," he notes. "We sell our products in over 90 countries worldwide."
Steven Kroft was introduced to community work in the early 1990s when David Cohen, than the executive director of the Jewish Foundation of Manitoba, invited the young Kroft to become a member of the JFM's Scholarship Committee.  Kroft had recently returned to Winnipeg after earning his law degree at UBC.
Kroft was a JFM board member for 15-16 years, culminating in a term as president.  "It was a time of tremendous growth for the Foundation," he recalls.
He also joined the board of the Sharon Home (Simkin Centre) at the specific invitation of the late Sol Kanee.
And, he served for two years as Chair of our community's annual Combined Jewish Appeal campaign (2017-18 and 2018-19).
In the general community Kroft has served on the boards of the True North Foundation, Manitoba Hydro and the Assiniboine Park Conservancy, as well as the University of Manitoba's President's Advisory Committee – in addition to the Cancercare Manitoba Foundation.  He was also Chair of the Board of the Business Council of Manitoba from 2016-2017.
It was current Manitoba Lieutenant-Governor Janice Filmon – then the Cancercare Manitoba Foundation's board chair – who recruited Kroft to the board.  "My dad had just beaten prostate cancer and our interactions with Cancercare Manitoba had been very positive," Steven recalls.  "I knew other board members.  It was the right time for me to become involved."
He describes Cancercare Manitoba Foundation as a "tremendous organization" and expresses strong support for executive director Annita Stenning and her management team.  "I became even more enthusiastic when I began to learn about the research that the Foundation funds," he adds.  "In terms of expertise, Manitoba punches above its weight.  We are among the leaders in research and treatment across Canada.
"I am excited to be part of it."
Steven and Lisa Kroft are the proud parents of sons Nathan and Alex.  Steven reports that Nathan will be graduating from the Asper School of Business next spring and Alex is studying economics and entrepreneurship at Duke University.
Whether either one will someday go into the family business is still uncertain.  Their father says that he is not putting any pressure on them. He adds though that Alex is demonstrating his entrepreneurial bent this summer. He and a friend have gone into the 3D printing business making shields for businesses for protection against the coronavirus and have sold hundreds of them.