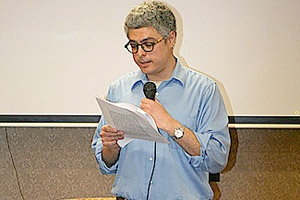 We received a note from the University of Manitoba's Judaic Studies coordinator, Haskel Greenfield, asking whether we would help publicize the Judaic Studies program which, like all university programs, has had to completely revamp how its courses will be offered this fall.
Following is what Haskel wrote to us:
All courses that begin in September will continue to be on-line this year. We do not know yet if the courses that begin in January will be on-line, or in class.
All courses are open to students and the public as long as they register with the university. For individuals over 65 years of age, there is no tuition. For information on how to register, please contact linda.albanese@umanitoba.ca
Following are the courses offered this year:
Fall 2020-Winter 2021 – Introduction to Yiddish (YID 1220), 6 credits.
Yiddish was the primary language of the majority of world Jewry, for almost two centuries. Learning Yiddish will help students access the history, culture, and life of generations of Eastern European Jews, many of whom perished in the Holocaust. Studying Yiddish is a wonderful, interesting, and exiting way of connecting with the world of Jews. In this year-long class, students with learn the foundations of the Yiddish language in an interactive and stimulating environment. On-Line Study, 6:00 pm – 8:45 pm, Wednesday, Sep 09, 2020 – April 16, 2021.
Fall 2020-Winter 2021 – Hebrew Level 2 (HEB 1260), 6 credits.
For students who have taken Introductory Hebrew (HEB 1250 or the equivalent). The course will include both spoken and written Hebrew – vocabulary and grammar, organized conversation and reading of selected texts. On-Line Study, 10:00 am – 11:15 am, Tuesday/Thursday, Sep 09, 2020 – April 16, 2021
Fall 2020 – Selected Topics: Movies, Music and Laughter: Yiddish Culture in North America (JUD 3010), 3 credits
The course is an introduction to modern Yiddish culture in North America (the United States and Canada), serving as a historical and cultural overview of the major developments, figures, and movements in modern Yiddish culture, especially from the late 19th century to the Holocaust and beyond. The course content includes the study of modern Yiddish fiction, poetry, drama and film (in English translation). We shall learn about historical developments, movements and personalities in modern Yiddish culture in the period from the late 19th century to the Holocaust and in the postwar era. The class will conclude with a discussion of the role of Yiddish culture in contemporary society. On-Line Study, 1:00 pm – 2:15 pm, Tuesday/Thursday, Sep 09, 2020 – Dec 11, 2020.
Winter 2021 – Selected Topics: Jews and Destruction: from Pogroms to the Holocaust (JUD 3010), 3 credits.
Seminar, 1:00 pm – 2:15 pm, Tuesday/Thursday, Jan 18, 2021 – Apr 16, 2021. (I am waiting for an abstract from the instructor.)
Haskel Greenfield can be contacted at: Haskel.greenfield@umanitoba.ca.
Subsequent to receiving the above request from Haskel Greenfield I was also contacted by Karen Nickerson, Student Advisor, General Studies, Division of Extended Education at the U of M. Karen explained that anyone interested in auditing the Introduction to Yiddish course (for only a very nominal fee) should contact her at Karen.Nickerson@umanitoba.ca Phone: 204.474.8330
Rather than having to work your way through the process of registering to audit the course, if you contact Karen, she will take you through the registration process. However, Karen did inform me that the normal deadline for registering for any course was August 15, whether for credit or simply to audit, but because this paper would not be distributed before August 19, the university was willing to extend the application deadline for auditing the Yiddish course (or any of the other courses listed above).
So – if you're looking for something different to do this coming fall and winter (when we're all going to be finding ourselves isolated to one degree or another), then why not consider auditing the Introduction to Yiddish course, which is to be taught