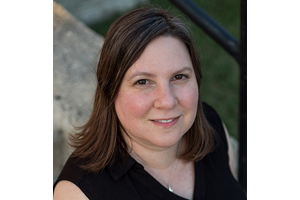 By MARTIN ZEILIG
The Winnipeg Jewish Orphanage housed children from 1917 until 1948, and for a long portion of its existence it was served by an untrained social worker, Pearl Finkelstein (later Silver), Sharon Graham, PhD, writes in her paper, "Pearl Finkelstein, Unknown Hero: the Winnipeg Jewish Orphanage and Social Work in the Winnipeg Jewish community in the 1930s".
Finkelstein is an unknown hero because "I could not find any information about her work as the social worker in the many Orphanage documents that are held by the archives of the Jewish Heritage Centre," according to Dr. Graham.
Dr. Graham's 25 page (intensively researched) paper was the winner of the 2020 Switzer-Cooperstock Prize in Western Canadian Jewish History. The Switzer-Cooperstock comes with a $6,000 award. It was established by the Switzer family in memory of their parents and grandparents. This year, the public presentation will be presented online on October 15th, 2020 at 7 pm.
Graham worked on her PhD at the University of Manitoba, Faculty of Graduate Studies, Department of History.
The title of her dissertation was "Building Canadian Jewish Citizens out of the abandoned children of Western Canada: The Winnipeg Jewish Orphanage, 1917-1948." Graham was awarded the U of M's 2019 Faculty of Graduate Studies Research Completion Scholarship for her dissertation.
This article is based on excerpts from her prize winning essay, as well as a recent email interview she did with The Jewish Post & News.
"I researched the history of the Orphanage for my doctoral dissertation, and in my research I came across Finkelstein (her later married name was Silver), and my interest was piqued," Graham said.
"Miss Finkelstein had volunteered with the Jewish Orphanage as a young woman, and was hired to succeed the Orphanage's first social worker, Bertha Koyle. Unlike Koyle, who had worked at the Orphanage as a nurse, Finkelstein had not worked professionally within a child care setting. But instead of searching for a trained social worker, the Board and Superintendent of the Orphanage chose a woman who had grown up within the Jewish community of Manitoba and who intimately knew the families she served. By doing so the Jewish community gained a worker who was emotionally invested in protecting her community's children and families from illness and distress."
Pearl Finkelstein (Silver) worked very hard without much historical recognition, Graham, who noted that Finkelstein died at age 95 in 1991, emphasized.
"As a working woman, she was able to use her experience as a dedicated volunteer to transition into a new career as a social worker," she said.
"This career became her life for many years, and it is undeniable that she was able to help many Winnipeggers. When reading her notes, I was struck by how friendly her tone was to her clients, and how willing she was to see their virtues instead of their flaws. Finkelstein tended not to deliver lectures. Instead she dedicated herself to her clients' difficulties, and was willing to listen to their needs. Finkelstein chose a life of service, similar to the choice made by Jane Wisdom, and both women stated that they were glad they had done so."
Because of her choice, the Orphanage children were found jobs, foster homes or boarding homes, and had a softer launch into the world, Graham observed.
"Families who needed the Orphanage temporarily for child care were given help in finding new homes, jobs or medical care in order to be able to bring their children home," she said.
"The history of the Winnipeg Jewish community often focuses on the men who established institutions and ran them, but the women who often fundraised, planned and ran the institutions as paid staff can sometimes remain anonymous. The extent of Pearl Finkelstein's work was unaccounted for in official histories, but the Jewish Orphanage Children's Records revealed just how much work she did to help Winnipeg families and children during the Depression."
Graham noted that she's submitted a proposal to turn her dissertation into a book to a publisher.
"I'd be honoured to bring the history of the Winnipeg Jewish Orphanage, including Finkelstein's pioneering role, to a larger audience," she said.
She also labelled the JHC a wonderful resource for the Winnipeg community.
"I'm grateful for all their help, especially when I was researching my dissertation," she said. "I also want to thank the prize committee and the Switzer family for this generous award. I look forward to presenting this essay to the community."