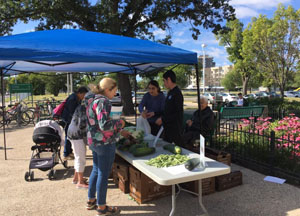 Last year, Yazidi newcomers to Manitoba operated a very successful pop-up vegetable stand outside the Asper Campus. Every Thursday, for the time being, vegetables in pre-packaged bags will be available for purchase once again. Read more to find out how you can get your fresh vegetables at great prices:
The Yazidi Healing Farm is in full production. Close to 10 acres of land are now being farmed by many Yazidi families. The main purpose of the project is to give them the opportunity to work in the fields and provide food for their families. This year, we will be engaging dozens of Yazidi newcomer volunteers and providing fresh and healthy produce to a total of (44) families or approximately (300) Yazidi people. The farm is also a place for them to gather and be together as a community. It is an important and positive experience in their therapeutic journey.
Excess produce will be sold to the general public and ALL PROCEEDS will go to fund the Yazidi Food Assistance Program which will be very necessary throughout the winter months.
We invite you to support the Healing Farm project by purchasing fresh & delicious produce farmed by our Yazidi friends.
Next week's produce bag will include the following fresh vegetables :
(1) bunch of (2) large beets
(2) Cucumbers
(1) bunch of 3 small Onions (green)
(1) bunch of (2) small Onions (yellow)
(1) handful of green or yellow string beans
(1) Green cabbage
(2) Large zucchinis (green and/or yellow)
(2) Heads of garlic
(4) Potatoes
(1) Bunch – Swiss chard
(1) Small bunch – Basil
(1) Cauliflower
(4) Carrots
(2) Green tomatoes
(1) Broccoli
(1) Small bunch parsley
(2) Small eggplant
The price for this plentiful bag of fresh produce is $50.00.
The produce will be harvested the day before being available for pick up. It will be washed and bagged for your convenience and can be picked up at the following location:
Asper Jewish Community Campus – Main Parking Lot – 123 Doncaster Avenue between 8:00 am and 12:00 pm.
Please respond to thehealingfarm2020@gmail.com to place your order. Payment will be by cash or cheque (made out to the Canadian Yazidi Association) . Credit cards can now be used for payment.
Please forward this link to anyone you think would be interested .
We thank you for your support !
Be well,
Operation Ezra