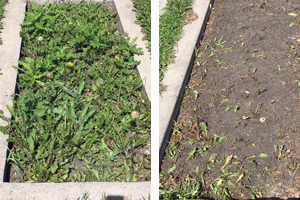 By BERNIE BELLAN
In previous issues we reported on changes the Shaarey Zedek had made to the maintenance of its cemetery as a result of the pandemic.
In our June 10 issue we noted that the synagogue board had decided to forego the planting of flowers on graves that would ordinarily have had flowers planted in keeping with perpetual care agreements.
In an email issued by the Shaarey Zedek in late May, recipients of the email were told that, notwithstanding the commitment that "Perpetual Care shall include the planting of flowers, (emphasis ours) cutting of grass, changing the soil and sod, renovating of concrete (if same surrounds the plot), as determined necessary by the Cemetery Committee in its sole discretion… After a lengthy discussion and in consideration of the unique situation this year due to the Coronavirus, the Cemetery Committee agreed unanimously to suspend the purchase and planting of flowers for this year."
Not surprisingly, therefore, the conditions of gravesites that had, until this year, been planted with flowers, began to be festooned with weeds.
On July 24 we received an email from a reader who was particularly disturbed over the condition of his spouse's gravesite. That reader sent pictures with his email which showed a gravesite covered in weeds. He noted that he had also sent an email to Ian Staniloff, Executive Director of Shaarey Zedek Congregation, in which he asked why his wife's grave was in such deplorable condition, even though he had a perpetual care agreement?
Subsequent to our receiving that email, we received an email in which Ian Staniloff responded to the reader's complaint. Ian wrote, in part:
"In order to compensate for the loss of additional employees whose main focus was planting flowers, watering and weeding individual graves, we incorporated a volunteer component from within the synagogue to handle these duties, leaving the overall grass cutting/weeding to the regular maintenance staff.. As you can imagine however, with almost 11,000 graves to maintain in a cemetery that covers 24 acres, the process takes quite a bit of time to complete the entire cemetery.
"We didn't stop the spraying of weeds due to high cost. The most effective weed spray that we utilized had been banned by the province of Manitoba 2-3 years ago due to it containing 24D, and we were not able to control the spread of weeds/dandelions with an inferior product (which by the way was more expensive). Over the last couple of years we have been able to keep the weed problem at bay by having the specific flower planters, remove the weeds on each individual grave as they tended to the flowers.
"By not having these planters initially it was left up to the regular grass cutters to maintain the overall cemetery. However, we have determined that the problem is growing and have now hired additional staff specifically to deal with the weeds/existing flowers on all the graves. The results of their efforts should be evident. I will advise that this all takes some time, but I wanted you to be assured this is not something we take lightly. We are very proud of the appearance and grounds of our cemetery and are doing
our utmost to ensure that the high quality we have enjoyed in the past is being maintained."
I decided to go down to the cemetery myself to see what the situation was. On Thursday, July 30 I rode my bike to the cemetery. (I thought it would be easier to take in the entire cemetery by bike rather than on foot and it gave me a convenient excuse to go for another long bike ride.)
The majority of the cemetery appeared to be in excellent shape, but I did notice that several gravesites which would normally have had flowers on them were still weed-infested, as our reader had pointed out. However, I did come across two young women who were hard at work pulling weeds out by hand. They told me they were working their way westward to the newest graves and expected to have all graves properly weeded in due course.
While I was in the cemetery I sent this email to Ian Staniloff:
"Hi Ian
"I'm in the cemetery now it all looks pretty good to me. I'm just curious: Did you take care of the problem by hiring additional workers?
"I'm in the newest section now and from what I can see you're going to run out of room in a short while. What's the plan going forward?
"Bernie"
Ian Staniloff responded:
"Bernie,
"I'm glad you see that we have done our utmost to respond to our congregants' concerns regarding the cemetery. Some of the work was done utilizing volunteers, but the majority of the work was done by re-hiring some of the seasonal people who were not initially brought back.
"In terms of our future, we have at least 15-20 years of available space in our cemetery. There are areas that remain to be developed, including and most notably at the front (East Side) of the property.
"I hope this provides a bit of an answer.
"Cheers,
"Ian"