Shaarey Zedek Cemetery update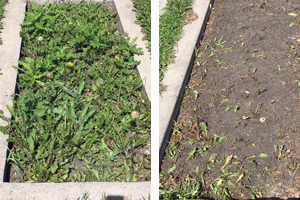 By BERNIE BELLAN
In previous issues we reported on changes the Shaarey Zedek had made to the maintenance of its cemetery as a result of the pandemic.
In our June 10 issue we noted that the synagogue board had decided to forego the planting of flowers on graves that would ordinarily have had flowers planted in keeping with perpetual care agreements.
In an email issued by the Shaarey Zedek in late May, recipients of the email were told that, notwithstanding the commitment that "Perpetual Care shall include the planting of flowers, (emphasis ours) cutting of grass, changing the soil and sod, renovating of concrete (if same surrounds the plot), as determined necessary by the Cemetery Committee in its sole discretion… After a lengthy discussion and in consideration of the unique situation this year due to the Coronavirus, the Cemetery Committee agreed unanimously to suspend the purchase and planting of flowers for this year."
Not surprisingly, therefore, the conditions of gravesites that had, until this year, been planted with flowers, began to be festooned with weeds.
On July 24 we received an email from a reader who was particularly disturbed over the condition of his spouse's gravesite. That reader sent pictures with his email which showed a gravesite covered in weeds. He noted that he had also sent an email to Ian Staniloff, Executive Director of Shaarey Zedek Congregation, in which he asked why his wife's grave was in such deplorable condition, even though he had a perpetual care agreement?
Subsequent to our receiving that email, we received an email in which Ian Staniloff responded to the reader's complaint. Ian wrote, in part:
"In order to compensate for the loss of additional employees whose main focus was planting flowers, watering and weeding individual graves, we incorporated a volunteer component from within the synagogue to handle these duties, leaving the overall grass cutting/weeding to the regular maintenance staff.. As you can imagine however, with almost 11,000 graves to maintain in a cemetery that covers 24 acres, the process takes quite a bit of time to complete the entire cemetery.
"We didn't stop the spraying of weeds due to high cost. The most effective weed spray that we utilized had been banned by the province of Manitoba 2-3 years ago due to it containing 24D, and we were not able to control the spread of weeds/dandelions with an inferior product (which by the way was more expensive). Over the last couple of years we have been able to keep the weed problem at bay by having the specific flower planters, remove the weeds on each individual grave as they tended to the flowers.
"By not having these planters initially it was left up to the regular grass cutters to maintain the overall cemetery. However, we have determined that the problem is growing and have now hired additional staff specifically to deal with the weeds/existing flowers on all the graves. The results of their efforts should be evident. I will advise that this all takes some time, but I wanted you to be assured this is not something we take lightly. We are very proud of the appearance and grounds of our cemetery and are doing
our utmost to ensure that the high quality we have enjoyed in the past is being maintained."
I decided to go down to the cemetery myself to see what the situation was. On Thursday, July 30 I rode my bike to the cemetery. (I thought it would be easier to take in the entire cemetery by bike rather than on foot and it gave me a convenient excuse to go for another long bike ride.)
The majority of the cemetery appeared to be in excellent shape, but I did notice that several gravesites which would normally have had flowers on them were still weed-infested, as our reader had pointed out. However, I did come across two young women who were hard at work pulling weeds out by hand. They told me they were working their way westward to the newest graves and expected to have all graves properly weeded in due course.
While I was in the cemetery I sent this email to Ian Staniloff:
"Hi Ian
"I'm in the cemetery now it all looks pretty good to me. I'm just curious: Did you take care of the problem by hiring additional workers?
"I'm in the newest section now and from what I can see you're going to run out of room in a short while. What's the plan going forward?
"Bernie"
Ian Staniloff responded:
"Bernie,
"I'm glad you see that we have done our utmost to respond to our congregants' concerns regarding the cemetery. Some of the work was done utilizing volunteers, but the majority of the work was done by re-hiring some of the seasonal people who were not initially brought back.
"In terms of our future, we have at least 15-20 years of available space in our cemetery. There are areas that remain to be developed, including and most notably at the front (East Side) of the property.
"I hope this provides a bit of an answer.
"Cheers,
"Ian"
Beneficiary agencies of the Jewish Federation have received $210,000 less this year than last year as of September 1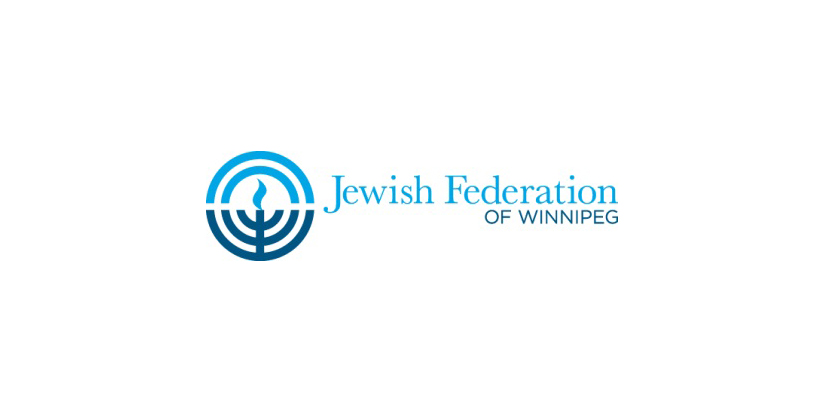 By BERNIE BELLAN
For the first time in at least 10 years the Jewish Federation of Winnipeg has reduced the amount distributed to its 12 beneficiary agencies from what had been distributed the previous year. The funds were distributed September 1 for 2023-24.
The total amount distributed this year was $210,000 less than what was distributed in both 2022 and 2021 and is actually $500,000 less than the total that was requested by the beneficiary agencies. (The amount distributed last year was $216,000 less than what the beneficiary agencies had requested.)

In explaining why allocations are being reduced this year, the Federation reported that "Over the past few years, the Federation and community have collectively faced significant challenges, placing a strain on our financial resources. In response to these challenges, the Federation stepped in during our community's time of need, dedicating over $200,000 from our reserves to sustain our beneficiary agencies." (In a later explanation it was clarified that $100,000 was taken from Federation reserves in each of 2022 and 2021.)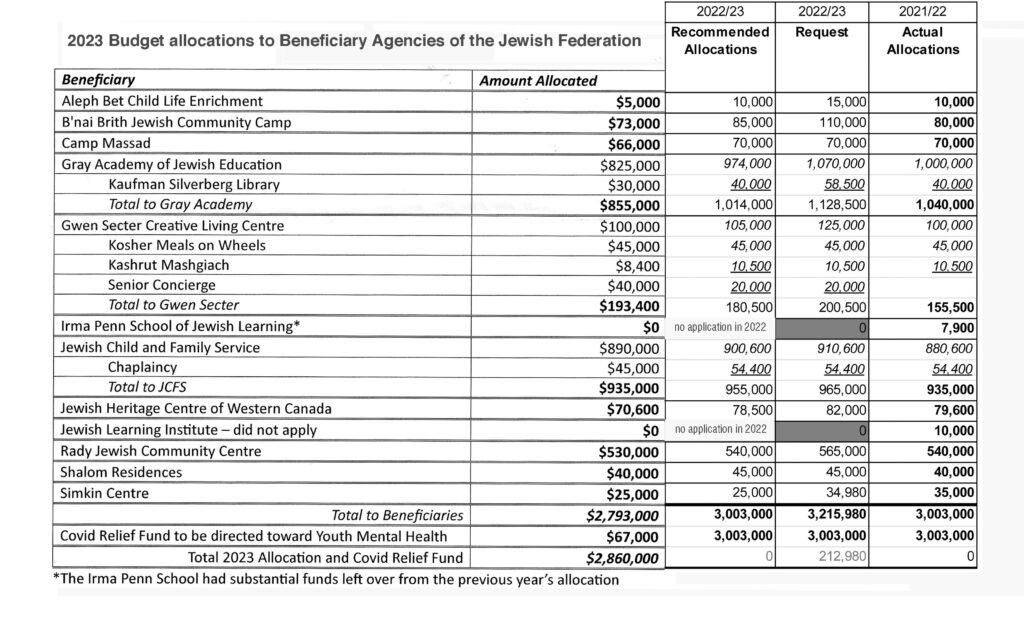 It was further noted that the decrease in funds to be allocated to agencies represents a 7% decrease over the previous year. Dipping into reserves was described as an "unsustainable practice." It was also noted that the Federation "notified our beneficiaries of a probable reduction in the amount of funding available well ahead of the allocation request deadline.
In describing the pressures that the Federation's Allocations Committee faced this year in coming up with its allocations, committee chair Brent Schacter said that "We knew after the budget process last year we were going to be in a bind." Schacter further elaborated that the two whammies that hit this year were the ongoing repercussions of Covid along with the rapid increase in inflation.
In discussing the pressures that the Allocations committee faced this year, it should also be noted that although the amount raised by the Combined Jewish Appeal – while not much more than the previous year ($6.3 million as opposed to $6.25 million), the negative effects of the drop in allocations are somewhat mitigated by two things:. A good portion of the amount raised by the CJA is in the form of "designated funds," given by large donors and, while those funds are not available to the B & A committee to distribute, many of the beneficiary agencies did receive large distributions from those "designated funds."
As well, the Jewish Foundation of Manitoba increased its total distributions this year by $1.3 million over the previous year. While the Foundation's gifts were spread among a very wide number of recipients, a number of the Federation's beneficiary agencies did benefit from the increase in Foundation distributions.
Still, the challenges facing the Federation in meeting the needs of the community are leading to a major reassessment of how Federation planners are implementing budgetary planning.
A number of new innovations have now been adopted by the B & A committee, including:
New application forms – one for agencies requesting more than $250,000 and one for agencies requesting less
Beneficiaries were asked to state the anticipated outcomes of projects/programs that receive Federation funding, and to develop indicators so that they can measure those outcomes.
Site visits took place along with periodic meetings with agencies as a whole throughout the year to ensure that the committee gets a more complete picture of beneficiaries' activities, challenges, and plans.
In describing the process that the Federation undertook to "streamline" the budget allocation process, Federation President Gustavo Zentner said "Lay leadership and management had a responsibility to look at the business model."
It was determined that the Federation needed "a more effective way of managing the allocations process," Zentner stated, including "more meaningful communication with the agencies to bring to light their projects."
Not only does the Federation want to improve its own fundraising process, Zentner continued, "We also want to help agencies to raise funds on their own."
Despite the reductions in allocations available to agencies this year, Zentner stressed that "we wanted to address the needs of those members of the community who are most in need."
Brent Schacter added: "We want to see people dig a little bit deeper" when it comes to giving. The Combined Jewish Appeal is now into its fundraising campaign for the 2023-24 fiscal year.
Six members of the community receive King's Counsel appointments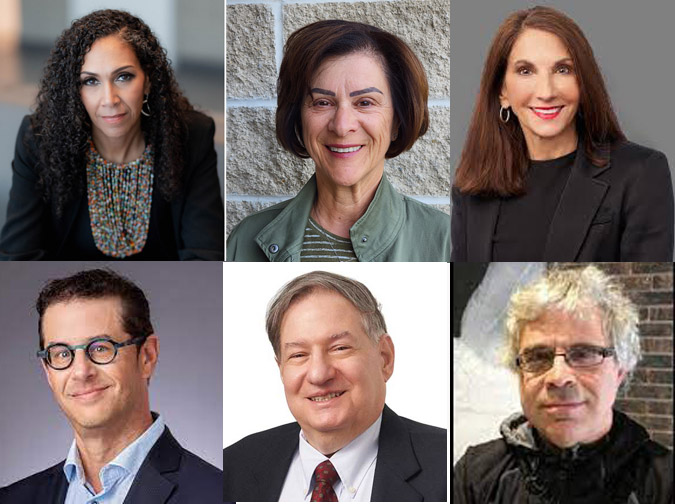 A total of 17 lawyers were appointed King's Counsel by Order in Council on August 29. Six members of our Jewish community were among those appointed. Although appointments as King's Counsel are usually accompanied by biographical information about those appointed, there was no press release issued by the Manitoba Government announcing the appointments. When we contacted the Manitoba Government news room to ask why there was no biographical information available, the response we received referred to KC appointments announced in February (no surprise there – these are bureaucrats we're dealing with). When we asked again why there was no biographical information available about the most recent batch of KC appointments we were told "the Province of Manitoba is in the middle of an election blackout and department communications are limited as a result. News Room has nothing further to add."
As a result, we present here photos of Jewish recipients of KC appointments, but without any further information.
Kayla Gordon inducted on to Rainbow Stage's Wall of Fame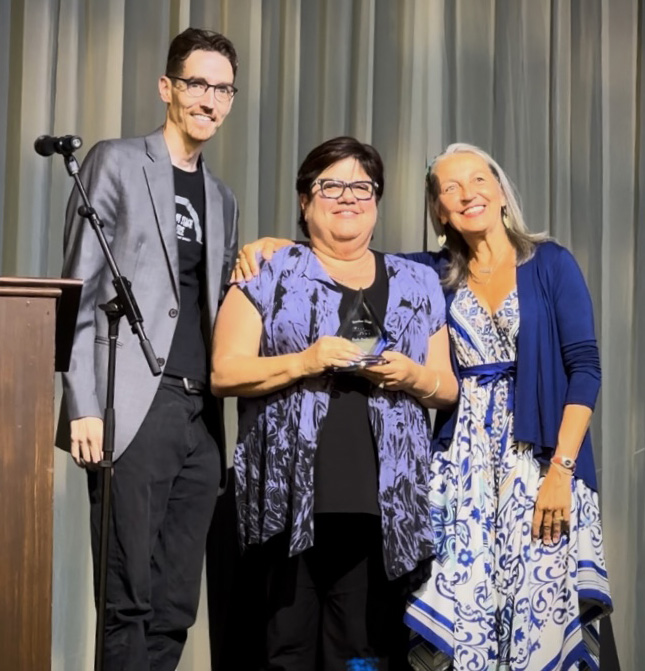 Myron Love It was in the summer of 1984 when Kayla Gordon was appearing in the Rainbow Stage production of "Kismet," that the long time actor/director/producer/photographer found herself doing her make-up sitting next to Nia Vardalos, the writer and star of "My Big Fat Greek Wedding" fame, who was also appearing in the production.
"We both were playing opposite each other in the comic roles as the Ayahs to the Wazir (the main lead), and we began talking about our plans for the future," Gordon recalls. "Nia was talking about moving to Toronto and joining the Second City company. As for me, I was in a comedy troupe in Winnipeg and just found out I was pregnant with my first child. My plan was to stay in Winnipeg, even though I was a bit jealous that she was going off to pursue her dream and I was staying put. That was my 'Kismet' and I never looked back."
Rainbow Stage is where Gordon began her career in musical theatre at the age of 17 in a production of "Fiddler on the Roof." After a career of more than 40 years, both on stage and behind the scenes – it is fitting that one of the leading lights of community theatre in our city has been recognized for her contributions by Winnipeg's longest-running theatre company. On Wednesday, August 17, Gordon was one of the five inductees to Rainbow Stage's Wall of Fame under the "Builder" category. The award is given to someone who has been part of nurturing and building our theatre community.
"It was a wonderful surprise," says the honoree. "It brings my career full circle." Previous honours for Gordon include the Leadership Award from the Canadian Friends of the Hebrew University of Jerusalem and the Theatre Educator's Award from the Winnipeg Theatre Awards for her long-time leadership within the arts community.
Gordon reports that the induction ceremony, attended by about 100 friends and family members of the inductees and Rainbow Stage staff, was held just prior to the opening night performance of "The Little Mermaid,",the second of three shows the company is putting on this summer and early fall.
"It was also special to have one of my grandchildren, my husband Art Maister, my mom Ethel, and my aunt Evelyn Hecht at the induction ceremony," she adds. (Evelyn also performed at Rainbow Stage in the 1950s.)
Gordon notes that while she appeared onstage in seven Rainbow Stage productions – from 1977 to 1993, she was honoured not for her acting, but for her role as a nurturer of talent through teaching acting and musical theatre at the University of Winnipeg for 18 years, as well as teaching at the University of Manitoba, Prairie Theatre Exchange and The Manitoba Theatre for Young People – also, later as the Artistic Director of Winnipeg Jewish Theatre for over 10 years and Winnipeg Studio Theatre, which she founded in 2006.
"I get a lot of satisfaction watching actors I've directed and students I have taught and nurtured performing at Rainbow Stage and other venues in the city," Gordon notes. Many of them have gone on to work professionally and have appeared across Canada, as well as in Broadway productions. Some of them include: Alexandra Frohlinger (Soul Doctor/Broadway), Samantha Hill (Phantom of the Opera/Broadway), Jaz Sealey (Aladdin/Broadway), Andrea Macasaet (Six/Broadway), and Nyk Bielak (Book of Mormon/Broadway).
Gordon was an actor and high school drama teacher at West Kildonan Collegiate for the first 15 years of her career. By the mid-1990s she found herself becoming more interested in working behind the scenes as a director/producer. In 1994, she became the Winnipeg Jewish Theatre's second artistic director – succeeding WJT founder Bev Aronovitch – a role she played until 2006. Following her time at WJT Gordon observed that local theatres were not hiring many female theatre directors.
"I realized that if I wanted to work as a director, I would have to create my own projects," she recalls. So, she started Winnipeg Studio Theatre (WST) in 2006. Soon after forming the company, she invited her longtime theatre associate Brenda Gorlick to run the StudioWorks Academy, a program for emerging artists.
In 2021 she stepped down from her position at WST. "I am still interested in directing – but without the added pressures of being a producer or the full-time responsibility of running a professional theatre company," she observes. "I like having the freedom to pick and choose the projects I want to work on." I still plan to work on independent contracts directing theatre and creating entertainment for special events or fundraising activities in the community.".Last year she produced and directed the Jewish Federation of Winnipeg's Negev Gala tribute honouring Gail Asper and Michael Paterson. As well, stepping down from her responsibilities with WST has also allowed Gordon to devote more time to her other passion – photography. "I have been interested in photography since I was 15," she recounts. "My father Ralph had a dark room in our basement."
Over the past couple of years, she has achieved accreditation with the Professional Photographers of Canada in four different areas of photography: street photography (her favourite), portraiture, performing artists, and figure study. And, last year, she co-authored a coffee table book – "The Murals of Winnipeg," with fellow photographer Keith Levit as a fundraiser for Take Pride Winnipeg, with 80 pages of photos, which sold out in two weeks and the funds will go to emerging mural artists. (That story can be found on the jewishpostandnews.ca website.)
Kayla is grateful to have stayed in Winnipeg and she sums up her career, and how and why she managed to work in theatre all these years with a quote from Henry Winkler (aka 'The Fonz') "I live by tenacity and gratitude. Tenacity gets you where you want to be, and gratitude allows you not to be frustrated along the way".