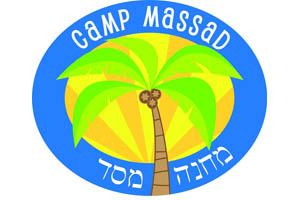 By MYRON LOVE After two years of enforced closure due to provincial government Covid lockdowns, Camp Massad is back this summer and looking forward to a real blast this year to end the season. On the weekend of August 26-28, the only Hebrew-immersion summer camp in North America, will be celebrating its 70th anniversary with a reunion of former campers, counsellors and board members.
"We are expecting over 150 Massadniks from across Canada and around the world – representing several generations – to join us for this exciting occasion," says Josh Winestock, the newly installed president of Camp Massad. "We will be showcasing all the magical moments that make Massad so special – the singalongs, the shtick, the Shabbat dinners and havdalah services – that will bring back happy memories of our camping days."
From its very beginnings in 1953, Massad has offered a camping experience unlike any other Jewish camp in Western Canada. In addition to being a Hebrew-immersion camp, the camping experience has included singalongs and Israeli dance and skits and songs in the evenings, complementing such traditional camping activities as swimming, hiking and a variety of sports.
Massad grew out of the Talmud Torah Hebrew School and Zionist youth groups. The campsite at Winnipeg Beach was originally a Habonim camp. With the founding of the State of Israel, most of the Habonim leadership was anticipating making aliyah.
One of the Habonim youths, Soody Kleiman, had spent nine months in Israel where he had learned about two Hebrew-speaking camps that were both Camp Massads – in Pennsylvania – and he felt that one could work for Winnipeg as well.
On his return to Winnipeg in 1952, before making aliyah, Kleiman and some friends were able to get support from the leadership of the Keren Hatarbut organization (Labour Zionists) in Winnipeg for a Hebrew-immersion camp.
Among Kleiman's most important supporters was Rabbi Abraham Kravetz, the principal of Talmud Torah, who promoted the new camp among his students. "Our Habonim camp had always kept kosher," Kleiman said. "And we had a Shabbat service."
Kleiman became the new camp's first senior counsellor and program director. Ed Yuditsky, the principal of the Talmud Torah in Regina, became the camp's first director.
Leona Billinkoff was recruited to be the first administrator. Billinkoff had been a volunteer at Talmud Torah and had impressed Rabbi Kravetz with her abilities. She turned out to be an inspired choice to lead Massad. She served in that role for 25 years and left her stamp on Massad.
It was also helpful that Billinkoff's late husband, Alex, was a builder by profession. He helped build up the camp's physical infrastructure.
"The programs we set up are little changed to this day," said Kleiman on the celebration of the camp's 60th anniversary in 2012. "I am delighted that the camp has succeeded so well."
Much has changed about the campsite since that last reunion, Winestock notes. Coinciding with that reunion, the Massad board of directors launched a successful $1,000,000 fundraising campaign – the largest such campaign in the camp's history – which has transformed the appearance of the camp. Among the new features are a swimming pool, an infirmary, a new soccer field, expanded dining hall and overall enhanced accessibility across the camp site. As well, all the cabins are now insulated and have dropped ceilings, there have been major improvements to the landscaping and the ongoing problems with drainage are a thing of the past.
Winestock reports that board members and staff began talking about the reunion a couple of years ago and started serious planning last year.
"Last year was certainly challenging and our numbers this summer weren't back to what they were pre-pandemic," notes long time camp Executive Director Daniel Sprintz, "but we were really excited to have campers back on site and we are looking forward to our 70 reunion weekend.
"We are optimistic that next year, we will be closer to our full enrollment."