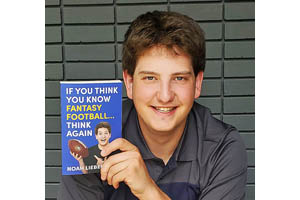 By MYRON LOVE Noah Lieberman has been playing Fantasy Football since he was 12 or 13 years old and he says that his ratings are in the 99th percentile worldwide. Three weeks ago, the recent graduate of the Asper School of Business released the quintessential book on the popular pasttime.
"Lieberman's "If You Think You Know Fantasy Football… Think Again" became available through Amazon on July 26 and is now also on sale at Chapters at Polo Park and Indigo on Kenaston (where he will be having a book signing event on August 20).
For readers who are not familiar with Fantasy Football, this is a pasttime that puts the player in the position of owner or general manager of a fictional NFL (or CFL for some Canadian players) football team. A group of friends or co-workers get together to form a "league".
Each player, Lieberman explains, puts a fixed amount of money – perhaps $20 – into the pot at the beginning of the season. Some groups also have trophies for the winning "team". The players "draft" from the NFL rosters (or CFL if playing the Canadian game) before the NFL season begins in middle to late August. Points are tallied each week based on how the "drafted' players do in real play. At the end of the season in December, the player with the highest number of points collects the all or most of the total monies in the pot.
Sometimes, second and third place finishers also receive a portion of the collected dollars, Lieberman adds.
"There are rules and stipulations as to how to draft," he explains. "We play on platforms such as Yahoo."
There are tens of millions of players in North America alone," he reports.
Lieberman, a Gray Academy graduate, became involved when he was invited to join a Fantasy Football league by friends who were enthusiastic football fans.
The newly-minted author notes that there are already many books out there on how to win at Fantasy Football. In his book, however, the younger son of Jeff and Robyn Lieberman has taken a different approach. He delves into the social and psychological aspects of the competition – what goes on behind the scenes in fantasy sports.
According to the blurb about his book on the Amazon website, "whether you're a seasoned pro, or you've never played before, 'If You Think You Know Fantasy Football… Think Again' will give you a fascinating perspective on one of the world's fastest growing games. Noah Lieberman provides the perfect combination of theory and humor that makes complicated ideas seem simple, fun, and easy to learn. By the end, you'll be ready to take on the world of fantasy sports."
"When you are competing with family, friend and co-workers, there are social dilemmas that might arise," Lieberman points out. "There are different ways you can win. There are those who want to win no matter the cost. The ideal is to compete in a healthy way while avoiding interpersonal conflict."
For readers looking for tips on how to draft, Lieberman suggests trusting your gut. Of course, you have to do your research.
He further notes that the initial rounds are the easiest as that is when the star football players are selected. "The secret to success," he suggests," is finding those hidden gems that will give your team an advantage."
Lieberman reports that he began working on the 242-page "If You Think You Know Fantasy Football… Think Again" in December, 2020, right after the regular NFL season wrapped up.
He notes that he is already working on a second book and has ideas for a few more.
He can be contacted at noahlieberman99@gmail.com.