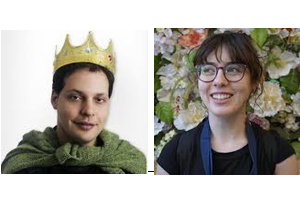 By ADAM SCHWARTZ
What do all great women have in common? They just won't take no for an answer. When someone puts an obstacle in their path they just power right through it. Neither will Sarah London.
When the whole world closed down because of the Corona Pandemic there were no more live comedy shows – so this Winnipegger just went on Instagram and created her own. The first Instagram open mic she did was on March 15 . For the first five days it operated on an ongoing basis, but, since then she has just got busier and busier.
Sarah, a University of Winnipeg student, is studying rhetoric and business. Because she, like other students, is now studying online, she plans on continuing to operate her Open Mic when she can find someone else to host it. Another local comedian, Karlee Lilijgren, has already participated in one of Sarah's open mic shows and says that she would again because it was a lot of fun.
Even though she just started doing comedy in the last two years, Sarah is already making a name for herself with her edgy, dark, but cute comedy. She can get away with a lot of material that other people shouldn't attempt because she isn't opposed to playing up her youth and is used to performing wearing a backpack.
One of my favourite jokes that Sarah told is about how she looks like Anne Frank – if Anne Frank had Instagram. She says her comedy influences are Nate Bargatze, Beth Stelling, and Sam Morril amongst others. Julian Rowan, a comedian and host at Rumor's Comedy Club, said Sarah is one of his favourite new comedians.
Anyone interested in participating can submit one to two minute comedy clips which Sarah will then post on her Instagram channel, @comedy_open_mic, after she introduces them.
If she keeps writing hilarious jokes and not taking no as an answer she has a bright future ahead of herself in stand-up comedy.