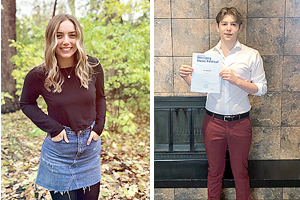 By MYRON LOVE
As per usual, the 2020 Winnipeg Music Festival – even though suspended after just one week (as compared to the normal four weeks due to the Coronavirus – did produce some winning performances by several younger members of our Jewish community.
The duo of Rachel Kraut and Greg Hyman, for example, finished first in the CLASS 1662 VOCAL DUET, MUSICAL THEATRE, 14 YEARS AND UNDER. They sang "The Doctor is In" from the musical "You're a Good Man, Charlie Brown".
For 14-year-old Grant Park High school student Rachel – the daughter of Uri and Jane Kraut – this was her second year in the annual competition. Last year, she earned a gold medal and two Silver medals in the Vocal Solo, TV and movie musicals, Girls 14 and under category. She says that she started taking singing lessons a couple of years ago because of her interest in musical theatre. Earlier this year, she appeared in the role of Irmgard in her high school's production of "Hello Dolly".
Grade 6 St. John's Ravenscourt School student Greg Hyman last competed in the musical festival two years ago in violin in which he won two Gold medals– one for CLASS 4153 CLASSICAL GUITAR SOLO, CLASSICAL COMPOSERS, GRADE/LEVEL 1 and CLASS 3055 VIOLIN SOLO, OWN CHOICE, GRADE/LEVEL 2. About a year ago, he switched to musical theatre and guitar.
"I got to know Rachel through Kelly Robinson who teaches both of us," says the son of Hartley and Rishona Hyman. (Robinson teaches singing and voice both privately and on staff at Ravenscourt and Canadian Mennonite University.) "She thought that Rachel and I would work well together."
He was also slated to compete in classical guitar at the Festival – but it was not in the cards for this year.
Kelly Robinson also united her student Hannah Schaeffer with sister students Eva Gould and Alessandra Pellegrino in a trio competing in the CLASS 1702 VOCAL TRIO, MUSICAL THEATRE, 16 YEARS AND UNDER category at the Festival. The threesome finished second with their performance of "How D'ye Do and Shake Hands" as sung by Tweedle Dee and Tweedle Dum.
Last year, the daughter of Marc Schaeffer and Kai Sasake won gold in the Vocal Solo, TV and movie musicals at the Girls 12 and under category. She also scored a first place finish as part of a trio in the Musical Theatre Grade B level and was the recipient of a Winnipeg Music Festival scholarship.
The Grade 7 Grant Student program student has been taking singing lessons for four years. Earlier this year, she played the role of young Anna in her high school's staging of "Frozen" – the Junior version).
She says that she is looking forward to next year's festival.
Julia Kroft has been participating in the music festival for about ten years. This year, the Asper School of Business student – who will be graduating in a few weeks – finished second in CLASS 1357A VOCAL SOLO, MUSICAL THEATRE, UP TEMPO, FEMALE, GRADE B – out of a field of eight – with her interpretation of "No One Else" from the musical, "The Great Comet of 1812". She also sang "I'm Not Alone" from the musical adaptation of "Carrie".
The daughter of David and Ellen Kroft has also performed with a musical theatre ensemble at the University of Manitoba and done some Fringe Festival work. After graduation, she says that she is interested in pursuing a career in marketing while also continuing to do some musical theatre.
For pianist Seth Broder, this was his second year in the Music Festival and the first time that he came close to the winner's circle. He scored a second in the CLASS 2254 PIANO SOLO, 20TH/21ST CENTURY COMPOSERS, GRADE/LEVEL 5 category with Sonata in C Major by Spindler.
"I loved performing in the Music Festival says the Gray Academy Grade 8 student and son of Ellery and Libby Broder. "It is too bad that the Festival had to be cut short."