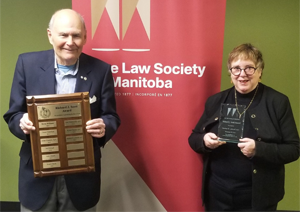 By MYRON LOVE Heather Leonoff is this year's recipient of the Law Society of Manitoba's Richard J. Scott award.
"I am honoured," says the Director of the Manitoba Department of Justice's Constitutional Law Branch of the award that was presented to her on November 26. "I am very pleased to be recognized by my peers."
As the Law Societys website explains, the award, named for the former Chief Justice of Manitoba, recognizes the honoree's multifaceted contributions to the legal system in our province.
As part of her response to receiving the honour, Leonoff praised the presenter and awards namesake, noting her lengthy history with the retired judge.
In the press release announcing the award, the Law Society notes that "throughout her career, she (Leonoff) has demonstrated an unwavering and longstanding commitment to advancing the rule of law and has made significant contributions through her advocacy, teaching, writing and mentorship.
"Ms Leonoff has appeared before all levels of court and also assists Manitoba counsel to prepare for Supreme Court of Canada hearings through her work with the Supreme Court Advocacy Institute".
"I have been blessed with a fulfilling career," says Leonoff, who was called to the bar in 1979. "One of the really wonderful features of pursuing a legal career is that there are so many different fields to choose from and you can change."
For the first 20 years or so in law, the lifelong Winnipegger worked in private practice with Wolch Pinx Tapper Scurfield. While she was involved in many different areas of practice, she recalls that she particularly enjoyed working on criminal cases. The two cases that had the greatest impact on her were the firm's defense of wrongfully convicted prisoners David Milgaard and Kyle Unger.
"Those two cases," she recalls, "illustrated the best and the worst of our criminal justice system. In the Unger case, we were dealing with entrapment. In both cases, we were up against people who fought against opening up sealed information and who were unwilling to admit they might be wrong. The system failed both of these young men. Being able to help exonerate them makes me proud to be a lawyer."
She joined the government's Constitutional Law Branch in 1998 and became and became director of the branch in 2003. "It was an opportunity to do something different in the field of law," she explains. "I find working in public service to be very fulfilling."
In constitutional law, she notes, "we work on constitutional issues that can arise in many different contexts".
One such case in which she was involved last spring was a challenge by several churches to the province's lockdown rules. "The challenge that we face in these difficult times is to keep the public safe, while at the same time respecting individual rights and freedom," she explains.
In addition to the practice of law, Leonoff also taught law at the University of Manitoba Law School for 25 years and has contributed many articles to national legal journals.
Throughout her adult life, Leonoff has given of her time to community. She has been particularly active with the Jewish Child and Family Service, of which she is a past president. She is currently chair of the Jewish Federation of Winnipeg's Poverty Reduction Strategy.
"Our current project is to provide lunches for people who are struggling financially," she says. "We are providing bag lunches twice a month through One Just City to about 250 people.
"We strengthen our own community through reaching out to others," she adds.
She has also contributed to her profession through participation over the years in the Law Society of Manitoba, where she was a bencher from 1991 to 2000, and has been a Life Bencher for the past 20 years. She now serves on the Society's Discipline Panel.
She says that she intends to keep working for a few more years yet.
"I love the practice of law," she says.
Outside of work and volunteerism, Leonoff's life revolves around family. She and her husband, David Deutscher, have one daughter, Ilana, and one grandchild ("It's great having a grandson," she notes) who live on the west coast. She also has many relatives in Winnipeg with whom she is in close contact.
"I am the matriarch of our extended family," she says. "I am following in my mother's footsteps in making sure family is together for all the yom tov gatherings."