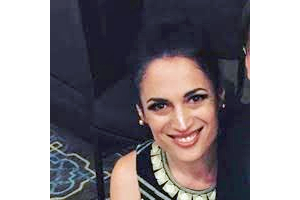 By MYRON LOVE For Mara Pellettieri, the Jewish Child and Family Service's new office manager, community has always been of prime importance. One of eight children of Leslie and the late Les Nepon, she has truly been immersed in our Jewish community from birth.
Pellettieri – who was most recently the Jewish Federation of Winnipeg's Engagement Coordinator – assumed her new position four months ago. "The posting was brought to my attention," she says. "It sounded like a good opportunity to expand my horizons and further apply my breadth of experience."
In introducing their new office manager, the JCFS management noted on its most recent Sherut newsletter that Pellettieri has worked in retail as well as public administration, and has managed a number of large engagement and administrative portfolios. She has "excellent creative and organizational skills", is "community-oriented" and "committed to helping to make our Jewish community a better place", according to the newsletter.
Pellettieri, along with all of her siblings, is a graduates of our Jewish school system (the former Talmud Torah School and Joseph Wolinsky Collegiate). While in high school, she recalls, she went on one of the annual March of the Living missions.
"The March of the Living had a really strong effect on me," she says. "It reinforced in me the importance of community."
Pellettieri graduated from the University of Winnipeg with a B.A. in Psychology. Following university, she volunteered for a few months at the Simon Wiesenthal Museum of Tolerance in Los Angeles, helping to facilitate tours and acting as a guide for museum visitors.
Prior to joining the Federation staff, Pellettieri worked in retail at the management level. She first was manager at Stella's Bridal and Evening Collection, followed by a stint as assistant manager for Sephora's three Winnipeg outlets.
With three growing children however, (including 11-year-old Meir and eight-year-old twins Yael and Simi, Pellettieri felt that it was time to look for work with more regular hours (as compared to shift work and evening work hours).
She notes that she began working with the Federation as a receptionist. "Within a year, I was promoted to Engagement Coordinator," she says.
In that capacity, her portfolio encompassed – pre-Covid – organizing the P2G programs (student and teacher exchanges between Gray Academy and Brock Corydon Hebrew Bilingual program and partner schools in northern Israel) as well as March of the Living missions, along with the PJ Library program.
She views her new role with the JCFS as ensuring that the office functions smoothly and providing assistance and support to other staff members wherever it is needed. "I am really enjoying working for JCFS," she notes. "Although there are still things I have to learn here, I am working with great people in a fast-paced environment. It is always busy here."
Outside of work, Pellettieri continues to contribute to the community on a volunteer basis. She is currently on the March of the Living committee. As well, she has begun sewing garments for the Chesed Shel Emes – our community's non-profit mortuary service – and will hopefully soon be training in taharrah (the ritual preparation of the deceased for burial).
And of course, she is a busy mom. "I spend a lot of my after work hours chauffeuring my kids around the city to their various activities such as swimming and karate lessons and hockey and soccer practices," she says.