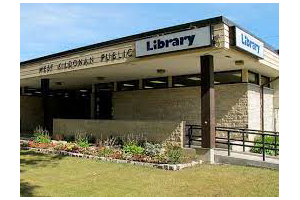 We received the following press release on May 13 from a group rallying to keep the West Kildonan Public Library, which has been a familiar community institution for many members of our community for years, from being sold: Community members from around northwest Winnipeg and across the city will gather on Tuesday, May 17, between 12:00 PM to 1:00 PM for a rally to save the West Kildonan library. The community is speaking up to make it clear to City Hall that they have not been consulted on this back-door deal to close our library.
They will be joined by community leaders from local residents' associations, students from nearby schools in the Seven Oaks School Division, and elected officials stepping up to help the community save their local library.
A full list of speakers will be released the day before the event. The coalition will also be hosting a virtual town hall during the evening after the rally to hear residents' thoughts and concerns.
What: Public Rally to Save West Kildonan Library Public Library
When: Tuesday, May 17, 12:00 PM to 1:00 PM
Where: Outside of the West Kildonan Library, 365 Jefferson Ave.
Who: Community leaders, students, and elected officials; hosted by Friends of West Kildonan Library coalition
Why: On May 3, northwest Winnipeg learned of a proposal by the City of Winnipeg to sell the West Kildonan Library in favour of a dark, inaccessible, privately leased space inside Garden City Shopping Centre. Since then, community leaders have come together to found the Friends of West Kildonan Library coalition and have been actively organizing and petitioning against this cut. This rally will bring the community together in solidarity, sending a clear message to Councillors that the City must save the West Kildonan Library and invest in our local branch, not a private developer's shopping mall.

We had received an earlier press release on May 7 that gave more detailed information about the plan to save the library:
On Tuesday, May 3  the community learned that the City of Winnipeg plans to shut down the branch—which has stood at Jefferson and Powers for over half a century and was built as a Canadian Centennial gift to the community—in favour of a dark, inaccessible retail store location inside Garden City Shopping Centre. The proposed site would require the City to enter into an expensive decade-long lease, costing taxpayers over $6 million, paid to a private, for-profit corporation. The proposed location also does not meet the City's own stated minimum requirements for a safe, accessible new library space.

"This move is bad news for northwest Winnipeg," said Steve Snyder, Past Chair of the Seven Oaks Residents' Association. "Closing our local library is a cut to city services in our neighbourhood and takes away a vital community resource for thousands of families, students and seniors."

The proposed move would mean West Kildonan residents would need to travel further to access library services in a less accessible location.

"With three young children, access to a library within walking distance is so important," said Jana, a Seven Oaks resident. "We visit the current location at least once every week or two and moving it to Garden City would make that much more difficult. In a growing city, we should be building new libraries to serve new communities, but we need one to serve West Kildonan as well. Public services in new areas shouldn't come at the expense of those in established neighbourhoods."

While a library to serve the growing communities around Garden City, The Maples and Amber Trails should be built, Garden City Residents' Association Chair Daniel Guenther stressed that the proposed site does not meet standard for what the City has built in other neighbourhoods.

"The city's plans would have the library wedged behind a Bulk Barn and other retailers without a single window or source of natural light. It's little more than a glorified mall kiosk," said Guenther. "If council wants to get serious about improving our local libraries, they should invest in the existing location while consulting with residents to identify a spot to build an additional library for the growing area."

Families in the Jefferson neighbourhood, where the library is currently located, would be hit hardest.

"This plan would privatize city-owned land and hand millions in public dollars to a private, for-profit corporation," said Evan Krosney, a Jefferson resident. "Over the past decade, the city has spent tens of millions investing in brand new, standalone public libraries for River Heights, Transcona and Windsor Park. Yet in West Kildonan, we're facing the selloff of a public asset while paying millions to an out-of-province real estate investment firm. Our neighbourhood deserves better."
A coalition of neighbours and community leaders are launching a campaign to save West Kildonan Library and stop the proposal for a second-class branch at Garden City mall. When the city previously threatened to close the library in 2020, an online petition amassed over 10,000 supporters. The coalition plans to build on this petition's momentum with additional signatures, connect with outraged library patrons and urge area councillors Ross Eadie and Devi Sharma to oppose the closure.

In response to the notice we received about the proposed sale of the West Kildonan Library, I sent the following email to Evan Krosney:
Hi Evan,
I'm old enough to remember when the first West Kildonan Library was located in a strip mall next to where the Main Street IGA now stands. (It used to be a Dominion Store. Next door to the library was a branch of the CIBC. Further down the mall was a Woolworth's. I think there was a Reitman's store as well.) 
Then I remembered the excitement when the new library opened. I spent many an hour there as a student.
What a shame that such an important community institution might close. 
I'd be quite willing to post your press release to our website. 
Regards,
Bernie Bellan
Publisher,
The Jewish Post & News