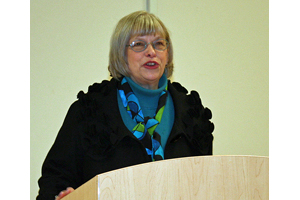 By BERNIE BELLAN Two years ago we ran a press release from Bridges for Peace, in which the organization announced that an interview that I had been planning on doing with BFP International President and CEO Rebecca Brimmer when she was slated to arrive in Winnipeg that April had to be postponed because of – you guessed it: the onset of Covid.
That seems like eons ago, but when I was invited to attend a luncheon at the Asper Campus to hear from Becky (which is what everyone who knows her calls her), along with other representatives of BFP, I was only too glad to do so (although, as I explained to the person who contacted me from BFP: I wanted to be absolutely sure that proper protocols were in place, including safe distancing, also that I would be wearing a mask. I said that I'm still not comfortable being in public places where there are large groups of people, when not everyone is masked.)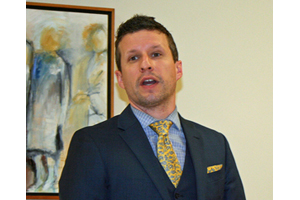 As it was, it was only a very small group of invited guests, representing various Jewish organizations, who were on hand to hear from Becky, also from Peter Fast, Executive Director of BFP Canada (and soon to be CEO of BFP International, taking over from Becky next year). We were also told that we were going to be hearing from one more speaker: Tom Brimmer (Becky's husband), whom I had the pleasure of meeting – along with Becky, in 2011, when they were both here to attend a function at the Shaarey Zedek honouring then-Executive Director of BFP Canada John Howson, upon his retirement from that position.
Tom Brimmer, by the way, is a licensed tour guide in Israel. I told him that I recalled meeting him back in 2011 when he was wearing a plaid shirt and heavy boots. I told him that he looked like a lumberjack back then. If you take a look at his picture here, I think you'll agree that he is still not likely to make the cover of GQ.
For those of you not familiar with Bridges for Peace, it's a Christian organization whose purpose is to foster good relations between Christians and Jews and to provide a range of services for Israeli citizens (of all denominations) who are in need of assistance. Through food banks which it operates in two Israeli cities (Jerusalem and Karmiel), BFP provides over three tons of food a day to over 24,000 Israelis. Now, with the influx of refugees from Ukraine, BFP has stepped up its food donations to meet the needs of many of those refugees, also refugees who have arrived from Ethiopia, Becky explained during her talk. In addition to food banks, BFP volunteers also do home repairs, and help Israelis with medical and dental needs.
During Becky's talk, she told of her own experiences with BFP in Israel, where she has lived since 1993 (although she and Tom have now moved to Missouri, she told me during lunch, but they both travel back and forth from there to Israel on a regular basis).
Explaining what it is that BFP is attempting to achieve, Becky said the primary purpose is "having a future when Christians and Jews are good friends. There are so many things we share in common."
While Peter Fast's role in Canada has been to promote good relations between Jews and Christians, primarily by reaching to members of over 500 churches across Canada, Becky noted, her role in Israel has been "on the other side of the bridge" – reaching out to Jews to demonstrate how supportive so many Christians are of the State of Israel.
By doing so, she continued, "We are doing everything we can to educate the Christian world to undo the damage done in the past. We want to show a different face (to Jews) by acts of kindness."
While one may have thought that, with the advent of Covid in 2020, donations to BFP and subsequently, support for Israel, might have dried up, just the opposite has happened, Becky observed.
"Christians saw the need to give more," she stated. In 2022 already, "we've raised 50% more than we had budgeted" as a result of the generosity of donors. Becky gave the specific example of BFP in Japan, which has only a very small Christian community. Since the war in Ukraine began, however, and thousands of Ukrainian Jewish refugees have arrived in Israel, over $500,000 has been donated to BFP Japan, she said.
Referring to the Holocaust and how few Christians intervened to help save Jewish lives, Becky noted that many people like to say: "If I had been alive then I would have helped."
"Well, this is my time to help now," Becky said. Bridges for Peace "will help as many Jews from Ukraine as we can, also Jews from Ethiopia."
Since Bridges for Peace officially began (in 1976), it has helped over 100,000 individuals make aliyah to Israel, Becky noted.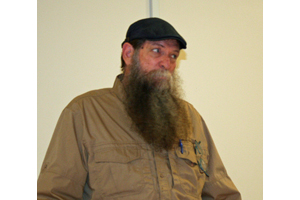 Following Becky's remarks, her husband Tom took the podium. Tom explained that he wanted to talk about tourism – and how much of a hit Israel has taken to its tourism industry since Covid first emerged worldwide in 2020.
For Tom Brimmer, tourism has given him the opportunity to show Christian tourists what Israel is all about, he said. "Tourism changes people," he observed.
"Christians come to Israel with every kind of attitude you can imagine," he said, "but they leave with a changed attitude."
"The tourism industry," in Israel, he added however, "has suffered a terrible blow the last two years."
Yet, while it now appears that tourism is set to make a huge rebound in Israel, as Covid restrictions have been lifted, there is one huge problem, Tom suggested: Almost all the tour guides who lost their jobs as a result of Covid have found other jobs in the meantime. Will they want to leave those new jobs and return to being tour guides? he wondered.
Further, "90 percent of the restaurants that depended on tourists closed," he added.
Something else Tom noted: Seven hotels were transformed into Covid hotels exclusively. Are they going to revert to normal hotel operations now?
Still, he was optimistic. "We're going to make a comeback. It's going to be okay," he predicted.
As of this moment, "it's hard to book a tour – they're in such great demand," Tom said. On top of that, he said, "we're training a whole new crop of tour guides, but it does take two years to train a tour guide."
At that point Tom switched gears and began talking about a Bridges for Peace program with which he's been heavily involved since it first began in 2006, something called the "Zealous Israel Project."
How that project began, Tom explained, was with his idea of taking a leaf out of the very successful Birthright program, and bring groups of from 18-30 young Christian adults to Israel for 10-12 days at a time.
In time the project morphed into something quite a bit more comprehensive when it was transformed into an 11-month internship program, based in Jerusalem, with ten different young adults participating at a time. (The mix is usually five males and five females, Tom noted, although it doesn't always work out that way.)
"We want participants to see the land and experience training sessions with Israelis," he added. "We teach young Christian adults why Israel is important."
One of the first graduates of the program was none other than Peter Fast, who has gone on to become Executive Director of Bridges for Peace Canada and, as noted, is about to step into the role of International CEO of BFP.
In his own remarks, Peter Fast paid tribute to two of his predecessors who served as Executive Director of BFP Canada: John Howson, who was Executive Director from 1997-2011 (and who hardly looks much older than when I first met him over 15 years ago) and Eric Malloy, who served in that role until 2019.
Peter said that he and his young family will be moving to Israel in January next year and that he hoped to visit Winnipeg often once he moves into his new position in Israel.