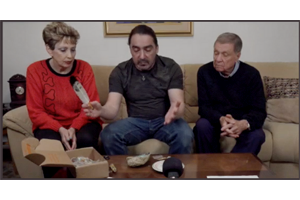 Review By BERNIE BELLAN In January of this year Myron Love wrote about a new film that has been produced by local filmmaker Yolanda Papini-Pollock, titled "Unusual in Every Way".
As Myron noted in that article, the film tells "the story of the unlikely friendship between Don Barnard, an individual of Indigenous background living with disabilities and post traumatic stress, and Solly Dreman, a former Winnipegger who made aliyah almost 60 years ago and is a retired Ben Gurion University Professor of Psychology."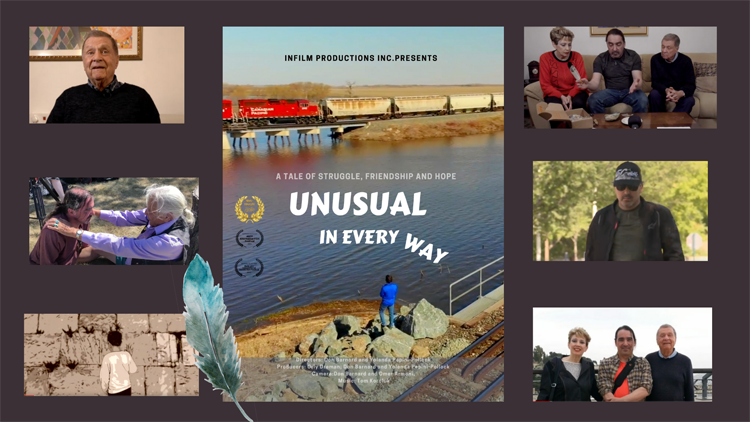 "Unusual in Every Way" will be the final film shown at the upcoming International Jewish Film Festival, on Sunday May 29, at 2:00 pm, in the Berney Theatre. (As with all the films to be shown this year, viewers will have the choice of attending in person or streaming the films on a computer or mobile device.)
I had the opportunity to view the film in advance. Although I have seen other of Yolanda's films, I told her in an email that I was more than impressed with her latest production, as it marked a new sophistication in her documentary story telling style.
Through fast cutting, clever and imaginative graphics, some outstanding historical footage interspersed throughout the film, and some very insightful interviews with a range of subjects, "Unusual in Every Way" both tells the story of Don Barnard's personal struggles and how his own story parallels the Jewish story of survival.
Although Don has an exceedingly high IQ (of 163), he has struggled with various challenges throughout his life, as the film makes exceedingly – and quite painfully, clear. He has been diagnosed as having Autism Spectrum Disorder he reveals in the film, and his father was a violent alcoholic. (Don's father actually appears in the film, and in one scene that can be difficult to watch, Don tells him about the often violent, alcohol-fuelled outbursts Don was forced to endure as a child. His father though, admits he has no recollection at all of any of those incidents.)
As Myron also notes in his story about the film, Yolanda first met Don when they worked together on a documentary about different genocides that have occurred in recent history. (Don is an accomplished videographer in his own right.)
Later, Yolanda introduced Don to Solly and Orly Dreman in 2016 when they were in Winnipeg for a visit. (Solly had asked Yolanda whether she knew anyone who could video a lecture Solly was going to be giving, along with a family reunion he was planning on having.)
Again, as Myron notes in his story, the "Dremans and Barnard hit it off and the Israeli couple invited him to come to Israel at their expense. It happens that among Solly Dreman's post-retirement activities has been helping youth with severe learning disorders.
"In 2020, thanks to the Dremans' generosity, Barnard was able to realize his long-time dream of visiting Israel. He stayed with his hosts in Jerusalem for a week and toured the country with Orly's son, Oren Cytto, as his tour guide.
"Solly Dreman also bought his Canadian guest a professional level video camera."
Scenes from that visit form a good part of this film. Yet, not only did Solly and Orly open up their home to Don, they also introduced him to many of their friends, many of whom had also suffered their own personal traumas, having survived the Holocaust.
As Don learns more about Israel and the experiences of many of the individuals he encounters there, he begins to become aware just how similar the Jewish and Indigenous experience is in so many respects.
After viewing the film, I was curious about many aspects of how it was put together, so I asked Yolanda some questions about how the film was produced.
I asked her, for instance, when the scenes in Israel were actually filmed – and who did the filming there?
She answered: "Most of the filming was done by Don. He was there twice (2017 and 2020) and some was done by Omer Armoni.
I told Yolanda that I was very impressed with the historical footage she assembled. For instance, there are some fascinating scenes of Native children in residential schools, also of Holocaust survivors arriving in Israel. The parallels that Yolanda draws are quite insightful, I told her.
I also said to Yolanda that this particular film "seems to be by far your most ambitious project to date. Would you agree? The amount of editing it would have required would have been enormous."
She responded: "Thank you. I did work hard on it and it is my favorite so far because the topic is close to my heart on many levels."
And yet, while "Unusual in Every Way" seems to be pointing to a fairly happy ending, what with Don Barnard finding so much acceptance within Solly and Orly's family, again, as Myron notes in his story, "Papini Pollock reports that overcoming trauma is not a simple process and Barnard's personal recovery may take a long time. Despite being inspired by the stories he heard in Israel, his personal journey to healing is a roller coaster. As he says near the end of the documentary, he has his good days and his bad days – and he never knows when his disabilities will cause him to have a meltdown."
Yet, despite Don Barnard's struggles, which are often laid bare for all to see during the course of this film, Yolanda told me that "Don is much better. In fact, I really see a new drive in him and he is stronger than ever. I hope this continues."
Thus, the hope engendered by the warm relationship that the film depicts between Solly and Orly Dreman on the one hand, and Don Barnard, on the other, does seem to have imbued Don Barnard with a newfound vitality, despite the bleak shadow often cast over him. In that sense, this film can serve as an inspiration for anyone who has had to deal with similar challenges that can often seem quite overpowering.
"Unusual in Every Way"
Sunday, May 29 2:00 pm
Documentary | 2021 | Canada | Directors: Don Barnard and Yolanda Papini-Pollock| English | 63 min.