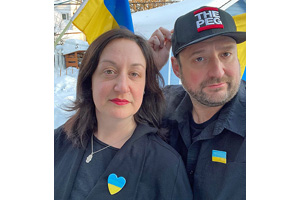 Introduction: We received a note from Lainie Rosner, in which she asked whether we would be interested in providing some coverage for a project upon which she and her husband, Ian Horner, have embarked.
Lainie wrote that she and Ian are producing pins in the colours of the Ukrainian flag. Proceeds from the sales of the pins are going to the Canada Ukraine Foundation.
We asked Lainie to provide us some background as to how the project came about. She wrote back:"I took my first pottery class during the summer of 1999, and have been making pottery and working with clay consistently since 2003. My husband has been working with clay for about 5 years. We create in our basement studio and are lucky to have a kiln to fire our creations.
"When we learned of the Russian invasion of Ukraine at the end of February, we were horrified and wanted to do something to help. My husband has Ukrainian heritage, and my family escaped persecution and political unrest in Eastern Europe by moving to Canada.
"We decided to make pins in the colours of the Ukraine flag that people could wear to share their support. The money raised by selling the pins goes to Canada Ukraine Foundation. After researching a variety of charities, this one seemed to be one that would use the funds directly to help with the humanitarian crisis.
"We hope that by wearing the pins, we will all keep the people of Ukraine in our minds and hearts."
-Fired Up Pottery (Lainie Rosner and Ian Horner)
If people are interested in purchasing pins they can connect with me on Instagram
IG @fireduppotterywpg
or by Email: lainroz@gmail.com